AC Tune-Up in Atlanta, GA

Providing top-quality tune-ups in Atlanta since 1949
Schedule Your Annual AC Maintenance Today for Just $79!

If you expect your air conditioning system to perform throughout the summer, you should recognize the importance of having an AC tune up each year. The same way you change the oil in your car to help improve gas mileage and prevent breakdowns, you should plan to maintain your air conditioner for a performance boost and longer lifespan.
So, if you're looking for a top-rated Atlanta HVAC company to perform your annual AC tune up near me service, you're in the right place. Estes Services has provided top-quality air conditioner tune up services in the greater Atlanta area since 1949.
You can count on our more than 70 years of experience to properly tune up your air conditioner in preparation for the Atlanta summer. Schedule service today for your AC tune-up with one of our air conditioning experts at Estes Services.
By the end of our service, you will be saying: It's that Easy, it's Estes! As Atlanta's best air conditioning company, customers choose us because:
NATE-certified technicians

Locally-owned family business

Award-winning customer service

75+ years of experience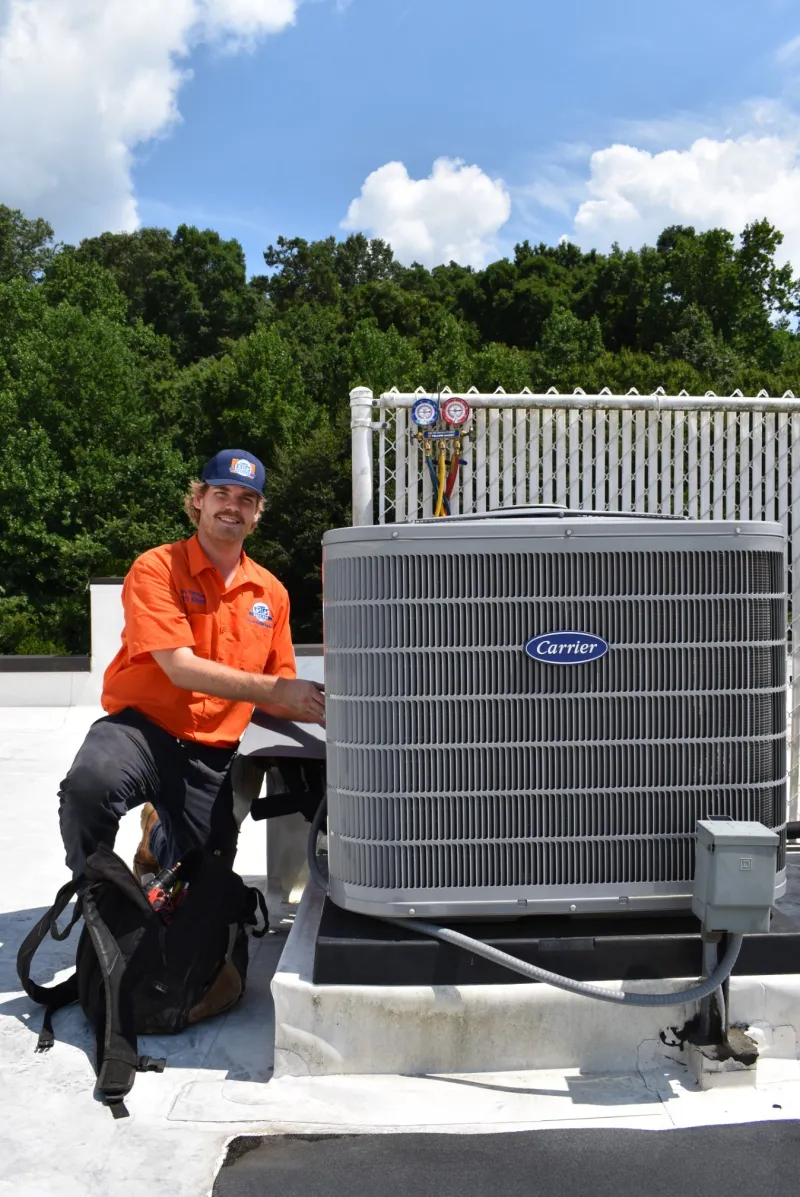 What Does a Residential AC Tune-Up Include?
Maintaining your air conditioning system can help improve cooling efficiency, lower energy costs, improve indoor air quality, and increase your home's overall comfort. Our $79 air conditioning tune up includes the following:
Cleaning
Outdoor Coil
Compressor Compartment
Electrical Compartment
Blower Compartment
Condensate Drain
Inspect and Clean Air Filter (if necessary)
Motor/Electrical
Inspect Service Disconnect
Tighten All Electrical Connections (when necessary)
Inspect Compressor Contactor
Tighten All Low-Voltage Connections
Test Capacitors
Oil Motors (if applicable)
Inspect Bearings
Inspect Fan Blade
Miscellaneous

Inspect Thermostat
Inspect Condition of Line Set
Inspect for Proper Refrigerant Charge
Examination
Examine gauge system airflow
Survey safety controls
Examine open space near the equipment
The Importance of Air Conditioning Tune-Up Service

Preventative maintenance is better than corrective maintenance. However, many homeowners forget or avoid routine air conditioner maintenance. As a result, they may wait until their air conditioner doesn't cool or stops working altogether before they call us.
At this point, not only do they typically have to pay more for repair or replacement than they would have for regular air conditioner maintenance, but they may also find themselves waiting around on the hottest day of the year when an HVAC contractor is backed up with so many other calls.
Having your air conditioner on a regular maintenance schedule will pay for itself in lower repair costs and more efficient performance. Not to mention, you will gain peace of mind knowing that you're properly maintaining your unit.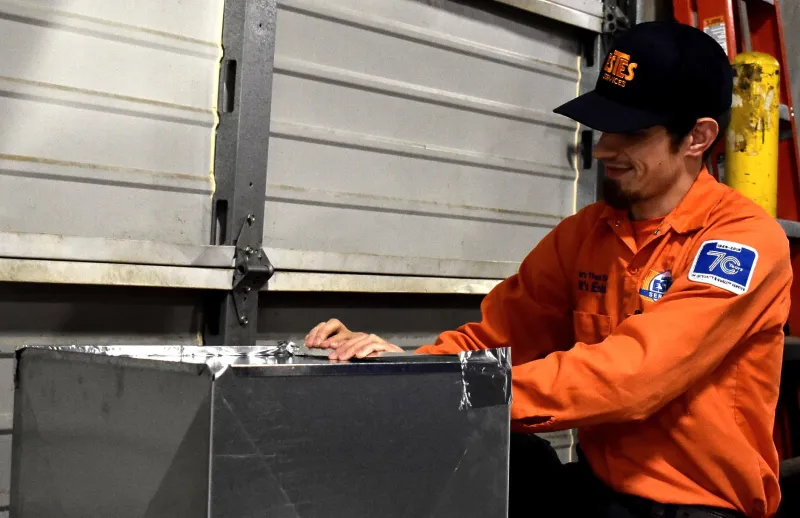 Why Choose Estes Services for AC Tune Up Service

AC system tune ups and maintenance bring many home benefits. Our professional technicians will catch problems before they become bigger ones. For example, tiny refrigerant leaks caught during maintenance are not difficult to fix. But when the refrigerant levels become so low that the compressor has burnt itself out, you will have to spend considerably more.
The harder the air conditioner works to maintain a certain level of cooling, the more the electricity is used up. When the AC works at an optimum level, you save money on electricity bills.
Here are a few important reasons why you should call Estes Services for your cooling needs in Atlanta, Kennesaw, Sandy Springs, Dunwoody, and beyond.
Our business is licensed.
Our business is insured.
We are a family-operated business and not a franchisee.
Our clients can expect only the best service.
Join Our Residential Maintenance Membership Plan

We make preventative maintenance a breeze at Estes Services with our great Maintenance Membership Plans. Both our HVAC plans, which start at just $16.95, and Whole Home Standard plans, which start at $29.95 a month, include an air conditioning tune up visit. That's right—Your tune-up is included in the membership cost!
Keep your home safe and comfortable with one of our preventative maintenance plans. Learn more about our great plans and which could be the best fit for your home today.
Schedule Your Air Conditioning Tune Up Today

When you are in need of an air conditioning tune-up, choose Estes Services. Our cooling experts will provide you with top-quality service to ensure comfort and efficiency.
Our maintenance service will help ensure that you have a properly functioning air conditioner during the hot Atlanta summers. We will get the job done right and to your complete satisfaction. It's that Easy, it's Estes!
AC Tune-Up Resources You May Find Helpful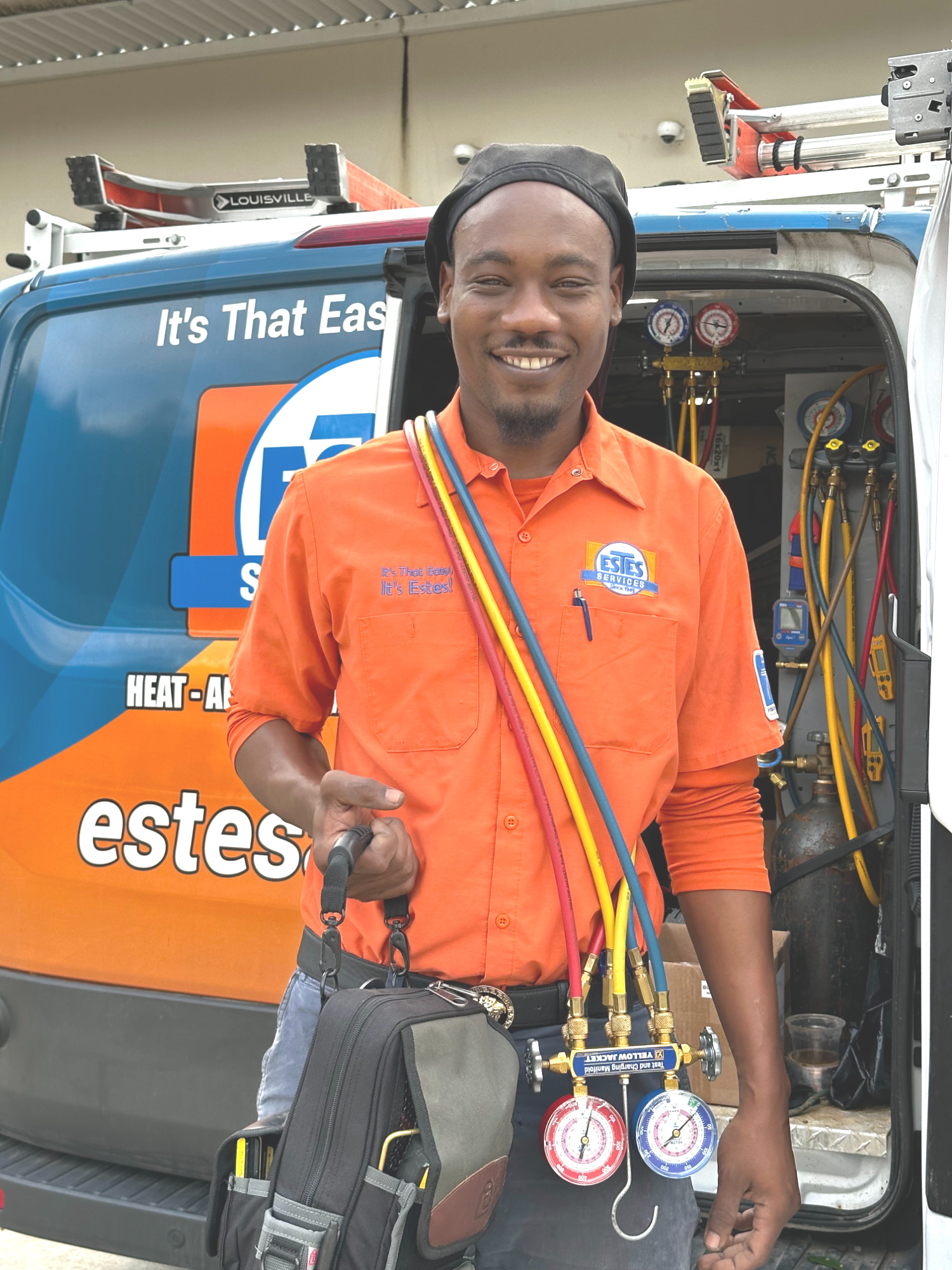 Estes Services Locations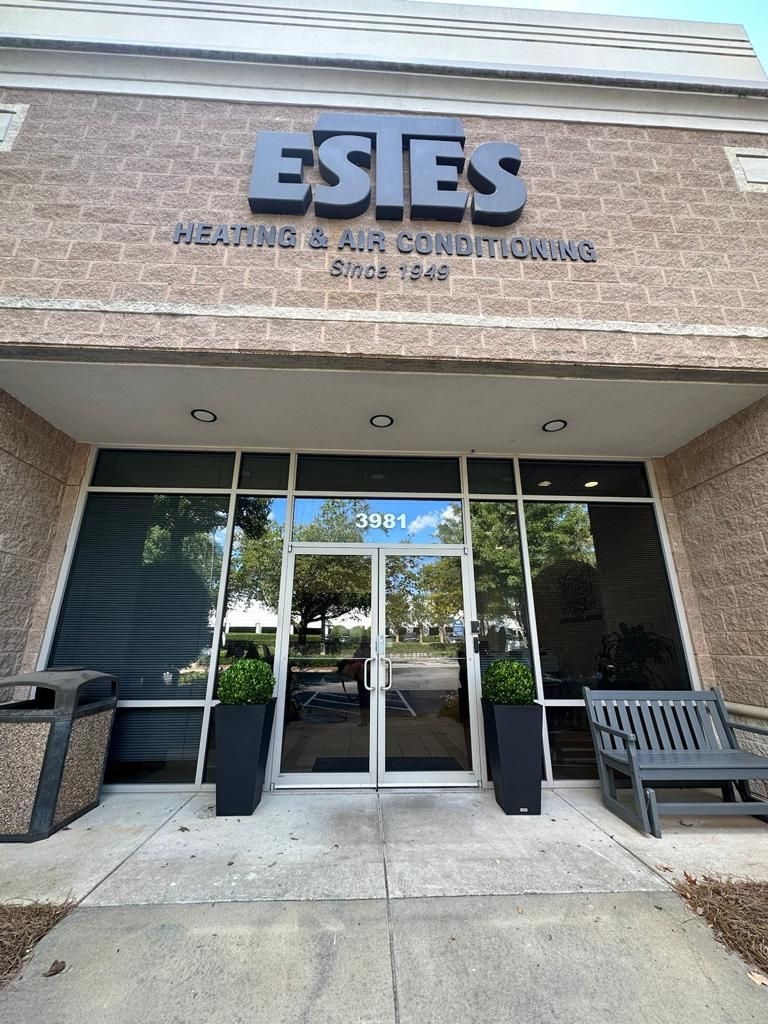 Estes Services is located at 3981 Tradeport Blvd, Atlanta, GA 30354. As you leave from departures at the Hartsfield-Jackson Atlanta International Airport (ATL), first head east on Maynard H. Jackson Jr. Blvd.
This road becomes Charles W Grant Pkwy once you go over the bridge (Loop Rd Bridge). Once you pass over the bridge, take the first left at the intersection onto International Pkwy to Atlanta.
Once on I-75, stay on the right and follow signs for Porsche Avenue. Take the exit toward Porsche Avenue from International Pkwy. Keep right at the fork and merge onto Old Dixie Hwy.
On the very first right-hand turn, turn right onto Tradeport Blvd. There's a sign at the entrance labeled "Atlanta Tradeport." Right before the road ends at a cul-de-sac, our office is on the right.
If you have any other questions, please feel free to contact us at (470) 397-4382.
Location
Estes Services is located at 3981 Tradeport Blvd, Atlanta, GA 30354
Hours
We are open during the following hours:
| | |
| --- | --- |
| Monday | 7 AM-10 PM |
| Tuesday | 7 AM-10 PM |
| Wednesday | 7 AM-10 PM |
| Thursday | 7 AM-10 PM |
| Friday | 7 AM-10 PM |
| Saturday | 8 AM-4 PM |
| Sunday | Closed |