Atlanta Residential Smart Device & Smart Home Installation

Atlanta Electricians Specializing in Smart Home Device Installation and Connectivity Services
Smart home technology is sweeping the country by storm, and many Atlanta homeowners are eager to take advantage of the benefits these devices offer in their own residences. There are a variety of different types of smart home devices on the market, and even more models for selection. The setup required to install a device and integrate it with other smart home devices is confusing and time consuming for many. With smart device installation services from Estes, remove the possibility of errors and potential hours of confusion! Our Atlanta electricians perform smart device installation for a variety of systems and product manufacturers to help you create the convenient and efficient modern home of your dreams.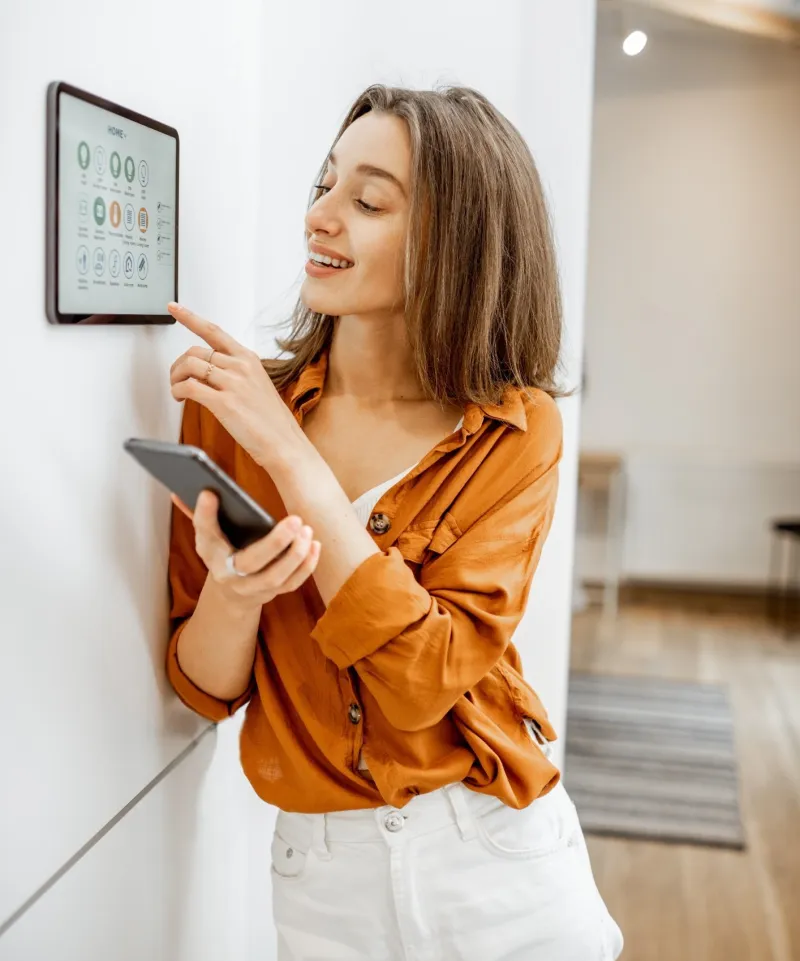 What Is a Smart Home?
A smart home is no different than any other in terms of structure or how it's built - it's simply a home with smart device installation. Smart devices are Internet connected and offer remote control via a smartphone, tablet, or computer. Accessed through a mobile app or website portal, smart device installation allows homeowners to monitor device and system usage, make adjustments, and collect useful data for making energy-conscious changes around the home.

Atlanta Residential Smart Home Installation Services
Cameras & Security
A home camera and security system is more accessible than ever with smart device installation. Install one or many cameras, security devices, and alarms indoors and outside for enhanced protection while you're at home or away. Equipment is available that allows for live video access, video storage, law enforcement notification, and even audio that allows you to speak directly to those in your home from your remote connected device.

Video Doorbells & Locks
Know who's arrived and let them in without physically answering the door with smart device installation! Video doorbells alert you when a visitor arrives before they reach the door - see who it is on your smartphone and even record pictures. Smart locks allow you to lock and unlock doors remotely and set specific access to your home for specific users while keeping a record of entrances and exits.

Thermostats
Smart thermostats give Atlanta homeowners a new level of control over their indoor comfort! Adjust settings for heating and cooling systems without a trip over to the thermostat. Get maintenance alerts and diagnostic reports to help you better care for this essential equipment and gain higher energy efficiency from its use.

Smart plugs and Lighting
Smart plugs and lighting allow you the ultimate convenience - turn lights and devices on or off with voice commands or the touch of a button! Don't fumble across a dark room to the switch and risk a fall. With smart lights and plugs, you don't even have to get up to use or turn off connected devices!

Smoke Alarms
Smart smoke alarms help Atlanta homeowners seek safety in the event of a fire. They sound like regular smoke detectors when triggered, as well as send alerts to your smartphone. If you are away from home and receive an alert, you know to call for help even from afar. Certain models allow you to customize alarm tones or choose a voice warning, and even allow you to easily turn off the alert in the event of a false alarm.

Voice Devices and Speakers
Smart device installation allows Atlanta homeowners to further increase convenience in their connected dwellings. Install smart devices that allow for voice control over the various smart home devices across your living areas, access useful information, and more. Smart speakers play music and more in selected areas or across the home.

Schedule Your Atlanta Smart Home Installation Service Today!

Make the most of your smart home with smart device installation from Estes Services. Our technicians are knowledgeable regarding the installation and use of many different brands and models of smart home devices. We make installation, setup, and integration a breeze to help you harness all the power and convenience these devices deliver.