Commercial HVAC Repair Services

Commercial Heating & Air Conditioning Repair in Atlanta, Georgia
Proper commercial HVAC repair services are crucial for your facility's comfort, safety, and efficiency. In fact, improper maintenance can have a negative impact on your facility, such as rooms being too hot or cold or having a costly equipment breakdown. Our experts at Estes Services can help you with your commercial HVAC repairs in Atlanta year-round. When it comes to commercial HVAC, we know what's best for your building.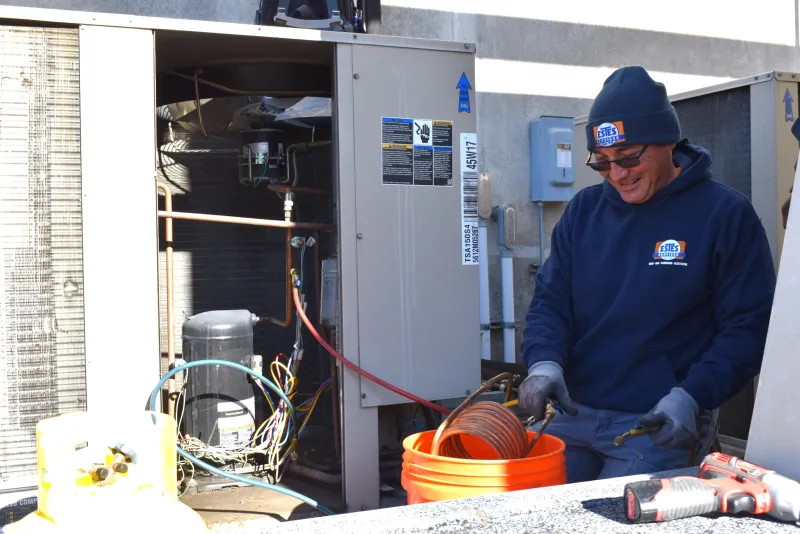 Signs That You May Need a Repair Soon

Here are some common signs and symptoms that it's time for a commercial AC repair or commercial heating repair:
● The unit won't turn on.
● Excessive or loud noises when the system starts up or while it is operating.
● The system is humming, but the fan isn't functional.
● The pilot light is out.
● The fan is operating, but the compressor has stopped working.
● The burners are lit, but the blower won't turn on.
● Warm air is blowing when the air conditioning is on.
● The blower runs constantly.
● There is water pooling around the air conditioning.

Commercial HVAC Repair Service That You Can Trust

When you schedule a commercial HVAC repair with Estes Services, you will receive the highest quality service possible from our professionals.
We employ only the best HVAC technicians who have been NATE-certified and are trained to handle anything in commercial HVAC. We will carefully inspect your commercial HVAC unit before offering suggestions and also deliver quick results so that you can get back to business.

Discover the Benefits of Commercial HVAC Maintenance

By properly maintaining your commercial HVAC equipment, you will experience numerous benefits, including increased efficiency, improved comfort, and increased reliability.

Increased energy efficiency
A healthy system will boost energy conservation and result in you spending less to heat or cool your employees and customers.

Improved indoor comfort
Even temperatures throughout your building are essential, especially with the extreme heat and humidity of summers in the south.

Increased reliability
When your commercial unit is promptly repaired after the first sign of a problem, you don't have to worry about massive and expensive failures in the long run.

Schedule Your Commercial Service Now!

Don't let your commercial heating and cooling system continue to deteriorate - call Estes Services! We will inspect your system and offer solutions that are affordable while increasing its energy efficiency and boosting your indoor air quality.