Atlanta Residential Ceiling Fan Installation
Atlanta, GA Electricians Specializing in
Residential Ceiling Fan Installation
Ceiling fan installation enhances comfort and temperature control in various areas of the home. They come in various shapes and sizes, with styles and finishes to complement the décor of your rooms in addition to the added functionality. For extra relief from the Atlanta heat, consider ceiling fan installation in your home.
Ceiling fan installation is a job for an Atlanta licensed electrician. Don't risk injury or a botched job with a DIY attempt - trust the professionals of Estes Services to do the job right! We're here to assist you with equipment selection as well as safe and reliable ceiling fan installation. Contact Estes Services today to schedule electrical services in Atlanta, Georgia for ceiling fan installation.

What Are the Benefits of a Ceiling Fan?
Ceiling fans add style to each room of your home - they come in various shapes, finishes, with or without lighting options, etc. The right ceiling fan is a perfect complement to your room.
Ceiling fans reduce energy costs associated with heating and cooling. When set in the right direction for the season and only used when a room is occupied, a ceiling fan helps a room feel a few degrees warmer or cooler without additional HVAC system use. With the installation of a ceiling fan, you'll quickly make up the costs of installation with the savings you'll earn on your monthly energy bills.
Many ceiling fans are available with lighting options. The additional overhead lighting enhances both the visibility and functionality of your living spaces.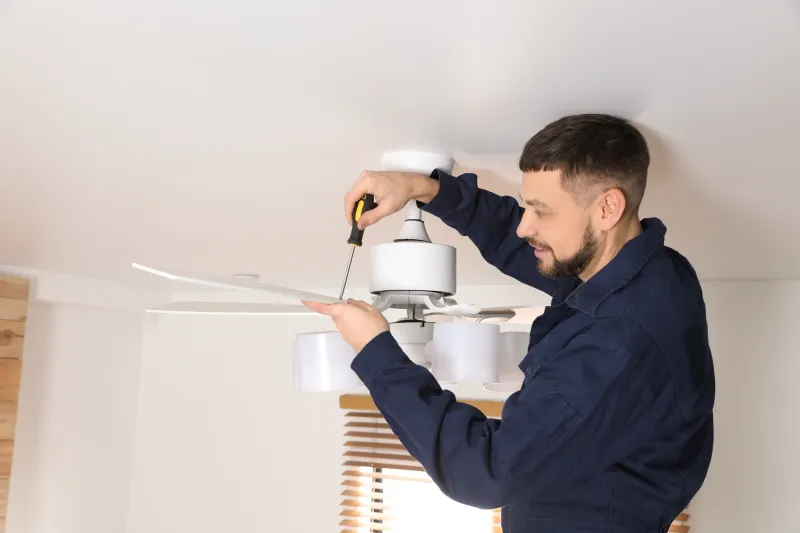 What Rooms in My House
Should Have a Ceiling Fan?
Many rooms in the home benefit from ceiling fan installation! In any room where people gather, work, or relax, ceiling fans provide energy-efficient climate control when used correctly. The downdraft produced by counterclockwise rotation creates a wind chill effect to help you stay cooler. In the winter, clockwise rotation redistributes warm air, so you feel more comfortable.
The air circulation provided by ceiling fan installation is a benefit in areas that are unconditioned or prone to moisture exposure, such as attics, bathrooms, and garages.

Why Call Estes Services for
Residential Ceiling Fan Installation in Atlanta?
Homeowners in Atlanta, GA turn to Estes Services for reliable ceiling fan installation for a multitude of reasons. Our licensed electricians keep your home protected, ensuring electrical work is properly completed. We offer quick service to tackle your home improvements sooner, so you are able to enjoy the benefits of your new ceiling fan without a long wait.
As a proud member of the Greater Atlanta community, we take pride in delivering the help our neighbors need to create more comfortable, energy-efficient homes. If you're looking for an electrical company in Atlanta to perform ceiling fan installation in your home, look no further than the local electricians at Estes Services. Contact us today to schedule an appointment.