Indoor Air Quality Services

Providing premier indoor air quality service in Atlanta, GA

Indoor Air Quality Service in Atlanta, GA

Indoor air quality plays an important role in your home's comfort, health, and safety. If you are unsure about the current state of your home's air quality or suspect that you have poor indoor air quality, you should schedule service and get an inspection of your air quality performed.
In fact, did you know that, according to the U.S. EPA on indoor air quality, we spend about 90 percent of our time indoors? In addition, some pollutants are 2 to 5 times higher indoors than outdoors. Poor indoor air quality can greatly affect homes that have people with respiratory problems such as allergies and asthma, but it can also cause issues for anyone in a household.
Many pollutants and contaminants in the air of your home can be reduced with air quality products, including UV air purifiers, air cleaners, and humidifiers. Keep your home healthy by scheduling service today to learn more about our indoor air quality solutions at Estes Services. You'll be breathing cleaner air at home in no time and saying—It's that Easy, It's Estes!
As Atlanta's #1 HVAC company, customers choose us because:
Highly trained and licensed technicians

Locally owned and operated family business

75+ years of experience giving expert advice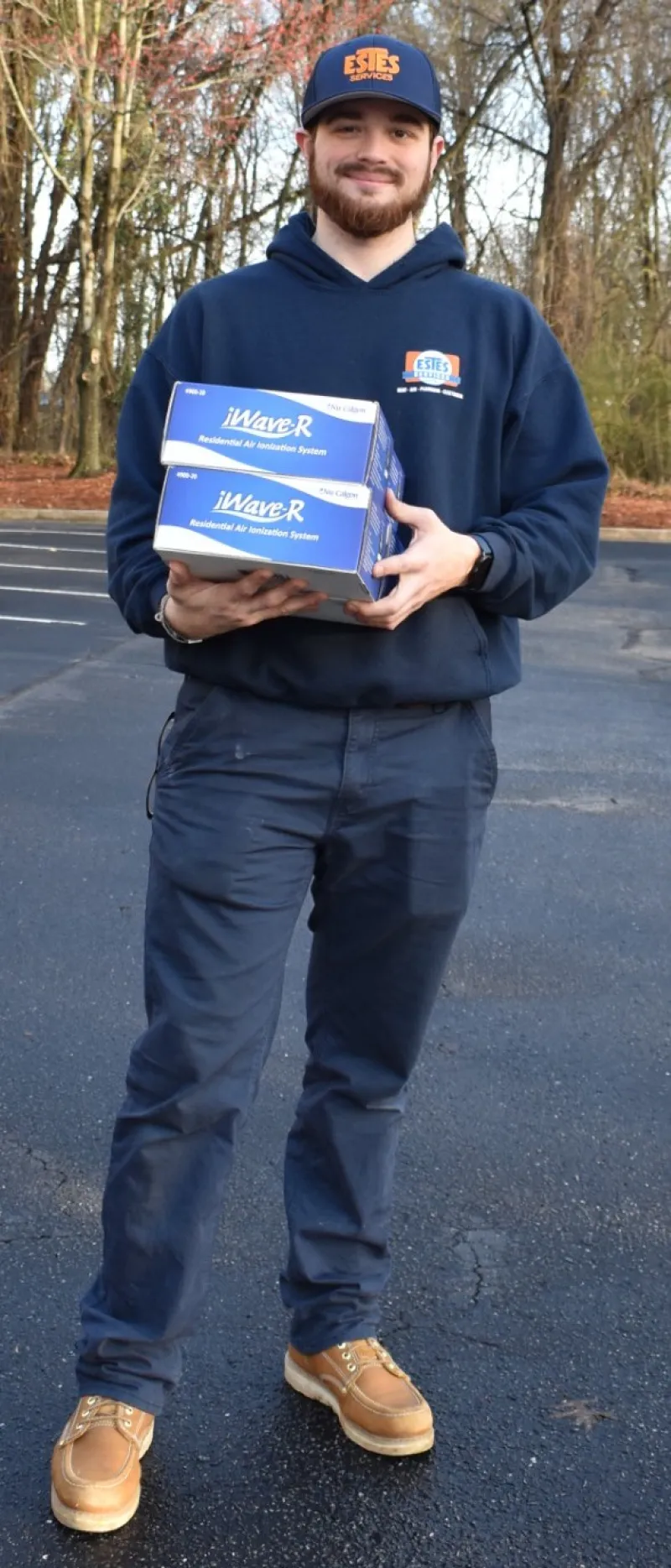 Benefits of Improved Indoor Air Quality at Home

With our indoor air quality solutions at Estes Services, you can enjoy:
Cleaner Air
If you've been finding that it's become a challenge to get a nice, easy breath of air in your home, you're probably in need of improved indoor air quality. Air that is contaminated by allergens or bacteria can wreak havoc on the lungs of those within your household. If someone in your home is dealing with asthma or has any other breathing problem, the last thing they need is poor indoor air quality within their own home.
Better Sleep
When you're able to breathe freely and easily with no problems, you'll find that you're able to get rest much more easily. Additionally, your chances of getting sick will decrease as potential airborne illnesses are taken out of the air. You're more likely to get a great night of sleep when you're feeling well and healthy rather than when you're feeling under the weather.
Less Allergy Symptoms
While we commonly think that allergens are only bad during the spring and fall months, allergies can last all year long when you have poor air quality in your home. This happens because allergens and bacteria are allowed to float freely through your home, affecting everyone as they breathe in the air. When you improve your home's air quality, you'll notice less allergy symptoms among your family members that commonly struggle with symptoms.
How Can Estes Help?
There are a number of steps we take in order to help you improve your home's indoor air quality. First, we perform an inspection of your current air quality and review the results. From there, we will recommend certain products depending on the results in your home and provide you with the necessary information to make the best choice for your house.
When a decision has been made about the product you're choosing to improve your home's current air quality, we'll perform the complete installation of the product and make sure that it's running and functioning as it should.
Schedule Indoor Air Quality Consultation Today

When you are in need of better indoor air quality at home in the greater Atlanta area, choose Estes Services. Our air quality experts will provide you with top-quality service to ensure your comfort and safety.
Schedule service with us today to learn more about how we can help you improve your air quality.
Directions from Atlanta Airport to Estes Services

Directions from Atlanta Airport to Estes Services Estes Services is located at 3981 Tradeport Blvd, Atlanta, GA 30354. As you leave from departures at the Hartsfield-Jackson Atlanta International Airport (ATL), first head east on Maynard H. Jackson Jr. Blvd. This road becomes Charles W Grant Pkwy once you go over the bridge (Loop Rd Bridge). Once you pass over the bridge, take the first left at the intersection onto International Pkwy to Atlanta. Once on I-75, stay on the right and follow signs for Porsche Avenue. Take the exit toward Porsche Avenue from International Pkwy. Keep right at the fork and merge onto Old Dixie Hwy. On the very first right-hand turn, turn right onto Tradeport Blvd. There's a sign at the entrance labeled "Atlanta Tradeport." Right before the road ends at a cul-de-sac, our office is on the right. If you have any other questions, please feel free to contact us at (404) 362-6960.
Location
Estes Services is located at 3981 Tradeport Blvd, Atlanta, GA 30354
Hours
We are open during the following hours:
| | |
| --- | --- |
| Monday | 7 AM-10 PM |
| Tuesday | 7 AM-10 PM |
| Wednesday | 7 AM-10 PM |
| Thursday | 7 AM-10 PM |
| Friday | 7 AM-10 PM |
| Saturday | 8 AM-4 PM |
| Sunday | Closed |
View Our Lineup of Products
Keeping Your Home Comfortable Since 1949