Druid Hills, GA Air Conditioning Repair Service
Emergency Air Conditioning Repair and Service in Druid Hills, GA
Every home in Druid Hills needs a reliable cooling system for indoor comfort and relief from the Georgia heat. If your air conditioner cannot perform, turn to Estes Services for air conditioning repair in Druid Hills, GA. We perform lasting repairs on all brands of cooling equipment, such as heat pumps, air conditioners, and ductless mini-split cooling systems. When air conditioning outages create uncomfortable and unsafe conditions, rely on us for 24/7 emergency repair service by trusted HVAC technicians.

Does My Home Need Air Conditioning Service?
Air conditioners and heat pumps often show signs of a malfunction before they stop working altogether. Watch for the following signs that your air conditioning system might be a risk so you can schedule an AC repair service in Druid Hills before your system breaks down:
Equipment makes strange sounds when it runs
Bad odors from the equipment and/or vents
AC is unable to manage humidity levels indoors
Warm air blows through vents
Cooling cycles end but home isn't cool enough
Electricity bills spike with no obvious cause
Why Heating and Cooling Systems Need Tune Ups
Air conditioner and heat pump tune ups are a must every year. This service protects system components from wear and tear damage, and increases the system's energy efficiency and performance. Tune ups help North Druid Hills homeowners create a more comfortable home with better air quality, lower their utility costs, reduce the likelihood of expensive breakdowns, and ensure system longevity to avoid early replacement costs. Our certified HVAC technicians will perform a thorough inspections of your heating and cooling systems to make sure they're able to operate at peak performance throughout the summer heat.

Preventive Maintenance Plans Make Air Conditioning Service Easy
Never forget an air conditioner tune up again - Estes' preventive maintenance plans make service easy! Save money and protect your equipment when you join. With a preventive maintenance agreement, we schedule and complete your heating and cooling system tune ups (2 visits per year) to increase energy efficiency and system performance. For cooling system breakdowns, your repairs are 15 percent off! And, your repairs are protected by a one-year repair warranty.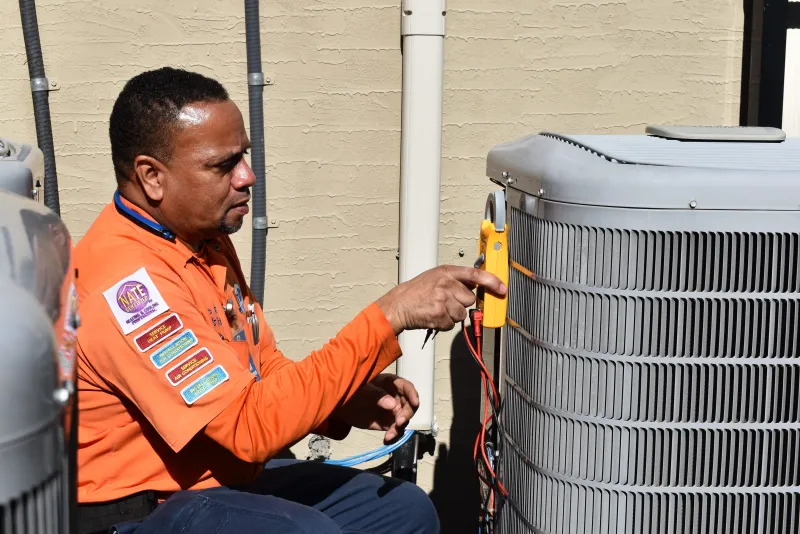 Tired of Air Conditioner Repair Bills?
Tired of the hassle and expense of constant repairs to your aging air conditioner? New air conditioner installation equips your home with brand new, reliable cooling equipment! Upgrade performance and energy efficiency with a new system that distributes steady cooling and better air quality throughout your Druid Hills, GA home. Reduce your electric bills and repair expenses, as your new air conditioner or heat pump is supported by a new warranty. Get a free quote for AC replacement and explore our financing options.

Schedule Your Druid Hills AC Service Today!
Avoid the added hassle and expense of more extensive repair work when you call Estes at the first sign of trouble for Druid Hills air conditioning repair and service. Our NATE-certified HVAC technicians are committed to keeping you cool with effective solutions to solve air conditioning issues in your home. Estes has been recognized by the Better Business Bureau with an A+ rating, the best company grade attainable in their rankings. Available any time, keep cool with Estes and give us a call to book an appointment today!