Air Conditioner Installation Service
Proudly family-owned and serving greater Atlanta since 1949
Top-Quality AC Installation for Your Home
Are you in need of a new air conditioning system to get you through the hottest days of summer comfortably? Look no further than the professionals at Estes Services. Our team of trained heating and air conditioning technicians is here to ensure that your air conditioning installation in Atlanta is of the highest quality.
At Estes Services, we know that different homeowners have different cooling system preferences. We are proud to partner with Carrier - the leading name in the HVAC industry. Carrier offers excellence in their product lines, exceptional warranty contracts, and dependable durability in every new air conditioner.
Trust us when we say, regardless of how you may choose to cool your home, you can count on our heating and cooling technicians to get your air conditioning installation done right. Give us a call today to schedule air conditioning installation services in Atlanta and the surrounding area.
Benefits of Professional Residential AC Installation in Atlanta

When your existing AC unit begins to fail, it can be difficult to know what to do next. Do you try to replace the air conditioner yourself, or do you get in touch with a professional technician? Attempting to install a new air conditioning system yourself can result in issues with the system and can potentially even be dangerous. All AC installations should ideally be performed by a professional to ensure that the system is installed correctly and that you stay safe.

Not every AC replacement company in Atlanta, GA, is as detailed as we are. Our heating, cooling, and indoor air quality professionals give each job the attention to detail that our customers deserve. With our professional AC unit installation service in Atlanta, you can expect these benefits:

Better equipment performance
Greater comfort
Enhanced safety
Fewer repairs
Warranty coverage
Annual maintenance
Choosing the Right Air Conditioner for Installation in Your Home

The first step in ensuring your 100 percent satisfaction with your air conditioning installation is to choose the air conditioner which best suits your cooling needs and usage habits. This may not be quite as simple as it sounds. For many Atlanta homeowners, a traditional central air conditioning system is a good fit. Others, though, find that using a heat pump or ductless air conditioning system is more fitting to their styles.
If properly maintained, air conditioner installations last around 10 to 15 years. In the South, we ask a lot of them, so it's not unusual to see Atlanta air conditioners average between 10 to 12. Air conditioners are rated for energy efficiency, or how much they cost to run, by its Seasonal Energy Efficiency Ratio, or SEER. The higher the better. The current minimum is 14. At Estes, we offer traditional air conditioners with a SEER up to 26. Another consideration is speed. Some are single-speed and some are variable-speed.
Why Choose Estes Services for Residential AC Replacement & Installation in Atlanta?

At Estes Services, we take pride in being the #1 people's choice for residential and commercial HVAC installation and repair services within the Atlanta community. We have a great team of people who work hard every day to bring integrity and quality customer service to every interaction. We're a three-generation, family, and locally-owned business dedicated to our communities and to handling your air conditioner, heat pump, and ductless mini-split services in Atlanta, GA.
In 2019, we celebrated our 70th year in the business of helping Atlanta, GA, residents with home services needs. We're happy to consult provide free estimates, second opinions, and recommendations for the best air conditioning solution for you. We're also proud of the recognition we've received from Carrier, such as the President's Award for ten consecutive years and the induction into the Dealer Hall of Fame.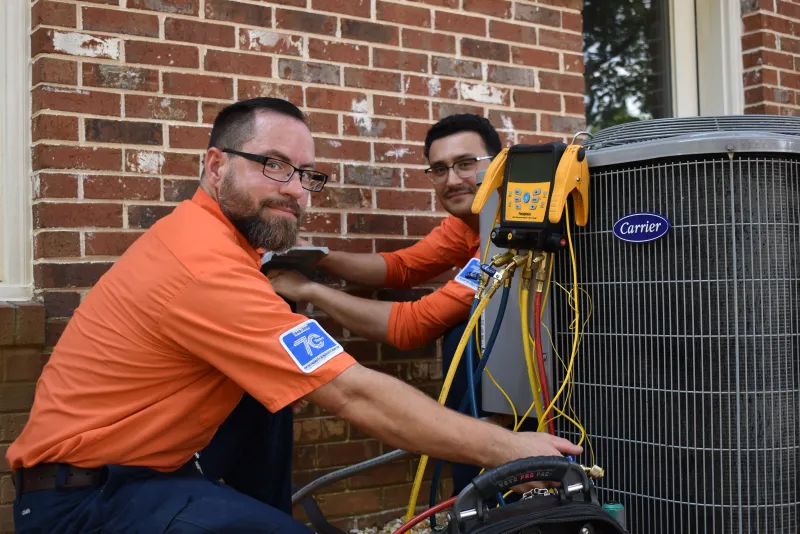 Contact Estes Services for Air Conditioner Installation Services
For brand new HVAC system installation services in the Atlanta area, get in contact with the heating, air conditioning, and indoor air quality experts at Estes Services. Our experts will arrive on time to effectively and efficiently install or replace your new unit.
Give us a phone call, or contact us online to see how we can help with all of your HVAC installation and repair needs.