Are you considering a new heat pump for your home in the Atlanta area? As you may already know, this technology is rising in popularity. If you're considering a heat pump installation service for your home, it's important to consider what's involved before, during, and after such a process.
In this article, we will cover the different steps and procedures to consider in order to ensure a successful heat pump installation process. By the end of this article, you should have a better understanding of what goes into a heat pump installation by a licensed and trained HVAC technician in Atlanta, Georgia.
Let's get started with our quick guide on what's typically involved with a heat pump installation:
Before the Heat Pump Installation: Identify Your Goals
efore you schedule an installation for a heat pump, you should first determine your reasons for wanting to install one in the first place. There are numerous reasons why Atlanta homeowners choose to opt for a heat pump, including cost savings, energy efficiency, and convenience.

Knowing your intention for wanting to install a heat pump can help you confirm your selection of this type of system and thereby identify the right kind of heat pump for your home.
Once you've identified your goals for this new heat pump, it's important to start with a consultation and inspection done by a licensed and trained HVAC technician who specializes in Atlanta AC services. For instance, at Estes Services, all of our HVAC technicians are licensed and NATE-certified.
A technician will determine the properly sized heat pump for your home in accordance with the Manual J Load Calculation, which is required by residential building codes and is also typically needed for local and state incentives. This will ensure optimal comfort and efficiency. The technician will also check that your home is well-insulated and that there are no air leaks so that the right conditions are set up for proper installation and that you can enjoy your heat pump all throughout the year.

Once you have your home inspected, then you can, in coordination with your HVAC technician, select the type of heat pump you want to purchase. There are two main types of heat pumps to consider: ductless mini-split vs. standard split system ducted heat pumps, which in this article, we focus on the latter option.
Additionally, at Estes Services, we are a proud partner of Carrier. Carrier is known for its quality products, excellent warranty agreements, and long-lasting heat pump equipment.
For example, we offer Carrier heat pump models, including the Infinity 18VS Heat Pump (Carrier 25VNA8), which is known for its energy efficiency and enhanced comfort. Even more, it features a variable-speed compressor which boasts many benefits, including money saved on your utility bills.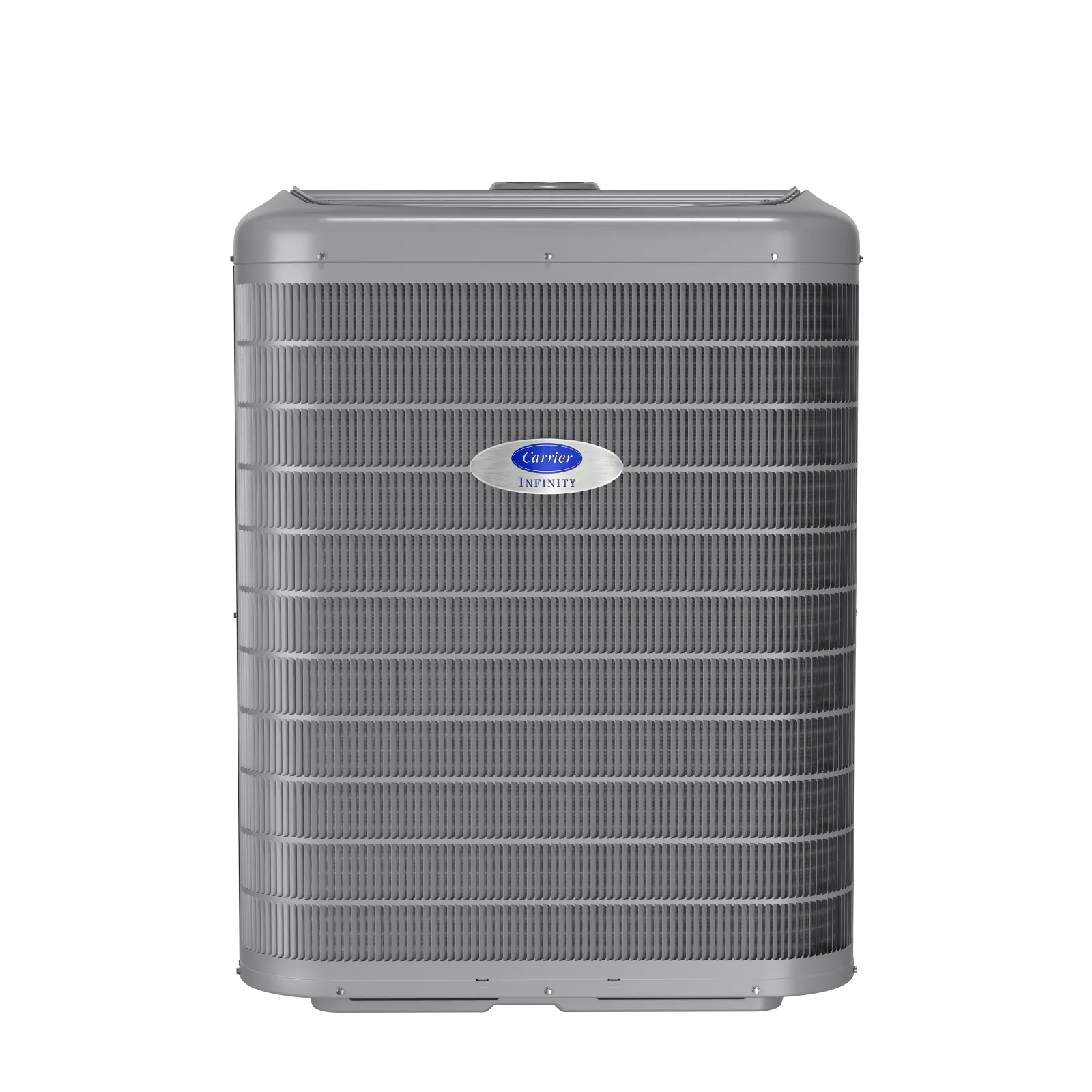 While a Carrier heat pump system may have a higher upfront cost than other brands, remember that you get what you pay for. There is a 10-year parts warranty with a Carrier heat pump. In addition, we offer Specials & Coupons, and Special Financing to allow for manageable monthly payments that fit within your budget.
Heat Pump Installation Process
Upon selection of your HVAC Atlanta contractor and type of heat pump, it's time for installation day. It typically takes about four to six hours to install a new heat pump; however, it can vary. In some cases, it can take longer, so that's why you want to choose the best day that will work for your schedule to install your heat pump.
Just like a central AC system, a heat pump has an indoor and outdoor unit. Your Estes HVAC technician will explain where each will go. Once you know where these units will be installed, it's important that any obstructions are cleared around the areas where your new unit will be installed. You will want to ensure that your technician can easily and safely install your new heat pump.
As you can see, there are important safety precautions associated with any heat pump installation. An improper installation can pose a risk to your safety and property; it can even result in injury or even death. That is why it is important to hire a qualified contractor for any heat pump installation service.
With this in mind, most heat pump installations, in accordance with all applicable codes, standards, amd regulations, will follow these 10 steps:
Thorough inspection of your home

Move new unit to final location

Carefully remove packaging

Inspect unit

Install indoor unit, and create access points inside your home

Connect the unit's outside piping to the indoor unit

Install outdoor unit

Connect wires and electrical

Finalize details

Perform testing
Proper heat pump installation is paramount for your home's comfort and safety. These steps are only for licensed and trained HVAC professionals to follow. It's meant to help homeowners like you know what to expect on installation day.
Schedule Heat Pump Installation with Estes Services Today
Once installed, your HVAC professional will test your new unit. Then, they will provide information on maintenance requirements. At Estes Services, we provide popular Maintenance Membership Plans to ensure that your new equipment stays within warranty and follows proper maintenance requirements throughout its useful life.
Since 1949, our local family-owned company has been proudly providing HVAC services to the greater Atlanta area, and we strive to treat our customers like family. We hope you found this guide useful in your heat pump installation decision-making process.
If you have any additional questions about what's involved and the unique factors to consider for your home, schedule service with us online today, or give us a call. One of our friendly team members will be glad to assist.
When you're ready for a heat pump installation, choose Estes Services as your Atlanta HVAC contractor. We make the process simple and easy. It's that Easy; It's Estes!
Schedule service today.