Call Estes Services for 24-Hour Emergency Heating Repair in Atlanta

Nobody wants to deal with a broken furnace. Lucky for you, the Atlanta furnace repair experts at Estes Services are available 24 hours a day, 7 days a week. Don't face cold winter nights without a well functioning furnace. Call us any time, day or night, for furnace repair services.
If you're having trouble getting the temperature right in your home, it's time to call in the experts for home heating services. Our NATE-certified heating technicians have seen all kinds of heating issues after serving the local Atlanta area for the last 70 years, and we're committed to providing home comfort solutions that last.
Furnaces tend to break down during the worst possible time, like in the dead of winter or the middle of the night. Luckily, our heating, air conditioning, and indoor air quality technicians are available 24 hours a day to make sure that your heating needs are always covered. No matter the time of day, we're here for you.
Our air conditioning and heating pros provide both gas furnace and electric furnace repairs! Need them now?
Dependable Heating Repair Services

If you ask our customers who offers the best furnace repair in the Atlanta area, they will tell you to call Estes Services. Here are some of the common heating problems we can take care of:
Burner Repair, Fan Belt Replacement, Fan Blade Repair, Blower Motor Replacement, Thermostat Recalibration, Heat Exchanger, Electrical Repair, And More!
Our heating technicians explain all of your options before beginning the service, so you can decide whether a furnace repair or new furnace installation is ideal for you.
If it's determined that your furnace is beyond repair, the professional team at Estes can even install a new heating system for you.
When to Call for Furnace Service
If your furnace isn't running at its peak, don't hesitate to give us a phone call for repairs. We understand that you may want to wait it out to see if the problem fixes itself, but furnaces don't just fix themselves! The longer you wait, the more likely it is that further damage is being done to your system, making your repair or replacement more costly. Reasons you might want to call for repairs include:

Odor coming from vents when the heater first comes on

If you live in an old building, it's natural to smell some weird things coming from your vents. But the smell when your heater kicks on should be barely noticeable, if at all.

Heater not blowing warm air

Don't tolerate this! If your filter has been changed recently, it could be a problem either with the heating system itself or with leaky ducts. Either way, it's a problem!

Inconsistent temperatures between rooms

Your entire house should be the temperature you specify on your thermostat. If you have a larger house, you may want to look into zoning.

Higher-than-usual energy bills

Your energy bills shouldn't vary that much. If your energy bills keep steadily climbing, either you've got a thermostat-meddling child or your system is getting less and less efficient.
Cold or stuffy rooms

Each room in your house should be the temperature you specify. If your ductless systems aren't cutting it or are creating stuffy rooms, it's time for a phone call to Estes for furnace repair.
Why is Regular Maintenance Important?

Most homeowners will never think about their furnace unless there is an emergency. That said, heating emergencies can be avoided entirely through regular maintenance.
Some of the other significant benefits which will make you consider the importance of maintenance include:
Extends the overall life of your heating system
Helps to improve indoor air quality
Saves money on energy costs
Eliminates the cost of constant repairs
Ensures consistent temperatures
When you work with our professionals, you will rest easy knowing that your furnace is properly maintained. From cleaning the unit, to making any minor repair as needed, our Metro Atlanta area furnace experience is the very best. Also, these services can be scheduled in advance with our company to make sure that you never miss an appointment again!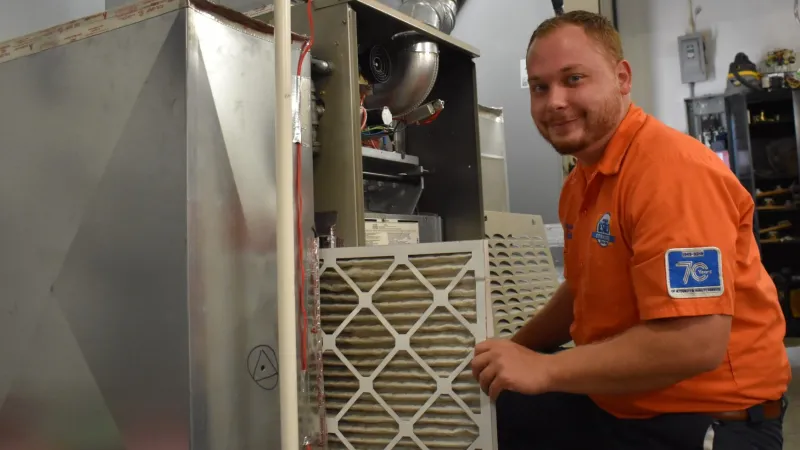 Contact Estes Services

When you turn to an HVAC business for repair services in your Atlanta, GA household, you deserve the absolute best. Our professionals are available to provide repair, maintenance, and new system installation services on heating and cooling systems to homes all across the Atlanta, GA area.
Whether you have an electric or a gas furnace that is in need of service, the heating, cooling and plumbing experts at Estes Services are here to help. For reliable heating and air conditioning services that you can count on, contact the professionals at Estes today.