Residential UltraViolet Air Purifier Installation & Repair Services
Improving Residential Indoor Air Quality
Air pollution, unfortunately, is part of our daily lives. And while some people think they can escape air contaminants indoors, that just simply isn't the case. Air pollution is actually worse indoors, where people spend an average of 90% of their time. With that in mind, consider how the addition of air purifiers can truly make a difference in the lives of people within your home or business.
Residential homes, commercial buildings, and office spaces lack the proper airflow that the outdoors provide. Compromised air circulation can lead to the development of several indoor pollutants and contaminants, including mold and mildew, allergens, bacteria, and viruses.
Fortunately, there is a simple solution to improve the Atlanta indoor air quality in your home or commercial property. Estes Services installs whole house and commercial-grade air purifiers directly into your home's existing HVAC system. If you're looking to improve the indoor air quality in your home or office, contact the NATE-certified HVAC system technicians at Estes today.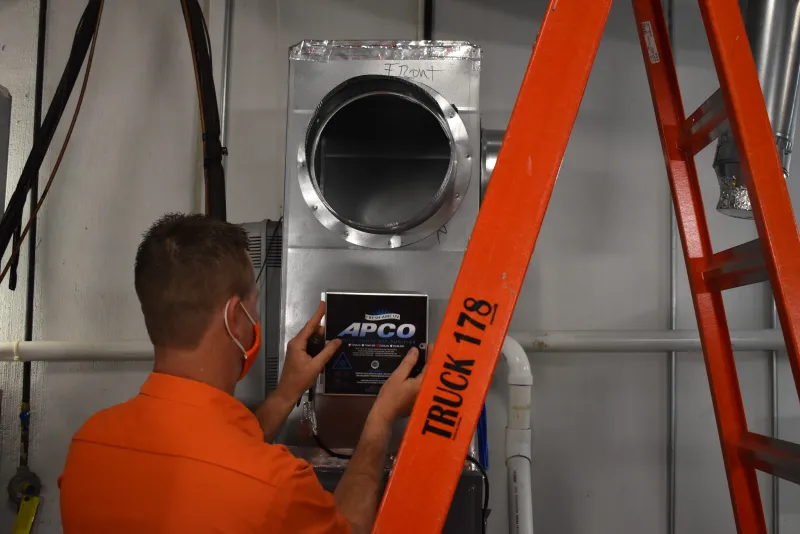 Benefits of Residential Ultraviolet Air Purifier Installation
Estes Services installs two air purification systems - a UV light air purification system and a plasma cleaner. Both do an excellent job of eliminating contaminants and pollutants from the air. Air purifiers can filter out up to 99.7% of airborne particles from homes and commercial settings - much more than a traditional air filter can eliminate.
Through a series of filters, pollutants, viruses, and bacteria are captured and killed. This will improve allergy symptoms, lower your family's chances of getting sick, and allow them to breathe and even sleep easier. The benefits and increased comfort that come with the installation of air purifier systems cannot be overstated.
The benefits of a UV bulb or plasma air purifiers are endless. Some of them include:
Cleaner Air
Most importantly, an air cleaner provides your home or commercial building with cleaner air. This is important, as the Environmental Protection Agency estimates the air in your home to be 2 to 5 times dirtier than outdoor air.

Relief From Allergies
More than 50 million Americans suffer from allergy symptoms. Air cleaners filter out common allergy triggers, including pollen, dust mites, and pet dander.

Eliminating Mildew and Mold Growth
Mold spores and mildew can form for a variety of reasons, including airflow issues and excess moisture. An air purification system is part of the solution to prevent this growth from occurring.

Eliminating Tobacco Smoke
Ultraviolet light and plasma air purifiers help neutralize tobacco and cigarette smoke.

Reducing Dust
The average home collects 40 pounds of dust per year, so just imagine how much a warehouse or office space can collect! Air cleaners, such as plasma cleaners or UV light systems, can trap dust particles before they have a chance to settle.

Preventing Germs
We offer the best UV and plasma air cleaners on the market. Air purifiers with UV lights can capture more than 99% of indoor germs that lead to sickness.

Here to Help
Are you thinking of installing an air purification unit or system to improve the indoor air quality for your family members or employees and customers? Estes is here to help. Our technicians are trained in the latest IAQ techniques and installation methods. For the installation of plasma cleaners or UV air purifiers, make sure to contact Estes Services today to discuss the options available for your home. Installing a UV light or plasma cleaner will significantly improve the air in your home for years to come.