Commercial HVAC Maintenance Membership
Commercial HVAC Maintenance Membership Plan in Atlanta, Georgia
The investment of a commercial HVAC system is expensive, which means maintaining its performance and lifespan should be a top priority. Estes Services offers maintenance membership plans for your commercial HVAC equipment so you can run your business without worrying about the integrity of your system!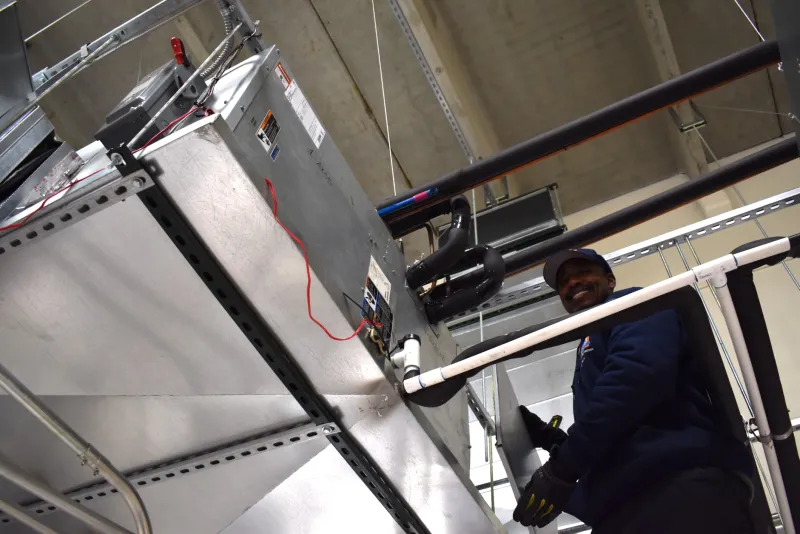 Benefits of Commercial HVAC Maintenance Membership Plan
Maintenance membership plan for your commercial heating and cooling system offers several advantages to your business, employees, and customers. These include:

Improved employee and customer comfort
When you keep your equipment maintained regularly, you, your employees, and clientele will enjoy comfortable temperatures and controlled humidity throughout the building. Better indoor environmental control has been directly tied to improved workforce productivity. A comfortable environment will keep customers happy while visiting your place of business, resulting in more profits over time.

Extended lifespan of your commercial HVAC equipment
Commercial heating and cooling units are expensive, requiring regular service to maintain lifespan. When you purchase a maintenance membership plan through Estes Services, our experts will ensure your equipment receives the service necessary each season to prevent future breakdowns and limit wear and tear that decreases system service life.

Increased performance
Regularly scheduled maintenance catches malfunctions and failures before they happen, allowing your equipment to run unhindered. You will spend less money in the future for expensive and unexpected repairs. Estes Services will catch small problems before they escalate to save you money in the long run.

Increased energy efficiency and savings
A neglected system uses more energy to operate when providing heating and cooling to larger areas. Commercial heating and cooling equipment that isn't maintained begins to show signs of wear and tear and exhibits decreased performance. Decreased performance and frequent repairs cost you energy and money. Call or contact Estes Services online to keep your unit healthy and performing efficiently to save you money every year.

Choose the Right Maintenance Plan for Your Business
When you choose a maintenance membership plan with Estes Services, you are choosing to invest in your commercial HVAC system and your business's future. We will provide your system with the best care possible, performed by our NATE-certified technicians. Call us today and discuss the unique needs of your heating and cooling equipment so we can prepare a plan of action to meet your business's demands.
Protect your commercial HVAC investment by scheduling for a maintenance membership plan with Estes Services. Our NATE-certified professionals will lengthen the lifespan of your equipment while keeping your employees and customers happy year-round!