Atlanta Home Electrical Wiring Upgrades
Atlanta Electricians Specializing in
Home Wiring Upgrades
Enhance the functionality and reliability of your home with electrical wiring upgrades. Electrical wiring upgrades enhance the safety of your home's electrical system by replacing outdated components and the addition of electrical safety devices. They also expand power service to meet your household's electrical demands and add new electrical systems that make your home more enjoyable and easier to use.
Home electrical wiring upgrades are not a DIY job - you need the help of an Atlanta licensed electrician for major electrical work around your Atlanta home. Without the right knowledge and precautions, electrical wiring upgrades are a dangerous job - turn to Estes Services for assistance.

Signs your Home
Needs Wiring Upgrades?
Many older homes in Atlanta are not equipped with the safest electrical components or enough power service. The following are signs you need electrical wiring upgrades:

Aluminum Wiring
Aluminum wiring was once heavily used for residential electric applications, before copper became the standard. Aluminum is unable to conduct electricity as well as copper, so electrical wiring upgrades to replace aluminum wiring delivers better electrical performance and efficiency. Aluminum is also softer and has the potential to expand and contract over time - this loosens electrical connections, creating a fire hazard.

Ungrounded Outlets
This older style of outlet installed prior to 1962 does not have a ground, which puts users at risk of electrocution and electronics at risk of damage due to power surges. Most modern electronics have three-pronged power cords - in a home with two pronged outlets, electrical wiring upgrades are necessary to utilize these devices in the home.

Missing GFCI

GFCIs (Ground Fault Circuit Interrupters) stop power flow between electrical sources and grounded surfaces to prevent electrical shocks and prevent overheating a circuit. GFCIs are required in specific locations throughout different rooms of a home, including Bathrooms, Kitchens, Unfinished basements, Crawl spaces, Garages and outbuildings, Laundry rooms, Utility rooms and Outdoor areas.
Not Enough Power

Older homes in Atlanta often do not have the electrical capacity required by today's households - we use many more electrical devices than families did just a few years ago. If your home's electrical system is unable to safely power your devices and appliances, electrical wiring upgrades help solve this issue.

Installing and Replacing
Switches, Outlets, and Dimmers

Whether it's to replace outdated or damaged equipment or simply add convenience, electrical wiring upgrades create a more functional and safe electrical system. Replace malfunctioning switches and outlets to prevent electrical shocks and rid your home of fire hazards. Add or relocate switches, outlets, and dimmers where you want them, for easier use of devices and convenience when turning on lights.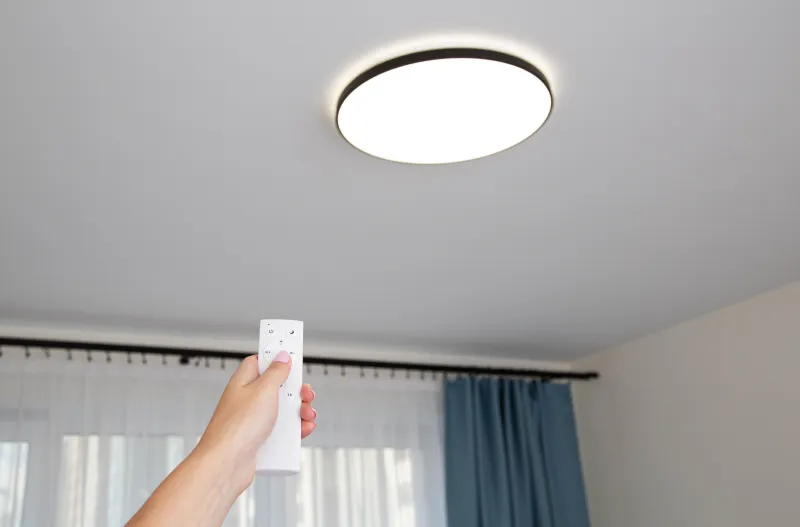 Other Specialty Home Wiring Upgrades
Cabinet Lighting
Add light to your under cabinet spaces to increase visibility for countertop workspaces. Cabinet lighting also creates walkway lighting at floor level, as well as highlights above or in-cabinet displays and decorative features.

Home Theaters
Create the ultimate home theater experience with electrical wiring upgrades to accommodate video and audio equipment. Unless specifically designed for a home theater, the existing room you use likely doesn't have the outlets and switches you want, where you want them. Wiring upgrades are planned around your home theater setup to provide power at ideal installation points.

Baseboard Heaters
Add supplemental heating throughout areas of the home with unobtrusive baseboard heaters. Electrical wiring upgrades expand your home's electrical capacity to accommodate these appliances. Baseboard heaters are installed with dedicated controls so you are able to add heat when desired.

Kitchen Appliances

Outlet location often dictates where you are able to use countertop kitchen appliances - this isn't always a convenient spot. Upgrade your electrical system to add outlets around your counter space that allow you to plug in your kitchen appliances wherever you like!

Exterior Holiday Lights
The multiple extension cords required for many homes' outdoor holiday lighting displays are a significant safety hazard. Plus, they place an added power demand on your electrical system. Electrical wiring upgrades give you the power you need for outdoor holiday lights, as well as outlets in convenient locations for your decorating.

Schedule Your Atlanta
Electrical Wiring Upgrade Today!
Electrical wiring upgrades are not only a safety improvement, but a step toward enhanced convenience at home. Our experienced electricians help Atlanta homeowners design and install wiring upgrades that transform spaces throughout the home. Trust Estes Services for safe and reliable electrical wiring upgrades, performed by our licensed electricians.