Atlanta Residential Exhaust Fan Installation
Atlanta Residential Electricians Specializing in
Exhaust Fan Installation and Repairs
An often overlooked piece of home equipment, exhaust fans are underappreciated for the work they do inside Atlanta residences. Reliable exhaust fan installation is an important player in the prevention of mold and mildew growth inside your home. They also remove unwanted odors, heat, and fumes to make your home more comfortable and safer.
Estes Services provides the help you need to outfit your home with these important devices and care for them throughout the years. Trust Estes Services for exhaust fan installation and maintenance. Our Atlanta electricians put their knowledge and skills to work for you, helping homeowners harness the power of this key household equipment. Contact us online, or give us a phone call today to schedule an appointment for service.

What Are the Benefits of an Exhaust Fan?
Exhaust fan installation offers many valuable benefits for Atlanta area homeowners, including:
Removal of excess moisture to prevent water damage as well as mold and mildew growth
Quickly expels cooking odors and smoke to keep the air in your home clean and avoid setting off smoke detectors
Pulls out the heat produced from showers, cooking, and gas appliances, as well as heat that gathers in attics to improve temperature control
Expels fumes from vehicles and garage projects for safety while improving climate control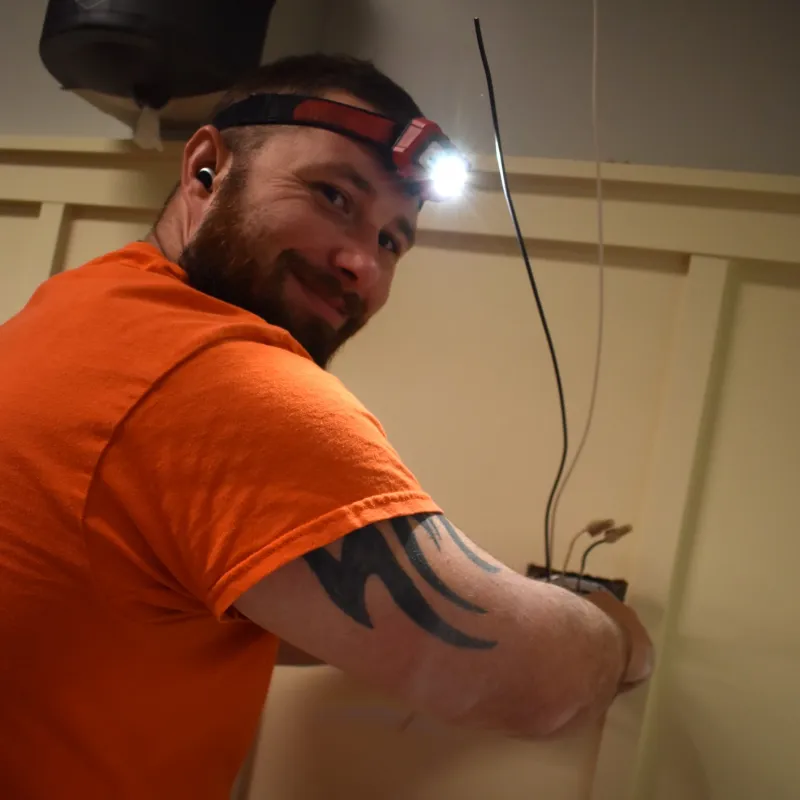 What Rooms in My House
Should Have Exhaust Fans?
Bathrooms
Hot showers and baths produce excess moisture that leads to mold and mildew growth. A bathroom exhaust fan will pull out moisture to provide proper ventilation and prevent mold and mildew growth, while also removing odors. Contact Estes for more information about how a bathroom fan can help.

Kitchens
Cooking produces odors, moisture, and smoke - exhaust fans remove these contaminants for fresher air indoors.

Garages
Exhaust fans for garages expel fumes away from your home as well as remove heat and moisture for better climate control and protection of stored items.

Attics
Exhaust fan installation moves hot air out of the attic, improving overall home energy efficiency and protecting your roof from damage.
Why Call Estes Services for
Exhaust Fan Installation in Atlanta?
For exhaust fan installation in needed areas of your Atlanta home, turn to Estes Services. Our licensed electricians perform reliable exhaust fan installation services to protect your home and improve indoor air quality. For 70 years, homeowners in Atlanta and the surrounding areas have turned to us for all of their home's electrical needs. As one of the top HVAC and electrical companies in the area, we're dedicated to helping homeowners stay safe and comfortable all year long.
Keep your home's exhaust fans in good working order with maintenance and repair from Estes Services. If your exhaust fans malfunction in the Metro Atlanta area, contact us for quick diagnosis and repair to protect your home from the damaging effects of moisture and poor indoor air quality. Our professional team of expert electricians will do a great job and ensure that the project is completely finished before leaving.