Atlanta Electrical Inspection and Code Compliance Services
Home Electrical Inspections in Atlanta, GA

A properly functioning residential electrical system is needed to provide adequate power in your Atlanta home, as well as keep your household safe from electrical hazards. Electrical work must meet national and local codes for safety - code violations put your family's safety at risk and leave your home vulnerable to damage.
An electrical inspection is required to meet these legal safety standards. Our licensed electricians in Atlanta are knowledgeable regarding the current electrical codes that impact Atlanta homeowners. During an electrical inspection, we thoroughly examine and evaluate your home's electrical system, note violations and other safety hazards, and help homeowners with the necessary repairs and upgrades to improve the system.
For all your electrical needs, don't hesitate to reach out to the professionals at Estes Services.

What Is a Home Electrical Inspection?
An electrical inspection is a complete examination of your home's electrical system, including all wiring, circuits, and components. Routine electrical inspections are performed to ensure the minimum standards per the National Electric Code and other local codes are met and that your electrical system is in safe operating condition.
A home electrical inspection includes checks of the following:
Electrical meter, for secure installation and signs of water intrusion
Main electrical panel and its breakers, for signs of damage, loose connections, defective equipment, and other safety hazards
Electrical wiring, for fraying and insulation damage as well as proper installation and safe wiring types. Any faulty wiring or outdated wiring should be addressed immediately
Circuit breakers, for proper sizing and clearance, as well as signs of damage and moisture including corrosion, oxidation, and overheating
Electrical outlets, for the presence of GFCI protection in proper locations, grounding, reversed polarity, and signs of damage such as discoloration and loose switch plates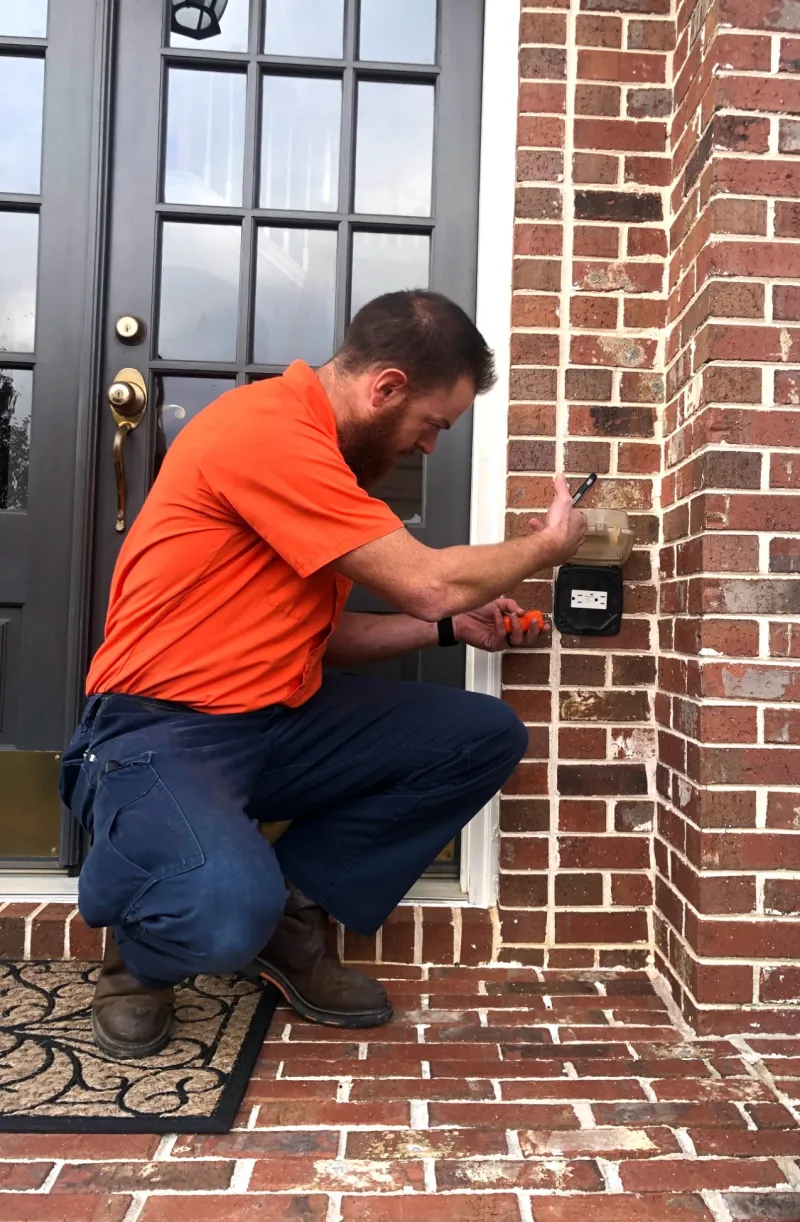 What Are the Benefits of a
Home Electrical Safety Inspection?

Protecting your family's safety
Avoiding electrical malfunctions
Limiting the risk of an electrical fire hazard
Ensuring electrical code compliance -Avoiding fines for electrical code violations
Improving electrical system efficiency
Helping you save money on electricity costs
Saving money with early identification and correction of minor and major problems
Identifying problems to make way for performance-improving upgrades
When Do You Need an
Electrical Inspection of Your Home?

Many Metro Atlanta area homeowners wonder when or if they need an electrical inspection performed. If you experience any of the following situations, you need an electrical inspection:

New Home Purchase
An electrical inspection provides verification of electrical system condition before you buy.

Selling a Home
Have an electrical inspection performed early on to avoid last-minute surprises that could tank a deal.

Older Home
Homes built 40 or more years ago may not be up to today's electrical standards.

Major Home Renovations
Ensure your electrical system is capable of accommodating the changes you wish to make and learn what upgrades may be needed.

Appliance Addition
Before you install a new appliance, undergo an electrical inspection to verify your electrical system is capable of powering this device without causing an electrical problem, or if a dedicated circuit installation or other upgrade is appropriate.

Schedule Your Atlanta
Electrical Safety Inspection Today
Ensure the safety of your Atlanta area home when you schedule electrical inspections with Estes Services. Our fully licensed and certified electricians in the Atlanta area perform a thorough review of your home's electrical system and inform you of areas in need of attention to improve safety, code compliance, electrical performance, and energy efficiency, as well as prevent an electrical disaster. Contact us to schedule your home's electrical safety inspection today.