About Us
Atlanta HVAC, Plumbing, & Electrical | Estes Services
Founding Estes



For over 73 years, Estes Services has been Atlanta's #1 service, sales, repair, and installation company. So, when you work with us—and what sets us apart from the other top HVAC companies in Atlanta—you work with a family business.

Learn about how we've grown over the years by starting from the very beginning of our history. In fact, Estes Services was founded in 1949 by N.B. (Nap) Estes, shortly after he served his time in the Army.


While in the service, he was moved from place to place and attended several colleges and trade schools along the way. That's when he developed an interest in mechanical things, including the new and unique idea of central heating and air for individual homes.
The Estes Family
Nap had a loving wife and two very small children when he started the business installing floor furnaces on the south side of metro Atlanta. In fact, his only son, Tommy, was born in January of 1949 and has literally grown up in the business, often helping his dad install ductwork and systems long before he could even drive.

Mr. Estes worked long and hard during those early years, firmly establishing the reputation our company still has today, being one of the best HVAC companies in Atlanta. We stand behind our word as well as our work and provide an excellent working environment for our employees.

Nap would do whatever it took to satisfy the customer because he knew that, without the customer, he would have no business. As you can see, our strong values of providing excellent customer service were formed very early on and it reflects to date through our company testimonials and reviews.

In fact, our family business has grown in volume steadily every year for the past 73 plus years!
Promises and Handshakes
The business's original location was in the founder's house located in what used to be known as Mountain View, a small community within a couple of miles from the former Atlanta-Hartsfield Airport.

During the '50s, the business concentrated on replacing floor furnaces and installing central heating systems in both new and existing houses. It was mainly an installation company and originally only serviced systems installed by Estes.

Because of the excellent reputation the company already had, most of the jobs Estes did were based solely on a promise and a handshake. Many builders in the metro area depended on Estes Services for their installations.

By this time, the company had moved into an addition at the rear of the Estes home in Mountain View and had about ten employees.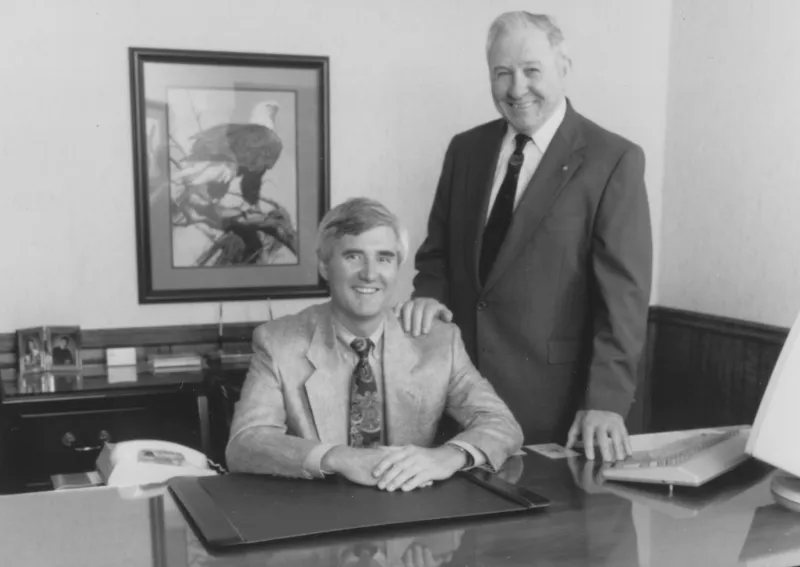 Recognizing New Markets
In the late '50s and into the '60s, the concept of adding central air conditioning to residential homes became the industry craze, and Mr. Estes had the foresight to move away from the residential new construction side of the business and concentrate on residential replacements and add-on air conditioning.

Also, during this time, the multi-family housing boom in Atlanta began, and the company installed central heat and air in hundreds of apartments and commercial buildings. Estes Heating and Air (now known as Estes Services) has always been on the cutting edge of technology, and this was demonstrated early on by Mr. Estes' ability to recognize new markets and new opportunities.

By the mid-'60s, the company had developed into one of the best HVAC companies in Atlanta, with over 40 employees. During this time, Mr. Estes' son, Tommy, continued to learn the business while in school, often going to school during the week and installing add-on air conditioning systems for his dad on the weekends.

In 1971, Tommy graduated from West Georgia College with a degree in marketing and went to work for the company full time.
Overcoming Challenges & Remaining Family-Owned
As all the systems that Estes and others installed in the '50s and 60's started to age, our company's main drive shifted to the service and replacement of residential and commercial HVAC systems with a renewed focus on customer service. The company experienced tremendous growth during the '70s and 80's—doubling in volume and significantly increasing the base of loyal customers.

Once again, the company changed with the times, and a new concept was born—the maintenance agreement! Since then, thousands of homeowners in the Greater Atlanta area have enjoyed the peace of mind and comfort that our Maintenance Membership Plans provide.


The product offering today is better and more extensive than ever before. At the same time, the HVAC industry has faced many changes and challenges over the past ten years. Estes Services has always met these challenges and changes head-on! Our company offers many services that were not available a few years ago to provide comfort and efficiency for your home.

A significant nationwide consolidation movement recently affected many companies in Atlanta. Some familiar HVAC companies in Atlanta decided to sell to large corporate consolidators. As a result, a few of them either no longer exist today or are not as strong as they once were. They are now under completely different leadership than they once were.

The original owners and many key employees—the people who built the business—are gone.

Although many attempts were made during this time, Estes Services refused to sell and decided to remain an independent contractor to continue our tradition of integrity and quality service that we have had for over 73 years as a family-owned and operated company.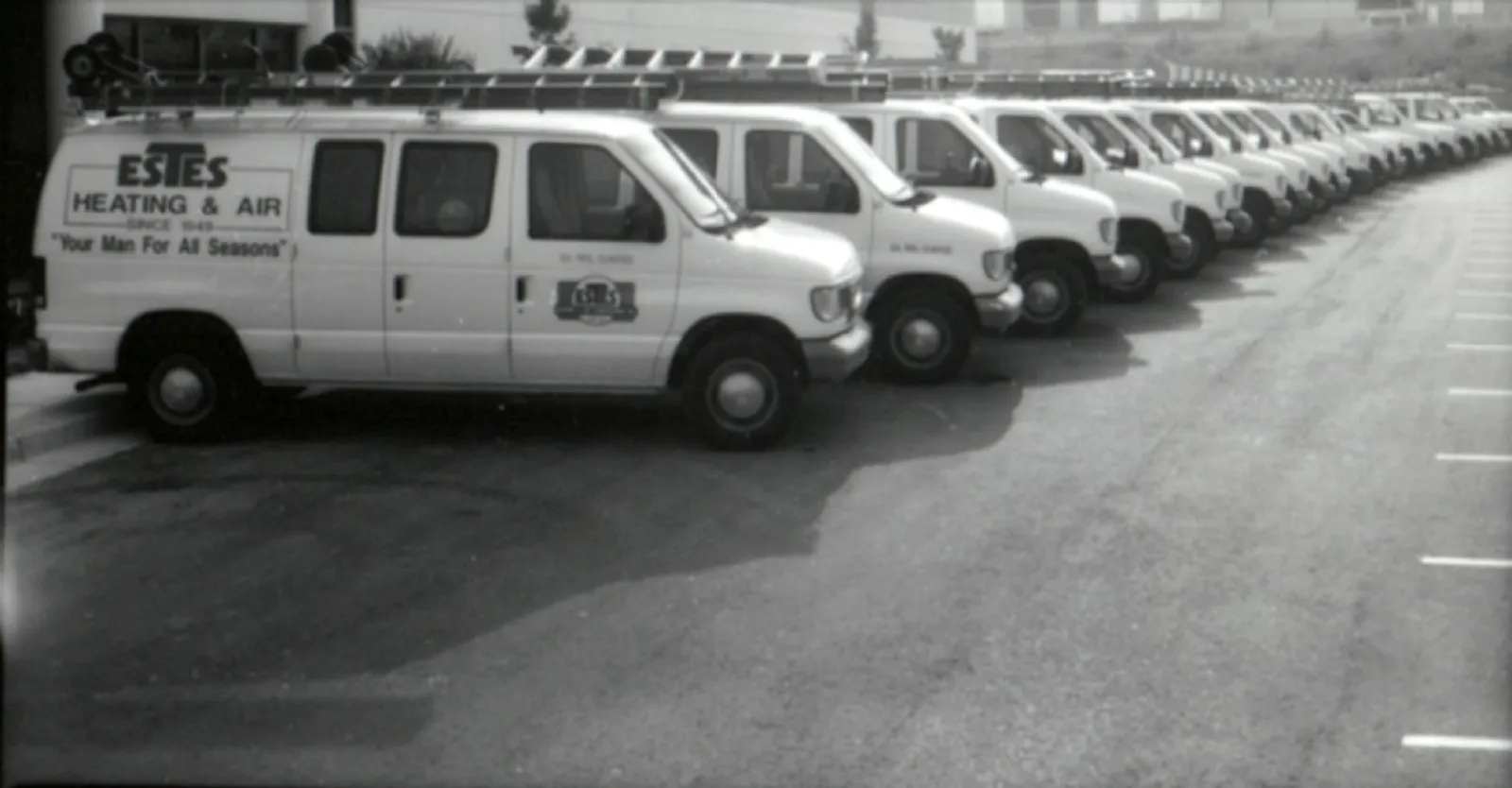 Leaving a Legacy
Today, our company has doubled in size since the '60s and has been featured in many nationally recognized trade publications. In addition, Estes Services has received many awards, including the coveted "Residential Excellence Award" given to the top contractor in America by the Air Conditioning Contractors of America (ACCA) and the "Best Contractor to Work For in the Southeast Award" given by the Air Conditioning and Refrigeration News magazine (ACHR News).

Tommy Estes is currently the President of our company and has been since his dad stepped down in 1986. One thing that sets us apart has always been the quality of our people and the structure of our organization. Tommy's son, Brian, has worked his way up through the ranks and is poised to take over the overall leadership of Estes Services. Along with Vice-President John Waldorf, he handles most of the day-to-day operations and direction of our highly qualified staff of over 150 people, many of whom have been with the company for many years. Today, Tommy, Brian, and John can always be reached by phone, mail, or email and are prompt to handle any issue.

Mr. Estes passed away in 1999, just before our 50th-anniversary celebration, but he left behind a legacy and heritage that very few men are able to do. He started Estes Heating and Air as a small business out of his house and later moved it into an old, remodeled building that served the company well for almost 50 years. He never got to see the modern 27,000 square foot building that houses our company today, but he would be proud to know that the core values that the business was founded on still lives today.

We are proud to say that when someone asks who owns Estes Heating and Air today, we respond with the same family who started it in 1949.

So, when you deal with our Atlanta HVAC, plumbing, and electrical company, you deal with a family business that promotes a tradition of integrity and quality service. We have offered our services to Atlanta residents and those in the surrounding areas since 1949.

Our number one goal is to ensure your satisfaction at the end of the day!