Drain Cleaning Atlanta GA
When you have a clogged drain, we can help.
Drain Cleaning Services for Homes in Atlanta, GA

A clogged drain can bring your Atlanta home's plumbing to a halt. In some cases, it can cause a severe backup and require emergency plumbing repair service. Thankfully, the expert plumbers at Estes Services are standing by to perform drain cleaning services in Atlanta, GA, and the surrounding metro area.
Clean drains are crucial to keeping your Atlanta area home's plumbing system and sewer line functioning properly. Drain cleaning service is recommended as a maintenance membership plan for all homes, yet it can be performed in emergency plumbing situations to restore proper drainage. Estes Services performs skilled clogged drain clearing for all Atlanta plumbing systems. In addition, we offer a 24-hour repair service - call us now to schedule service.
Powerful Methods by Drain Cleaning Specialists
Clogged drains can develop over time or pop up unexpectedly. Products purchased from home improvement stores may offer a quick fix, but they aren't the answer to your drain blockage problems. Commercial drain cleaning products don't remove the debris causing the blockage, and they push it further through your plumbing system - where the mass could cause a more significant obstruction, which cannot be easily reached. Our professional drain cleaning methods have the power to repair drain clogs - even the most stubborn blockages from difficult to access areas of your metro Atlanta home's plumbing system.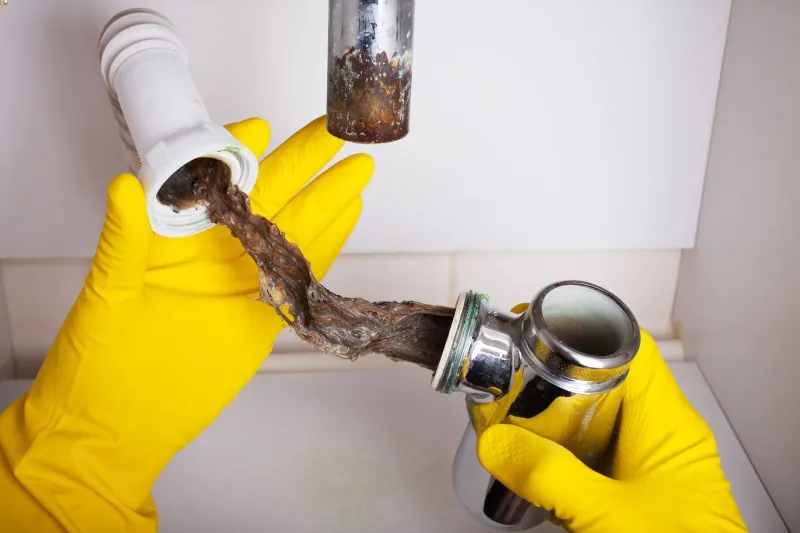 Clogged Drains We Can Clear

Kitchen Drains

The buildup of grease and food debris over time can cause your kitchen sink to become clogged and backed up. If you notice that your kitchen sink is constantly backed up, it might be time to have a kitchen drain cleaning.

Bathroom Drains

When it comes to your bathroom drains, many things make their way through the drains including (but not limited to) soap, shampoo and toothpaste. If you have a bathroom sink, shower or tub drain that is constantly clogging or backing up, let us get things flowing again.
Floor Drains

Patio, basement and driveway drains can become clogged with leaves and dirt, which can cause additional problems if they are clogged and don't drain properly during a storm or flooding.

Atlanta Drain Cleaning Benefits
Eliminate Blockages
Slow drains cause standing water in your shower and clogs in your sinks. Drain cleaning services prevent blockages from materializing. Your kitchen drains benefit the most from a professional drain cleaning. Food waste, soap scum and grease are some of the toughest materials to escape through your kitchen drain. Your kitchen sink will be a healthy and more hygienic place during meal prep. Regularly cleaning sewer drains will help eliminate overflow from your toilet.
Sweeter Smells
Backed-up toilets, clogged drains and broken plumbing pipes emit a foul odor, which can permeate throughout your home. Drain cleaning services are cost effective, providing sweeter smells when the lines are clear of built-up materials with a nasty scent.
Remove Expenses
Drain cleaning services keep your lines flowing smooth and fast. If left untreated, serious drain problems become expensive to correct in the future. A professional will notice any weakened pipes before they break down. The extra expense of plumbing repairs is eliminated with a professional drain cleaning.
Extend the Life of Your Plumbing
Harsh chemicals work well in the short term, although they cause more damage than homeowners realize. By scheduling a professional cleaning, you are taking preventative steps towards strengthening your pipes and improving their performance when water flows through them.
Save Money
When your drains are cleaned on a regular basis, it prevents future blockages from occurring, which costs more money in the end. Start saving early by preventing a major blockage!
Should I Perform Drain Cleaning Myself?

DIY drain cleaning sounds like an easy task, except it can have devastating results on your pipes in the future. Household drain cleaners use harsh chemicals to eat through blockages in your lines. These same chemicals eat away at your pipes, eventually damaging them. Using a household drain cleaner doesn't guarantee the clog will be eliminated, and you will end up exacerbating the situation by overusing the cleaner.
Household drain cleaners aren't suitable for every type of blockage. A professional drain cleaning service provides you with the right cleaner and tools to rid your plumbing of whatever is causing the blockage. Just handling the household cleaner can be dangerous if it gets on your skin, in your eyes or mouth. They emit noxious fumes, which are especially dangerous in a confined space such as a bathroom. A trained plumbing professional will determine what your drain needs and clear your lines without risking damage to your pipes and home in the future.
Keep your home's plumbing healthy by scheduling a professional drain cleaning at least once a year. Contact us at Estes Services today to schedule service performed by licensed, highly trained plumbing technicians. Our methods will clear those stubborn clogs to keep water flowing correctly and protect your home's plumbing system. Call us anywhere in Atlanta, and we'll be there to perform one of the most important plumbing services you may ever need.