Virginia Highland Air Conditioning Repair and Service
Emergency Virginia Highland Air Conditioning Repair
Estes Services is your trusted cooling contractor for Virginia Highland air conditioning repair and service. We expertly handle all types of repairs for any brand of heat pump, air conditioner, or ductless mini split air conditioning system. With NATE-certified cooling tech available day and night, 24/7 emergency service is available to help you in your time of need. Enjoy the summer months both outdoors and inside! Cooling systems provide a comfortable and cool relief when the temperature outside is just too much. For a cooling system you can count on, you need an HVAC contractor to count on as well.

Why Do HVAC Systems in Virginia Highland Need Regular Tune Ups?
The best thing you can do to protect your Virginia Highland air conditioner is to schedule regular tune ups with Estes Services. Ideally, cooling systems need to be tuned up in the spring; heating systems, the fall. A tune up addresses wear and tear damage to the system and tests the safe functionality of all controls and components. The goals of a tune up are improved efficiency and longevity. To homeowners, achieving these goals through a tune up generates lower utility costs and less of a chance for repairs and the resulting expenses.

Is Your Cooling System Trying to Tell You Something?
Certain signs are a warning that something is wrong within your air conditioning system. These symptoms signal the need for Virginia Highland air conditioning repair and service:

Home isn't cool enough after cooling cycles complete
Air from vents is warm
AC cannot keep up with dehumidification needs
Odd sounds from the cooling system
Foul odors that arise from vents and/or equipment
Electricity bill spikes without explanation
There Is an Easy Way to Keep Your HVAC System Serviced
Estes' maintenance plans are the solution you've been seeking to eliminate forgetfulness and ensure your HVAC system receives necessary maintenance care. Both heating and cooling system tune ups are scheduled throughout the year and completed by NATE-certified HVAC professionals. If the system malfunctions during your membership, repair fees are 15 percent off and are covered by a one-year repair warranty.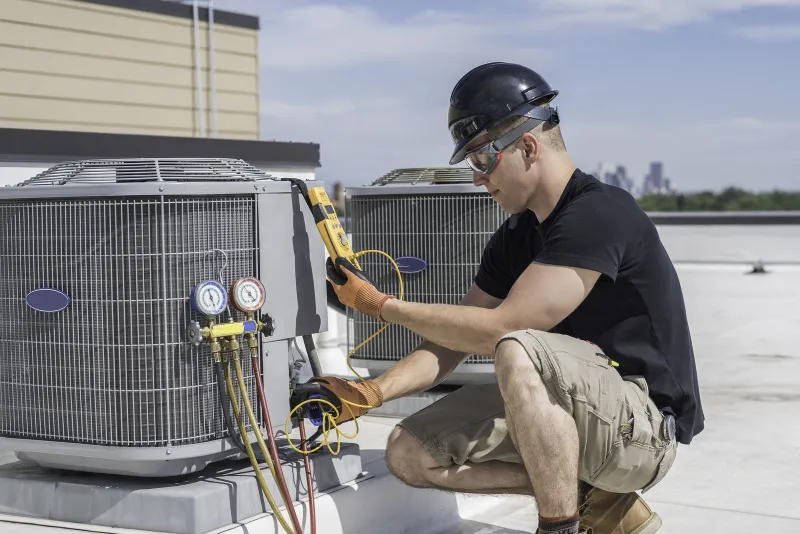 Air Conditioning Installation in Virginia Highland
Trade in your old air conditioner and say goodbye to frequent visits from your HVAC repair tech! Get an estimate from Estes Services for a new air conditioning system installation. New heat pumps and air conditioners lower energy use with higher efficiency ratings, so your utility expenses are less, starting at the system's first use! The home stays more comfortable with improved indoor air quality, and your new warranty reduces the stress of future repair needs. Financing is available to assist with your purchase.

Schedule Your Virginia Highland Heating Repair Today!
Now is the time to schedule Virginia Highland air conditioning repair and service. Estes Services is A+ Better Business Bureau rated, and devoted to assisting our customers with the right air conditioning repair services to improve indoor comfort and efficiency. Whichever type of air conditioning system you have, Estes' technicians possess the skills necessary to perform reliable, trusted repair service.