Midtown Air Conditioning Repair and Service
Emergency Air Conditioning Repair Midtown Atlanta, GA
If you live in Midtown Atlanta, you know that important air conditioning systems are for warm-weather comfort and safety. To keep your air conditioner in top shape, choose a skilled HVAC contractor for Midtown air conditioning repair and service. Estes Services has served residents for 70 years, performing repairs major and minor on all types and brands of cooling equipment, including heat pumps, ductless mini splits, and air conditioners. If an air conditioning emergency arises, count on Estes to provide the 24/7 emergency service you need.

Why Heat Pumps and Air Conditioners Need Regular Tune Ups
Want to keep your air conditioner in peak condition throughout the year? Tune-ups get the job done! A tune up gives your air conditioner or heat pump the maintenance service required to defend against damage and ensure peak operating conditions. An annual cooling system tune up restores energy efficiency levels, so your cooling costs decrease. Tune-ups also limit the likelihood of surprise malfunctions, so you don't need to worry about unexpected repair expenses.

Signs Your AC Unit Needs Repairs and Service
If you wait too long for AC repair service, you run the risk of increased damage to your system, which means higher repair costs. Watch for these early signals which tell you that your unit needs professional attention:

Unusual sounds
Foul smells
Too much humidity
Warm air from vents
Cycles start and stop without fully cooling
Spikes in electricity consumption without cause

Easy to Maintain Your Midtown Cooling System
Estes Services has the solution that helps Midtown homeowners stay on top of their HVAC system's maintenance needs: preventive maintenance service plans. With a preventive maintenance plan, discounted tune ups are performed annually for heating and cooling equipment to preserve function and energy efficiency. If malfunctions occur, receive a 15 percent discount on your repair expenses plus a one-year repair warranty.

Ready for a New Air Conditioning System Quote Instead?

Ditch your underperforming air conditioner when you choose new system installation for your Midtown home. With a new air conditioner or heat pump comes higher energy efficiency ratings which reduce the cost of keeping your home cool. Their superior performance delivers advanced indoor air quality and temperature control. A new warranty term is in place in the event of a system failure or malfunction. Estes is happy to write you a quote for new installation and inform you of the financing solutions available.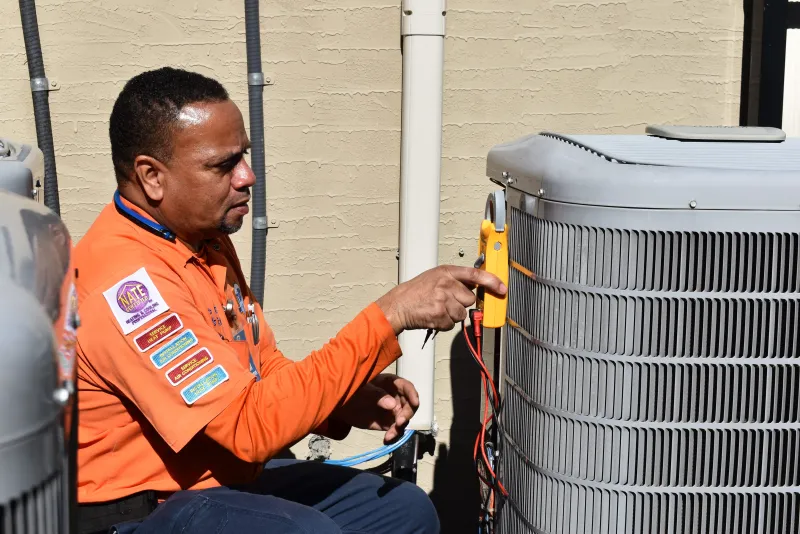 Schedule Your Midtown AC Repair
Revamp your cooling system with Midtown air conditioning repair and service today. Estes Services is A+ Better Business Bureau rated, and highly trusted amongst our Midtown neighbors for the honest, skilled service our NATE-certified air conditioning techs deliver. Eliminate worry while you stay cool - trust Estes when your HVAC system needs a boost.