Peachtree City Air Conditioning Repair and Service
Emergency Air Conditioning Repair in Peachtree City, GA

Enjoy the summer in your Peachtree City home when it's equipped with an air conditioning system you trust. If your air conditioner is unable to deliver lasting comfort, Estes Services provides the skilled care needed to overhaul performance. With the knowledge and skilled techniques needed to work on all models of air conditioners, heat pumps, and ductless mini split cooling systems, our NATE-certified HVAC technicians deliver dependable Peachtree City air conditioning repair and service. If you are surprised with an unexpected malfunction, Estes Services restores indoor comfort right away through our emergency repair service.

Do Peachtree City AC Tune Ups Really Matter?
Yes! All the hard work your air conditioner or heat pump performs each cooling season wears the system down. It needs help to regain peak performance and energy efficiency levels. That's where a tune up comes in - an annual tune up delivers the professional inspection, testing, and service necessary to mitigate system damage, enhance performance, and raise efficiency. Save with decreasing energy consumption and limited risk of repair bills.

How Do You Know Your Peachtree City AC System Needs Service?
Air conditioner breakdowns may feel sudden, but they don't always arise out of nowhere. Certain symptoms mean improper operation or a malfunction is present - early correction prevents further damage and cooling breakdowns. Call Estes for AC repair if you notice the following:

Elevated energy costs without cause
Abnormal sounds occur as the system runs
Unpleasant smells come from the equipment and/or vents
Too much humidity inside
Air from vents isn't cold
Air conditioner stops before home is totally cooled

Keep Your Peachtree City HVAC System in Peak Condition
An Estes service plan helps Peachtree City homeowners preserve their air conditioning systems with regular maintenance. Receive a tune up for your cooling system in the spring, and one for your heating system in the fall, both at a great savings. Any repairs you need are discounted as well - receive 15 percent off your expenses. Add on the one-year repair warranty and your protected through the season from recurring issues.

Ready for a New Air Conditioning System Quote Instead?
Swap your decrepit, malfunctioning air conditioner for a new cooling system and save big! New air conditioning installation provides your home with a highly efficient cooling system which consumes less energy to do its job. Lower your energy costs while you up indoor temperature control and air quality. A new warranty term reduces the chance of expensive repairs for many years following installation.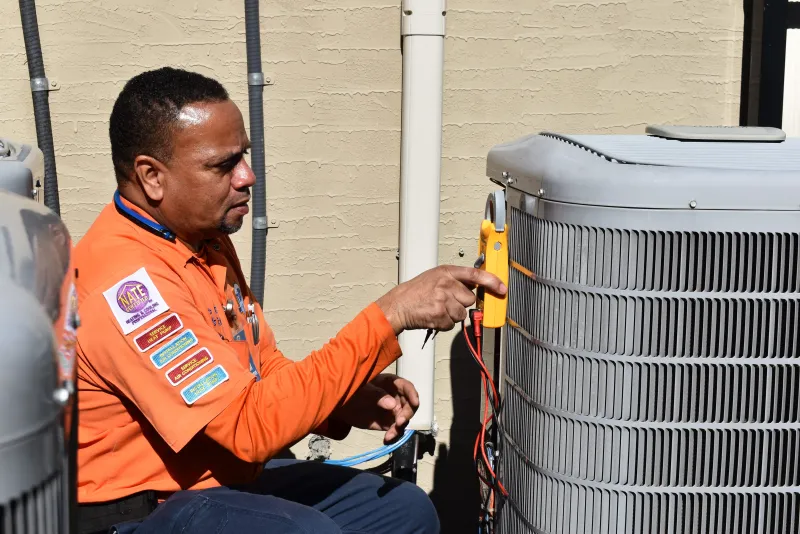 Schedule Your Peachtree City AC Repair Today!
Don't suffer through summer with an underperforming AC system - call Estes Services for Peachtree City air conditioning repair and service. No matter what type of cooling system you have, we're the right company for the job! Estes has been recognized by the Better Business Bureau with an A+ rating, the highest grade attainable in their rankings. Using our advanced knowledge and skills, Estes Services helps you establish consistent, cool comfort inside your home.