Johns Creek Air Conditioning Repair and Service
Emergency Air Conditioning Repair in Johns Creek, GA
You need to equip your Georgia home with dependable cooling systems to make their way comfortably and safely through the summer. You must also rely on quality HVAC contractors to help when air conditioners underperform or fail. Estes Services has been a trusted, local HVAC contractor delivering Johns Creek, GA, air conditioning repair and service since 1949. Our certified HVAC technicians service all models of heat pumps, air conditioners, and ductless mini-splits. 24/7 emergency service is available after hours, on the weekends, and on overall holidays. We're the HVAC company you can trust for all of your heating and cooling needs.

Signals Your AC System Needs Repairs and Service
The best Johns Creek, GA, AC repair company will know the signs that indicate the need for repairs and service. Having a trained HVAC services technician identify them early on could mean the difference between an uncomfortable system outage or ultimate indoor relaxation. These signs indicate it's time to call Estes Services for air conditioning repair service:

Spikes in electricity costs with no obvious explanation
Unusual smells from the AC system and/or air vents
Irregular noises when the air conditioner cycles
Lack of cool air from vents AC cycles don't create enough cooling
Excessive indoor humidity
Why Cooling Systems in Johns Creek Need Seasonal Tune Ups
Air conditioning system components wear down each year, just like car parts. And just like your vehicle, HVAC systems require regular tune ups to improve condition and performance! Once per year tune ups for cooling equipment provide professional care for components to restore optimal operation. Doing so delivers better energy efficiency which reduces electricity costs. Tune ups can also help extend the lifespan of your HVAC system and lessen the odds of a malfunction, which means you save money not paying for repairs.

Keep Your HVAC System Maintained
Secure required care for your heating and air conditioning systems with a preventive maintenance plan from Estes Services. Save on maintenance tune-ups with a service plan that covers both heating and air conditioning system tune-ups. An added bonus of enrolling in our preventative maintenance plan is we schedule the next service for you, so you don't have the hassle of remembering and ensure you won't forget it. Repairs for service plan members are discounted by 15 percent and backed by a one-year bonus warranty.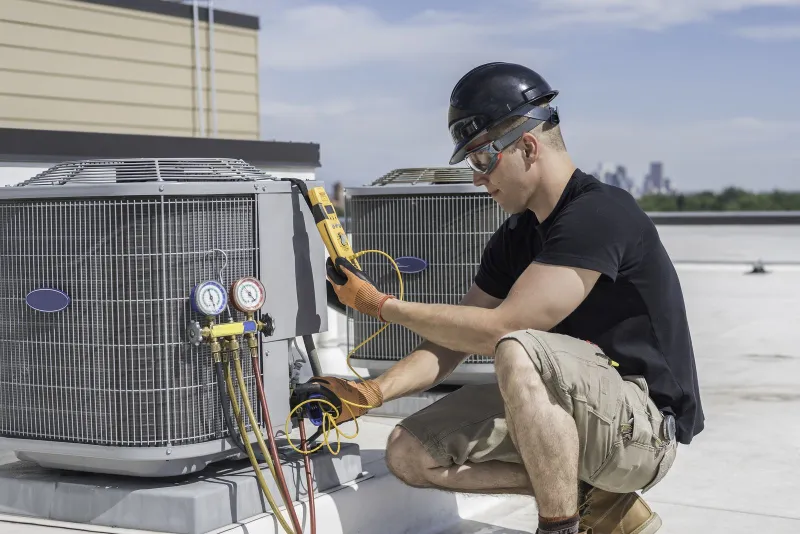 Need a New Air Conditioning System Quote?
Stop wasting money patching up your old air conditioner year after year when you replace it with a new air conditioning system installation! New units are durable and built to last, so you don't have to worry about repairs. Should a problem arise with your Johns Creek HVAC system, there's a new warranty to cover you! New cooling equipment is more efficient, costing it less to operate than older models. The enhanced performance they deliver means better temperature control and indoor air quality for your family. Get a free quote from Estes Services - financing is available!

Schedule Your Johns Creek AC Repairs Today!
Don't push off the need for AC repair and services in your Johns Creek home until it's too late and you're sweating out the wait for a technician! Estes Services has been recognized by the Better Business Bureau with an A+ rating. We are available 24/7 to restore cooling quickly and solve any HVAC needs you may have. Contact us today for all of your home's heating and cooling repair or installation services in Johns Creek, GA!