Alpharetta, GA
HVAC, Plumbing, Electrical, and Indoor Air Quality Services
Estes Services is proud to offer a variety of heating, air conditioning, plumbing, and electrical services. No matter what problems are threatening the safety and comfort of your home, Estes Services can get to the root of the issue. Reach out to a technician from Estes Services today to schedule services.

Heating Services in Alpharetta, GA
Furnace Repair
When your furnace breaks down, we'll be there for you 24/7. Our trained technicians have years of experience, and no job is too difficult, especially when it comes to furnaces.

Furnace Installation
Furnace installation should be left to a team of knowledgeable professionals, and we have just the technicians for you. A typical furnace installation is quick and easy when you have the right tools at your disposal. Call us to book furnace installation services today.

Heating Tune Up
In order for your HVAC unit to work and be reliable, it requires regular tune ups. Tune ups should be performed every season before the cold weather sets in to allow you comfort during the winter months.

Heat Pump Repair
Heat pumps are becoming a popular choice for Alpharetta homeowners due to the low maintenance and space-saving features they offer. As with any heat appliance, pumps will break down when you least expect them to. With Estes Services by your side, we will have your heat pump repair job done in a jiffy, so you can get back to enjoying looking at the snow from the comfort of a warm home.

Insulation
Do you ever find that your electricity bills are higher than normal during the hotter and cooler months? The uptick in bills could be because your house lacks proper insulation. If your home is drafty, energy is wasted because it takes longer to cool or heat your home due to the cold or warm air escaping through cracks in your windows or ceiling.

Cooling Services in Alpharetta, GA
AC Repair
Is your cooling system broken down? With the help of Estes Services, you will be back in the comfort you deserve in no time, and with 24/7 availability, you don't need to sweat through the night.

AC Installation
AC installation is a breeze when you use Estes Services. Our trained technicians will have your AC unit installed in less than a day, leaving you to sit back, relax and enjoy the tempered climate of your home. For the best air conditioning services in Alpharetta, GA, give us a call.

AC Tune Up
We can't stress the importance of AC tune ups. Improper maintenance on units is the leading cause of systems breaking down or not working at optimum strength. Make sure you schedule a tune up before the next season.

Emergency AC Services
We can't predict when disaster strikes, which is why our team is available around the clock. We're ready to assist you day or night!

Heat Pump Repair
Just like ACs and furnaces, heat pumps malfunction from time to time. Whether you need a quick repair or a heat pump upgrade, we are the provider for you. We'll be in and out of your home in record time.

Ductless Mini-Splits
Mini-splits are known for being an economical way to heat or cool rooms individually. Estes Services offers installation and recommendations on ductless mini-splits.

Alpharetta, GA Electrical Services
We also offer electrical services including electrical repair, smoke and carbon detector installation, along with general electrical services in Alpharetta, GA. A proper working electrical system is paramount when considering your safety, finances, and comfort. Whether you need to install new light fixtures in your home, or your electric outlets need to be replaced, our talented team can help. Estes Services can perform home electrical inspections at an affordable rate. Call us for a quote today.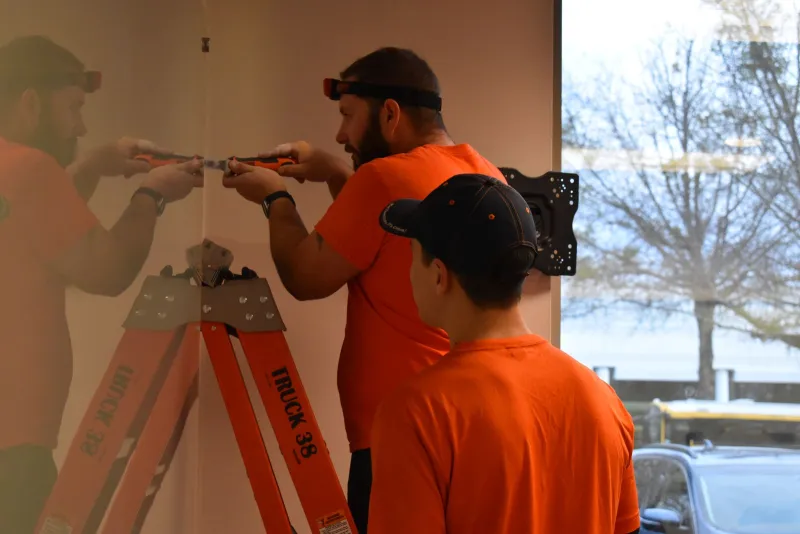 Alpharetta, GA Plumbing Services
Plumbing is a messy affair, but with Estes Services, your toilets will be unclogged and the drains cleared with a smile. We offer plumbing services in Alpharetta, GA including:

Leak repairs
Hot water heater services
Installation of plumbing fixtures
Drain cleaning
Water filtration systems
Sewer lines
No matter the plumbing issue, you can trust that Estes Services will promptly diagnose and repair the problem. Contact us today to get started.

Enroll in a Maintenance Membership Plan from Estes Services
HVAC service can quickly become expensive, which is why we recommend signing up for a Maintenance Membership Plan from Estes Services. Our Maintenance Membership Plans start at as little as $14.95 per month and cover comprehensive cooling and heating maintenance. Other plans we offer include:

Our whole-home supreme plan covers many options and is our most comprehensive plan, which starts at $33.95.
Our whole-home standard is the next tier plan and starts at $25.95 per month and offers you peace of mind.

Trust Estes Services for HVAC Services in Alpharetta, GA
Estes Services is proud to be the best HVAC, electrical, and plumbing business in Alpharetta, GA. Since 1949, we've operated with knowledge and integrity, and we make sure that you're completely satisfied before leaving. Estes Services won't rest until you are happy with the job that's been done. Don't delay; call Estes Services today!