Alpharetta, GA, Air Conditioning Installation
Air Conditioning Installation and Service in Alpharetta, GA
Residents of Alpharetta, GA, know how hot the summer seasons can become. With temperatures commonly reaching 90°F and beyond, it's important to have reliable air conditioning to keep your home safe and comfortable all summer long. If your recently constructed home needs a new air conditioner or you need to replace your existing AC system, get in touch with the professional technicians at Estes Services today.

Signs That You Need to Replace Your Air Conditioner
Rising Energy Bills

A very common sign that your air conditioner is reaching the end of its lifespan comes in the form of rising energy bills. As your HVAC system ages and becomes less effective, it works harder and longer to reach the temperature that you've set. This causes your energy bills to rise significantly higher than they likely once were.

Lack of Cool Air

An air conditioner's job is to cool your home down to the temperature that you've set. However, it's unable to complete that job if it isn't producing cool air. Replacing the system will restore cool air to your Alpharetta, GA, home and more easily reach the set temperature.

Frequent Repairs

AC units that need frequent repairs are often better replaced than repaired. The costs associated with repairing your air conditioner aren't cheap, and if your unit needs repaired seemingly every year, your best bet going forward is to replace it. You'll save money in the long run, have more efficient cooling, and breathe higher quality air.

The System is 10 Years Old

After 10 to 15 years of use, an air conditioner will likely begin to wear down. When your air conditioner hits 10 years of age and requires any repairs, the cheapest option will likely be to replace the unit altogether. This will ensure that you do not need to consistently repair a unit that just has a few functioning years remaining.

Your Home Has Poor Air Quality

As your home's air conditioner runs, it should be filtering the air that runs through the system. The filter should be catching any pollutants that might be lingering in the air. If your home's indoor air quality has deteriorated recently, your air conditioner might be at fault. Contact a professional to verify the issue and recommend a course of action for your exact needs.

Benefits of Air Conditioning Installation
Increased Comfort
There's nothing more comfortable than being inside a cool home on a hot summer day. If your system breaks down, however, you might be stuck in a home that quickly becomes hot and humid. If your equipment breaks down, contact Estes to experience the increased comfort provided by the installation of a new air conditioner.

Higher Efficiency
Older HVAC systems often find themselves unable to deliver the same level of cool air that they once were able to. If your unit isn't effectively producing cool air, make the switch to a more efficient unit. Not only will this keep your home or business more comfortable, but you'll also save money in the long run.

Increased Air Quality
Also responsible for dehumidifying your Alpharetta, Georgia, home, an air conditioner should keep your home's quality of air high. With the installation of a new air conditioner, you'll help your family breathe healthier, cleaner air than before.

Why Choose Estes for AC Installation?
Estes Services has provided the Alpharetta, GA, area with reliable HVAC services for over 73 years. As one of the most trusted businesses in the industry, we'll provide your home with the attention to detail that you deserve. Our HVAC company is proud to be the #1 people's choice for HVAC services in Atlanta and the surrounding areas. We seek to earn your business through our excellent services and our unwavering commitment to our customers. Give us a phone call today to request more information or to schedule an appointment!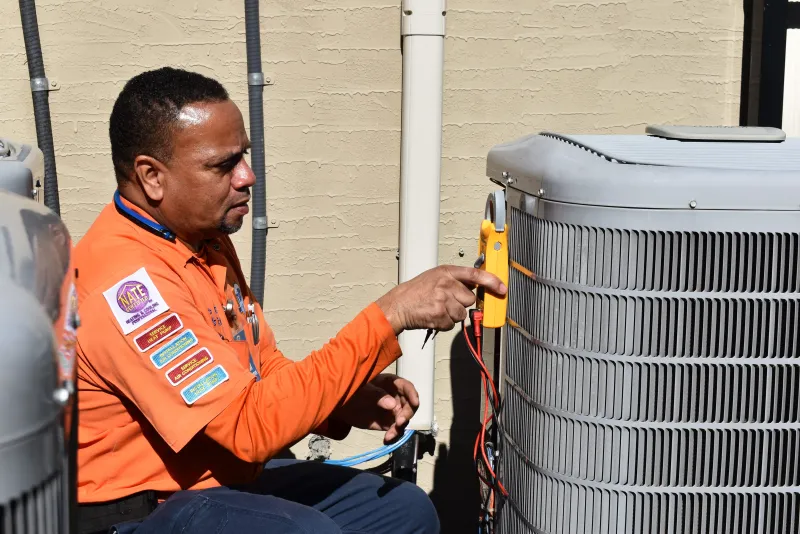 Contact Estes for Air Conditioning Installation
When the time comes to install a new air conditioning system in your Alpharetta, GA, home, get in touch with the heating and cooling system technicians at Estes Services. We'll get the job done right the first time to improve the overall comfort and safety of your home.