Roswell Air Conditioning Repair and Service
Emergency Air Conditioning Repair in Roswell, GA

It's important to protect your Roswell home's air conditioner, as it's essential for establishing a safe and cool indoor climate when outdoor temperatures become too much. Choose Estes Services when you need a trusted, local HVAC contractor to help you do so! With superior knowledge of all models of air conditioners and heat pumps, we perform comprehensive Roswell, GA, air conditioning repair and service.

If you hit a bump in the road with your cooling system, we don't mind if it's after business hours. Our 24/7 emergency services are here to rescue you from discomfort any time, any day of the year. Our technicians are available 24 hours a day for emergency service, and we can handle any AC problem, including:

Clogged air filters or condensate drains
Frozen evaporators
Low refrigerant levels or leaks
Electrical, control circuit or sensor problems
Thermostat or zoning control failures
Blower motor, fan or belt problems
Compressor, start capacitor or relay failures
And more!
View our latest special offers, read our reviews and experience excellent customer satisfaction from Estes Services!

Why Does My Roswell AC Unit Need Regular Tune Ups?
The greatest protection homeowners are able to bestow on their Roswell, Georgia, AC unit or heat pump is regular maintenance. A tune up is something we highly recommend, as it addresses all elements of cooling system care and includes inspection, maintenance service and testing to ensure safety. Achieve optimal performance and energy efficiency through maintenance to lower electric bills and reduce the need for expensive repair service.

Recognize Signs Your AC Unit Needs Repair Service
Air conditioners typically give off warning signs when a malfunction is imminent. The problem is most Roswell homeowners don't know exactly what to look for. Each of the following signs alert you to call Estes for AC repair:
Unexpected noises before, during and after cooling cycles
Unpleasant odors from vents
A lack of humidity control inside the home
No cool air blowing through vents
Frequent system cycling, but it's never enough to fully cool the home
An increase in utility expenses without a distinct reason
Keep Your Roswell HVAC System Right as Rain
Oftentimes, if you catch an air conditioning problem early, you can avoid a breakdown and prevent further system damage. A service plan from Estes keeps your cooling equipment in top shape and generates great savings for Roswell homeowners. With scheduled tune ups, air conditioning and heating systems receive the yearly attention they demand. Regular maintenance reduces the chances of system damage and breakdowns, preventing surprise repair expenses while keeping your cooling system in service longer (no early replacement costs!).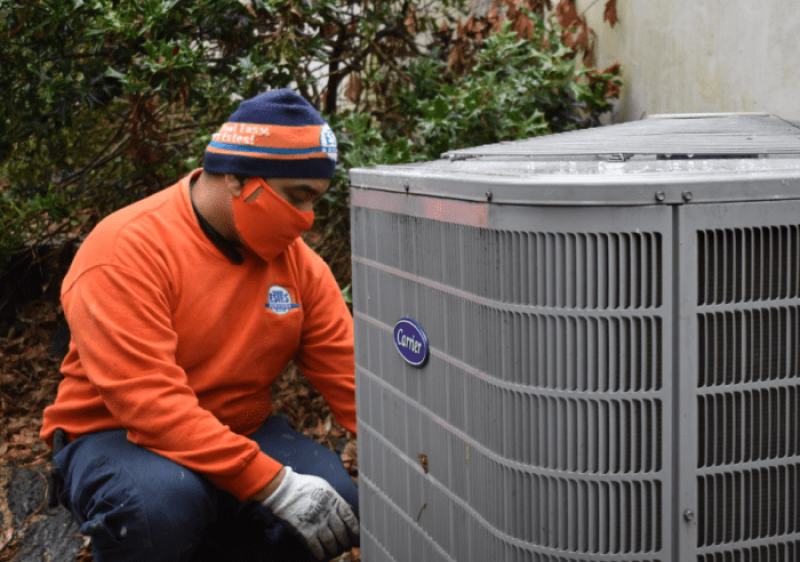 Ready for a New Air Conditioner or Heat Pump System Quote?
If your current air conditioning system is unable to keep up with your household's comfort demands, it's time to upgrade. When you install a new air conditioner or heat pump, you start saving once installation is complete! The higher efficiency ratings offered by new equipment lower electricity consumption and the associated costs. Roswell, GA, homes stay cooler, with better indoor air quality and added peace of mind from a new warranty. Have Estes provide a free quote for new air conditioning installation. Financing is available!

Schedule Your Roswell AC Repair Service Call Today!
Estes Services has an A+ Better Business Bureau rating and is the heating and cooling contractor you can trust! Regain control over indoor cooling comfort at home - schedule professional air conditioning repair service in Roswell, GA, now! Our experts will quickly diagnose and resolve any issues to get your system running at full capacity. We work on all makes and models of air conditioners. Our team provides accurate quotes before we start a job and promise never to replace a part unless it is necessary or we can demonstrate cost savings.

For 70 years, Estes Services has remained the HVAC contractor our neighbors can count on. It doesn't matter what type of cooling system you have, or its brand - our technicians have the skills and know-how to get the job done right.