Atlanta Heat Pump Installation Service
You may have heard the term "heat pump" before but may not fully understand what this HVAC equipment does. Heat pumps are steadily growing in popularity in the Atlanta, GA, area because they're energy-efficient and effective. A single unit can act as both an air conditioner and a heating system, providing both heating and cooling to your home or business. Yes, that's right - heating and cooling in one!

After reading more about heat pumps, we think you'll be convinced that they're a great way to heat and cool your home. For all of your home's heating and cooling needs or to install a new system in your Atlanta area home, contact the team of friendly HVAC professionals at Estes Services today.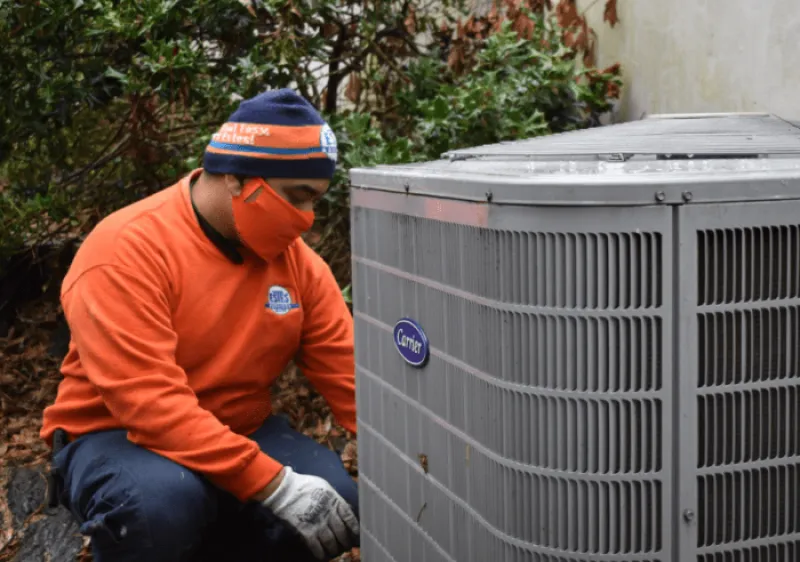 Benefits of Heat Pump Systems
Let's discuss some of the benefits of having a heat pump system installed in your Atlanta home by any of the trained and experienced experts from Estes Services.

Provides Both Heating and Cooling

Unlike traditional HVAC systems which have a separate air conditioner and heater, heat pumps pull double duty by providing both heat and air conditioning.


In the winter, instead of burning fuel for a heat source, heat pump units pull hot air from the outdoors and pump it into your home. In the summer or warmer months, the system does the reverse, pushing out warm air from inside the home to the outdoors.

Energy-Efficient

When installed properly, a heat pump system can provide one-and-a-half to three times more heat energy than the electric energy it consumes, according to figures from Energy.gov. This will keep the cost of your energy bills from rising and becoming very expensive.

Improves Indoor Air Quality

Indoor air quality is an important issue these days. Families are constantly looking for ways to improve the indoor air quality for their family members, especially those who suffer from allergies, asthma, or other respiratory illnesses. Ductless heat pump systems offer improved indoor air quality. Ductless heat pump units are healthier HVAC options because conditioned air doesn't travel through a series of ducts, where they can come into contact with particles and other contaminants within the ducts. Instead, the air is pumped directly into each "zone" in your home through multiple indoor air handlers.

Lower Carbon Emissions

Because heat pump units don't use fuel to heat the air, your system won't need to consume natural resources such as natural gas and oil. Heat pumps also use far less energy, which is good for the environment. If you're interested in a heating option with fewer carbon emissions, contact us today.
Signs Your Heat Pump Might Need to Be Replaced
Heat pump systems are extremely reliable appliances. However, like all HVAC equipment, they do need to be eventually replaced. Here are some signs it might be time to replace your existing heat pump.

Your Unit Isn't Performing Well
If your heat pump is breaking down frequently or not providing adequate heating and air conditioning to your home, it's time to talk to your HVAC contractor about installing a new heat pump system. If you set your heat pump to a warmer temperature, but your home is still uncomfortable, then your system is obviously not performing at peak performance and may need to be replaced.

Your Energy Bills Are Rising
Have you noticed a sudden and dramatic increase in your energy bill? Over the years, heat pump units wear down, decreasing their performance and efficiency. You could contact an HVAC professional to perform an energy audit to see what's causing the increase in your bill. But if your heat pump is older and prone to breaking down, this could certainly be the cause of your high energy bills.

Frequent Repairs
Do you have your heating and air conditioning company on speed dial for frequent heat pump repairs? If so, then it's definitely time to consider heat pump replacement in Atlanta, GA. Spend your hard-earned money on the cost of replacement and installation, rather than heat pump repair services on your old system.

Current System Is Older than 10 to 15 Years
Ten years may not seem like a long lifespan for an HVAC system, but remember, heat pump units work year-round providing your home with heating and cooling and tend to need replacing more frequently. According to EnergyStar.gov, installing a new energy-efficient unit may decrease your heating costs by as much as 20 percent.

Call Estes Today for Affordable Pricing on a New Heat Pump System
Whether you want your current heat pump replaced with a newer, energy-efficient unit, or you're interested in having a heat pump installed for the first time - get in touch with the professional HVAC technicians at Estes Services. Our NATE-certified technicians have extensive experience installing, maintaining, and repairing heat pump systems. We've been providing the Greater Atlanta area with quality heat pump service for a variety of different issues since 1949. Give us a call today, or contact us online to schedule service, to discover how we can restore comfort back to your home.

Heat Pumps
At Estes, we give you options so you can live life comfortably.

Heat Pump Financing
With financing through Wells Fargo Bank, N.A., we can outfit your home with a new heat pump while offering payments broken up over time. Contact us to learn more.