Upcoming Refrigerant Changes in 2023
Did you know that there are upcoming refrigerant changes in 2023 that will impact household air-conditioners? Your maintenance, repair, replacement, and/or installation decisions could look a little different in the near future because of these changes.
Our expert Atlanta HVAC technicians will explain these upcoming changes to you in an easy and understandable way.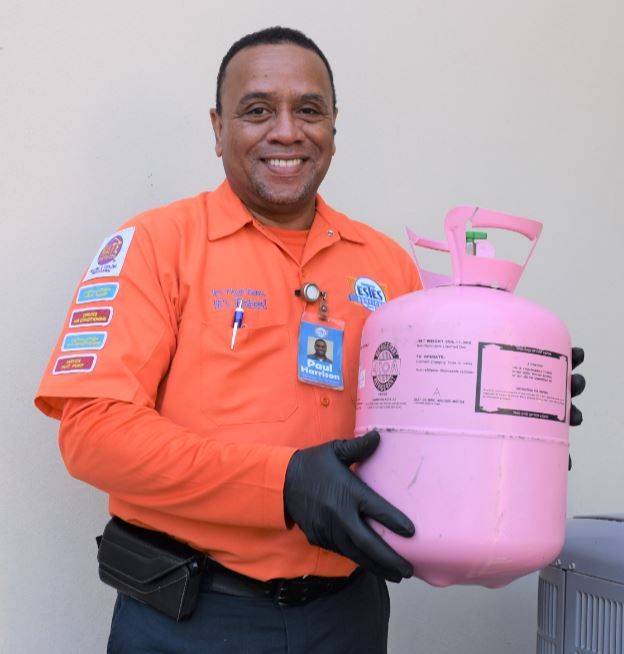 HFC Refrigerants Being Phased Down
There is a new national HFC phasedown law that is gradually phasing down HFC refrigerants, which started this year on Jan. 1, 2022. Per the federal AIM Act regulation, which was signed into law in December 2020, this phasedown will occur over the next 15 years.
In addition to the federal mandate, there are also initiatives happening at the state level in regards to phasing down high global warming potential (GWP) refrigerants.
As a result, residential air-conditioning systems will be impacted as soon as 2023. There will be a gradual phasedown of R-410A in residential equipment, which is one of the most common refrigerants used in household air-conditioning systems today.
New Refrigerants for 2023 and Beyond
As we go further into the phasedown, there will be new refrigerants in household air-conditioners and heat pumps from 2023 and beyond.
For example, Carrier, the leading name in the HVAC industry and who we are proud to partner with, is expected to start using the new refrigerant R-454B in their HVAC systems in North America in 2023.
R-454B is a new refrigerant that is a non-ozone depleting lower GWP alternative to R-410A. You will start to hear and see this new refrigerant type more and more in new equipment installations.
Choose Estes Services for Your HVAC Needs
With these refrigerant changes on the horizon, you need experts you can trust. That's where Estes Services comes in. We are a locally owned and operated family business that has been dedicated to top-quality service and customer satisfaction since 1949.
Because of our extensive company history, this is not the first time we've navigated refrigerant changes like this for our customers. As a result, our team of Atlanta HVAC experts will help ensure these changes are easy for you to understand.
In fact, our friendly and knowledgeable technicians can help you make the best decisions regarding your future HVAC repair, maintenance, and/or installation.
We provide HVAC services in the greater Atlanta area, including Alpharetta, Buckhead, Decatur, Druid Hills, Dunwoody, Fayetteville, Johns Creek, Kennesaw, Marietta, Midtown, Peachtree City, Roswell, Sandy Springs, and Virginia Highland.
Schedule service with us today. It's that Easy, it's Estes!