Even in the best-designed homes and businesses, properly functioning heating, ventilation, and air conditioning systems are necessary to prevent repairs and keep costs low. Estes Services keeps your HVAC system running in the safest and most comfortable way possible. We'll ensure that your system minimizes energy consumption and maximizes savings. Contact us today to find out how our HVAC, electrical, and plumbing services in Fayetteville, Georgia can improve your comfort and safety.

Heating Services in Fayetteville, GA
Our heating services in Fayetteville, Georgia will keep you and your family comfortable all winter long.

Furnace Repair
There is nothing worse than being stuck in the dead of winter with a broken furnace. Fortunately, our furnace repair experts are available 24/7. Whether your furnace is short-cycling, providing inefficient heating or making strange noises, you can count on our technicians to find the issue and make a quick and accurate repair.

Furnace Installation
We understand that one of the biggest decisions you have to make for your home is when to get a new furnace and which type to get. It is an investment, and you want to make sure you choose the right unit.

Our professional team of heating and air conditioning technicians at Estes Services is here to provide the best heating services in Fayetteville, Georgia. We will keep your home, budget, and energy-savings goals in mind when choosing the best unit for you.

Heating Tune-Up
Do you find yourself spending a fortune on energy bills? Regular maintenance reduces repair costs and extends the life of your furnace and heating system. Reduce costs and prevent breakdowns by booking a tune-up appointment with Estes Services today.

Heat Pump Repair
Heat pumps work doubly hard as they provide homes with heating and cooling. If there is an issue with your heat pump, contact Estes Services so we can inspect the unit and make the appropriate repair.

Insulation
There are so many benefits to insulating your home sufficiently, including saving money, reducing energy, and keeping the temperature inside perfect. Estes Services offers an evaluation of your home to assess how well insulated it is before offering solutions. Contact us today, and bring comfort back to your home.

Air Conditioning Services in Fayetteville, GA
No matter your brand of air conditioning system, Estes Services can service it. Our high-quality air conditioning services in Fayetteville, GA include:

AC Repair
If you find yourself in the middle of a hot and humid summer with your AC not working, call us. Whether you need a whole system replaced or a small repair, we specialize in all different brands of HVAC systems and provide 24/7 help and repair services. Help is never far away!

AC Installation
Summers in Fayetteville can get unbearable without a property functioning AC. With our excellent AC installation services at Estes Services, we'll help keep your home or business supplied with fresh air and a brand new unit.

We're here to help you make the right decision on a unit for your property. You can also expect warranty coverage, fewer repairs, annual maintenance, and much more when you have a new system installed by the technicians at Estes Services!

AC Tune Up
It is important to have your AC maintained so it works effectively and doesn't break down when the heatwave arrives. You can count on over 70 years of experience here at Estes Services to make sure that your AC is cared for and looked after.

Emergency AC Services
At Estes Services, we offer emergency AC services 24/7 so you can rest easy knowing you will never be left in discomfort.

Heat Pump Repair
At Estes Services, we can repair or replace your heat pump, as necessary. If you think it's not emitting the correct temperature or enough of it, or even if it is too noisy, call us. Our experts can offer quick and easy fixes.

Ductless Mini-Splits
Unlike traditional heating or cooling systems, ductless HVAC systems do not require ductwork, which makes them a cost-effective and energy-efficient way to heat and cool your home. In fact, this can save you up to 30% on energy costs!

Fayetteville, GA Electrical Services
At Estes Services, we offer more than just heating and cooling services. We also have a team of professional electricians that can provide the following services and much more:

Electrical repair
Surge protection
Breaker panels
Outlet installation
Smoke detectors
Carbon monoxide detectors
Lighting Fan installation
Smart home device installation
Fayetteville, GA Plumbing Services
Fayetteville homeowners can trust Estes Services when it comes to professional plumbing services. With years of experience, we know how to fix any issues that might affect your pipes, water heater, drains, or more. From repairing leaks to installing water heaters and beyond, our reliable and talented team can help with it all.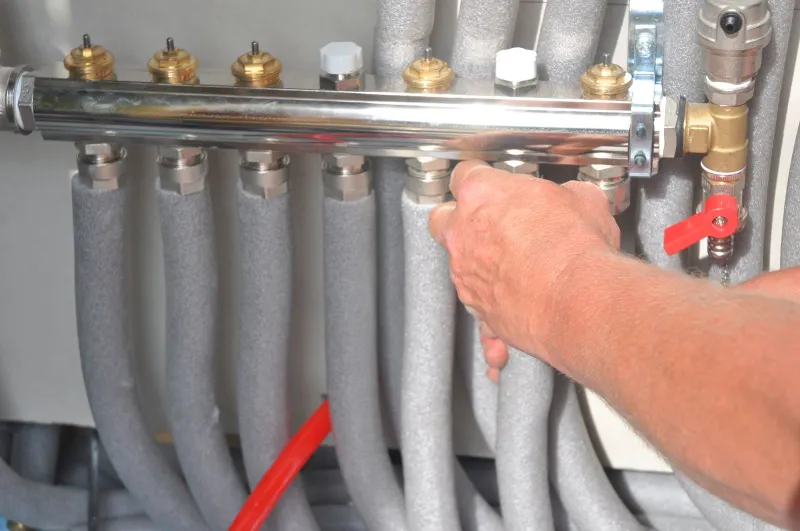 Schedule an Appointment With Estes Services Today
Do you have a property that desperately needs HVAC installation, maintenance, and repair services? We're the team for the job. Request an appointment with Estes Services today! We'll be happy to visit your property and consult with you on the best services for your home or business.
Don't wait any longer to bring the best heating, cooling, plumbing, and electricity services to your home. Call Estes Services for the best services in Fayetteville, GA!