Fayetteville, GA Electrician
Electrical Repair and Installation by Licensed Fayetteville Electricians
For electrical needs in Fayetteville, turn to the local, reputable source: Estes Services! Our certified Fayetteville, NC electricians offer electrical repairs, replacements, and new electrical unit installations 24/7. We are proud to serve homeowners who are looking for fast, knowledgeable, and friendly service. Even seemingly small electrical issues may be causing more damage within the walls of your home. Turn to Estes to ensure the lights are on, your family is safe, and everything is working as intended. Leave the late-night breaker box visits in the past. Trust Estes Services for your Fayetteville electrical needs!
Emergency Electrical Repair Service in Fayetteville
At Estes Services, we treat your electrical emergency as if it were our own! Always putting safety first, our team of certified Fayetteville electricians is available day or night, weekend or weekday, to come and ensure you and your family aren't in danger. At the first sign of an issue - like sparking plugs, unexplained power surges, or the smell of smoke - give us a call. We will work quickly and efficiently to minimize damage and get your home back in working order as soon as possible!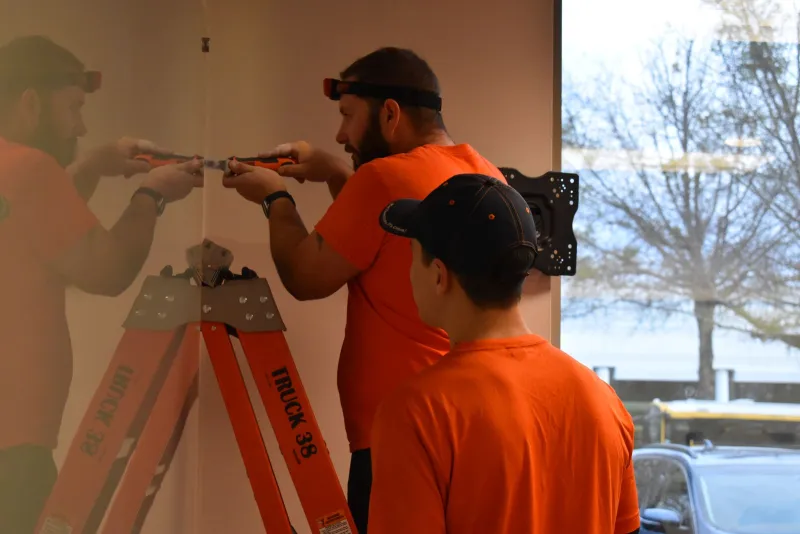 Surge Protector Installation
Even if you take care of your devices by keeping fixtures clean and dry, there's a threat you cannot see: a power surge. A power surge can happen for several reasons, and when it does, it can damage or ruin the inside of electronic devices. Estes Services can help protect your costly gadgets by installing a whole-home surge protection system. Think of it as insurance for anything you plug in. Call us to learn more today!
Ceiling Fan Installation and Repair
So, you want a ceiling fan but don't want to deal with the complicated wiring and setup? We don't blame you. Let the trained team of electricians at Estes Services tackle your ceiling fan installation project! We will ensure it's done right the first time, so all you have to do is enjoy the cool air and reduced climate control costs. If you already have a fan, but it's become loose over time or rattles, we can help with that, too. Call us today for electrical services you can trust.
Outlet Installation
Are electrical outlets in your home few and far between? We understand the convenience of being able to plug in anywhere within your home. That's why we offer Fayetteville outlet installation services. Rest assured that we only use the best, safest outlets, like GFCI outlets approved to be used in rooms with water. Add enhanced convenience to your home! Call Estes Services to schedule your outlet installation today!
The agreement includes the following:
Priority service scheduling
15% discount on all electrical repairs
One year warranty on all repairs
Annual electrical system maintenance check
Replace any light bulbs (customer supplied - convenient service if you have two-story light fixtures!).
Replace broken or missing switch/receptacle cover plates.
24/7 Emergency Electrical Service
We understand that some electrical issues can't wait until tomorrow or next week – they need to be fixed immediately! That's why Estes Services is available 24 hours a day for emergency repairs. If you notice a burning smell, if there's an outlet sparking or wires are exposed or in water, pick up the phone and give the electricians at Estes Services a call.
Why Choose Estes Services as Your Fayetteville Electrical Contractor?
At Estes Services, customer service and quality work are at the of top our to-do lists. We hope our A+ rating from the
Better Business Bureau
demonstrates our commitment to the customer! Let us be your trusted, long-term choice for Fayetteville, NC electrical service! Call the professional, knowledgeable Fayetteville electricians at Estes Services today!