Fayetteville Heating Repair Service
Emergency Heating Repair and Service in Fayetteville, GA
Dependable heating systems help area homeowners make it through the colder months without sacrificing comfort. When a heating problem pops up, do you know where to turn for help? Estes Services has proudly served the Fayetteville area since 1949, delivering reliable heating repair service to our neighbors. We service all makes and models of furnaces, heat pumps, and ductless mini-split heating systems. Our team of NATE-certified HVAC technicians is on call 24 hours a day, seven days a week - including holidays - to tend to any heating or air conditioning emergency that comes your way.
Red Flags Fayetteville Homes Need a Heating Repair
Heating systems often send up red flags before they break down, which alert homeowners to the need for Fayetteville heating repair and installation service. If you spot any of these red flags, call Estes to request service right away:
Unexplainably high heating bills
Inconsistent temperatures throughout the home
Frequent heating cycles, yet your home is still too cold
Chilly air comes out your vents
Heating equipment makes odd noises as it starts, cycles, and/or stops
Funky odors from your heating system and/or air vents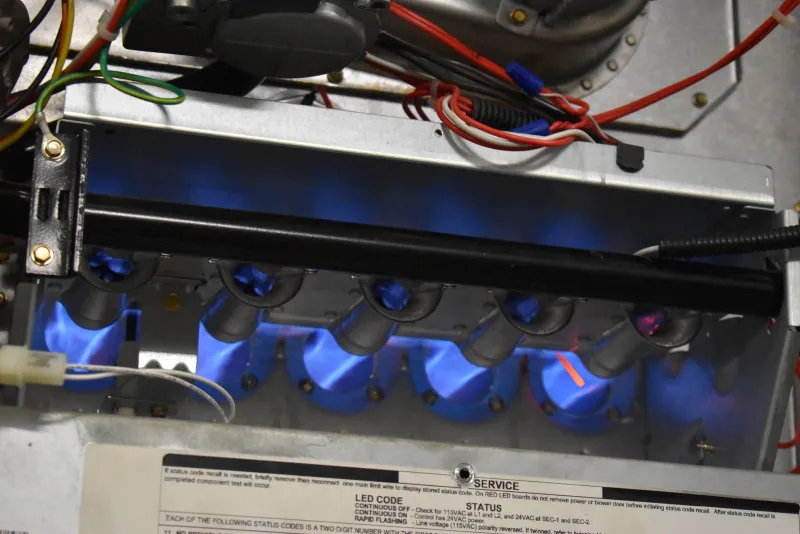 Heat Pumps and Furnaces Need Tune Ups in Fayetteville Every Year
A heating unit tune up is a must-do item that should be on every Fayetteville homeowner's home maintenance list. Furnaces and heat pumps need maintenance to improve performance, maintain safe operation, raise efficiency levels, and preserve components. With a tune up from Estes Services, your heating equipment's critical components are protected against wear and tear as the system's performance and energy efficiency are raised. Save money on your heating costs this winter, and protect your system from surprise malfunctions!
Keep Your Fayetteville HVAC System Running Right
Protect your heating system and your family's comfort by purchasing a preventive service plan from Estes to make sure your system always gets the maintenance care it needs! With a preventive service plan, we take care of scheduling and completing your annual tune up so it never goes forgotten. And in the spring, your air conditioner gets one, too! In the event of a breakdown, members receive a 15 percent discount on all heating repairs, plus a one-year warranty on all repairs.
Get a Free Quote for a New Heater Instead!
Quit pouring money into your old, failing furnace and instead invest in new heater installation or replacement that won't let you down. When your heating system continues to break down and requires repairs, it can seem like you're stuck with no other options. However, did you know that heating unit replacements can often be cheaper than continued repairs? Choosing to install a new heating system, rather than continuing to pour money into a broken-down heating system, can save you big money in the long run.
When it's time for your building to switch to a new HVAC system, contact the professionals at Estes. After you upgrade to a new heating system, your Fayetteville home will gain better heating performance, indoor air quality, and comfort at lower energy-efficiency levels – good for the environment and your wallet. Plus, your system is protected and covered by a new warranty if a problem arises. Let's explore your options – Estes provides free quotes for new heating and air conditioning installation as well as financing options to assist with your purchase.
Schedule Your Fayetteville Heating Repair Today!
Get expert heating, air conditioning and indoor air quality repairs from technicians you trust – call the experts at Estes to schedule your Fayetteville heating repair and service. Whether your building is heated by a furnace, boiler, or heat pump, we can help in all areas of heating repair. When an emergency strikes your household at night or during a holiday, we're available 24 hours a day to ensure that you always have access to one of the best HVAC repair, maintenance, and replacement companies in the state.
We employ NATE-certified technicians who put their knowledge and skill to work for you, with honest system diagnosis and completion of reliable repairs. Estes has been recognized by the Better Business Bureau with an A+ rating, the highest grade attainable in their rankings. Call us today to schedule service from technicians that your home can rely on!