Are you looking for reliable HVAC, electrical, or plumbing services? If so, call on the professionals at Estes Services who have been serving the Decatur, GA area for more than 70 years! Our technicians are trained to meet any of your home's heating, cooling, electrical, or plumbing needs.

Heating Services in Decatur, GA
Estes offers a full range of heating services in Decatur, GA, including:

Furnace Repair
To ensure that your Decatur home is never without heating, you will need to ensure that your furnace is in good working order throughout the year. Maintenance can prevent random breakdowns from occurring down the line. Be sure to call the best at Estes for heating repair services in Decatur, GA.

Furnace Installation
New furnace installation is the best way to ensure that your home has proper heating for years to come. When your new furnace gets installed correctly by the experts, you will be significantly less likely to experience a breakdown or need repairs for a long time.

Heating Tune-Up
Routine heat pump maintenance helps to keep your system running smoothly without the need for repairs. The professionals at Estes Services can conduct regular tune-ups and identify problems that might otherwise go unnoticed and cause an emergency breakdown in the future.

Heat Pump Repairs

Heat pumps, unfortunately, can experience breakdowns due to significant use or wear, and you may need repairs done as an emergency or with little notice. Our team is prepared and ready to provide heat pump repairs in Decatur, GA.

Insulation
Adding insulation to your home will make your furnace and heating system more effective overall. Proper insulation will make it harder for heat to escape from your home and keep your home temperature regulated.
As a result, your furnace or heating system will be able to run less frequently, saving energy and preventing damage from overuse!

Cooling Services in Decatur, GA
Estes offers the best air conditioning services in Decatur, GA, including:

AC Repair
You know that the Georgia summers can be scorching, and going for a short time without your air conditioning can be uncomfortable and even dangerous.
To make sure that you don't suffer in the heat for an extended time, give our team at Estes a call! We will provide high-quality AC repair services in Decatur, GA, to get your cooling system running the way it should be.

AC Installation
If your air conditioning system is more than 15 years old or frequently breaking down, it might be time to consider installing a new unit. The HVAC technicians at Estes are experts at installing all types of cooling systems.

AC Tune-Up
Having regular maintenance performed on your air conditioner will help prevent future breakdowns and problems with the system. Tune-up services with Estes provide all of the needed repairs, adjustments, and part replacement that will save you from unexpected AC outages.

Emergency AC Services
If you do experience a random breakdown when you need your AC, call the pros at Estes so you can get the highest quality air conditioning services in Decatur, GA, as soon as possible!

Heat Pump Repair
If your heat pump has a breakdown for any reason, let us know right away! We will have our team out and ready to help you that same day. Don't go a day without your heat pump by calling the heating, cooling, and indoor air quality experts at Estes Services.

Ductless Mini-Splits
A ductless mini-split system can provide both zoned heating and cooling without the need for ductwork.

Decatur, GA Electrical Services
Our electrical services are comprehensive and can fix any issue that you might run into. For anything your home may need, from installations to repairs, we can provide the best service in the area. We service electrical equipment such as:

Ceiling Fans
Circuit Breakers
Outlets
Lighting
Home Wiring
Surge Protection
Smart Devices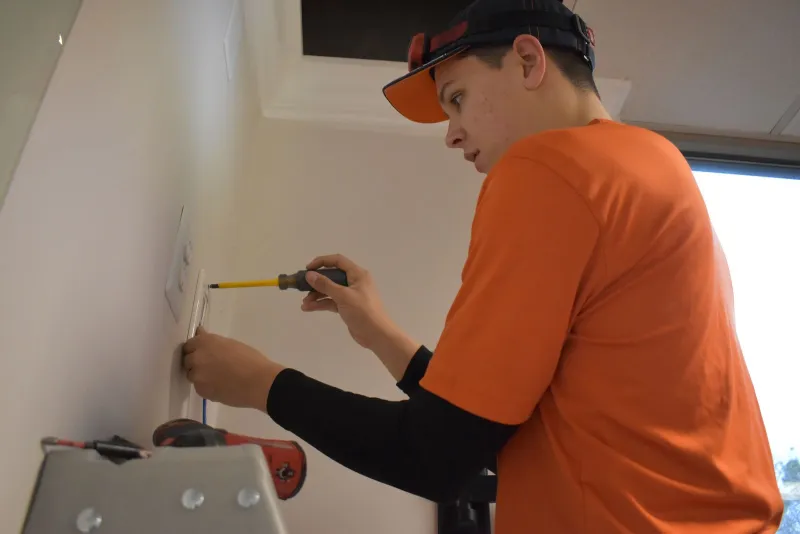 Enroll in an HVAC Maintenance Plan from Estes Services
The maintenance plans available through Estes are a great deal and include access to yearly inspections and tune-up services at a discounted rate.

You will also have access to discounts on parts, service, and repair costs when you enroll in maintenance plans from Estes Services.

Contact Estes Today!
Estes is one of the top-rated home service companies in the Decatur, GA area because of our expert technicians, quality customer service, and comprehensive care.
Whatever your home may need, from HVAC repairs to plumbing services in Decatur, GA, you can rest assured that we can provide the best service in the area.

Call us today to schedule service!