Electrical Repair and Installation by Licensed Decatur, GA, Electricians
Sick of flipping switches at the breaker box? Ready to protect your valuable electronics from power surges? Estes Services has licensed Decatur, GA, electricians ready to fulfill all of your electrical needs. A home's wiring and electrical work can be incredibly complex, and working on it without the necessary knowledge would be extremely dangerous. Trust the experts at Estes to come in and tackle the project, no matter how big it is! Our extremely professional and knowledgeable electricians have decades of combined experience (we've seen it all)! We will work tirelessly to provide fast, friendly, and informative electrical service for Decatur homeowners. Give us a call today!

Emergency Electrical Repair Service
An electrical emergency can be incredibly dangerous. While not every electrical issue constitutes an emergency, keep an eye out for sparks, the smell of burning or any charring around outlets and switches. These are signs that you need to get help right away. Certified Decatur, GA, electricians are just a phone call away with Estes! We're available 24/7 to take on your electrical emergency. We will make sure everything is safe then go straight to work, finding a solution that fits your needs and budget. When there's an emergency, there's no time to spare. We highly recommend that you act as quickly as possible. Call us today for quick and effective emergency electric repair service!

Surge Protector Installation
Power surges happen more than you might think. Whether caused by lightning outside or something inside your Decatur, GA, home, a power surge can damage wiring and sometimes cause damage to anything plugged in at the time of the surge. The potential costs of a surge are high! Invest in protecting your Decatur home with a whole house surge protection system. When you're looking for an electrical company for surge protector installation services, there's only one company you need to know: Estes Services. Our team can provide the installation of these systems in nearly any home, offering peace of mind for those big investments. We'll get the job done right the first time.

Ceiling Fan Installation and Repair
Ceiling fans offer an easy way to cut down on costs related to running an air conditioner all the time in the hot south! Let the certified electricians at Estes Services install a ceiling fan in your Decatur, GA, home. If you already have a fan, but it's come loose over time or rattles, Estes Services can offer quick repairs to get your fan running at full speed again in no time. For either ceiling fan installation or repair services, Estes Services can help.

Outlet Installation
In this day and age, most people need near-constant connectivity. That means having a spot to do so is more critical than ever. Let Estes Services' licensed Decatur, GA; electricians install new outlets in your home. We use GFCI outlets. These are great for your home resale and are deemed safe even in rooms that may get wet, like a kitchen or bathroom. Call us at Estes for your outlet installation needs in Decatur, GA!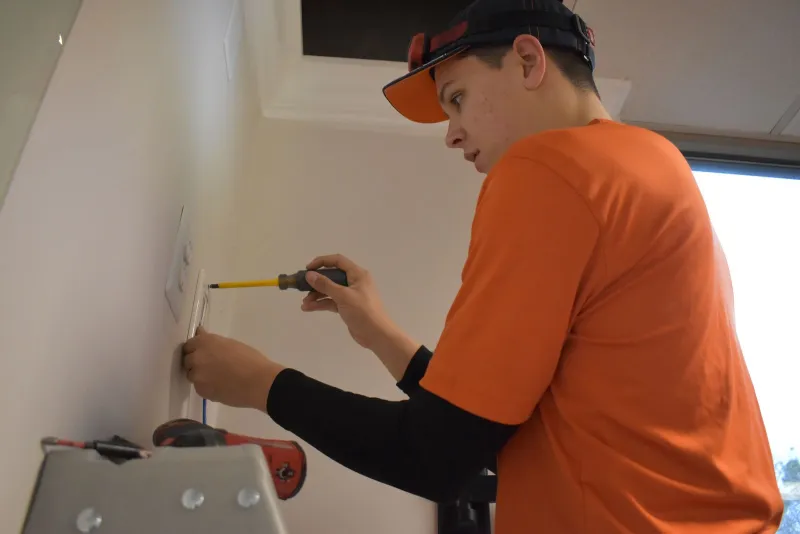 Why Choose Estes Services as Your Decatur Electrical Contractor?
When it comes to finding professional electricians in Decatur, GA, we know you have options. We know that you're looking for a team of electricians that will do a great job at a relatively low price. With the help of customers just like you, Estes Services has been able to secure an A+ rating from the Better Business Bureau. We are proud to serve all of Decatur's electrical needs and will work hard to earn your repeat business!

Whether you need 24/7 emergency electrical service or you're just in need of a simple electrical repair, Estes Services is here to help with all of your electrical problems. Give us a call for electrical services that your Decatur home can count on.