Decatur, GA, Heating Repair Service
Emergency Heating Repair and Installation Service in Decatur, GA
A good heating unit is necessary when temperatures drop in the Decatur, GA, area. Homeowners in Decatur and Atlanta, GA, need to know who to call for heating help - Estes Services! Since 1949, we've served the heating repair and service needs of our neighbors in Decatur. We provide quick and reliable heating repair and service for all brands of furnaces, heat pumps, and ductless mini-split heating equipment.

Contrary to popular belief, we know that winters in Decatur can actually get quite chilly! When the calendar turns over to the winter months, make sure that you have a team of HVAC experts to call in case your heating systems begin to malfunction at the worst possible time.

With 24/7 emergency service available, you can always count on Estes to keep your family warm. You don't have to schedule an appointment. Instead, call us or contact us online whenever an emergency strikes. For HVAC services that you can count on at any time, day or night, contact the HVAC technicians at Estes Services.

Signs Decatur Homes Needs Heating Repairs
Don't wait until your HVAC system dies to call for heating service - know the signs that repairs are needed to avoid being left in the cold! If you experience any of these heating repair symptoms, call Estes for heating services right away.

Cold air blowing from your vents
Uneven temperatures throughout the home
The system frequently starts and stops but doesn't provide enough warmth.
Unusual noises coming from your heating equipment
Strange smells coming from the heating system or vents
Higher utility bills than usual, which cannot be explained

Whenever your home is in need of heating and air conditioning services in Decatur, GA, there's only one company you need to know - Estes Services.

Why Heat Pumps and Furnaces Need Tune Ups in Decatur
Heating system maintenance is an important task for Decatur, GA, homeowners. Your furnace, heat pump, or ductless mini split unit requires seasonal maintenance to mitigate wear and tear, improve heating performance, and boost energy efficiency - all resulting in better comfort indoors! A tune up inspects your entire heating system. Any small problem will be caught early and corrected to prevent bigger problems later. Better efficiency and fewer breakdowns save you money, all thanks to a heating system tune up!

Make Heating Maintenance Easy with Preventive Service Plans
Make heating service a cinch when you sign up for a preventive maintenance plan through Estes Services in Decatur, GA. Preventive maintenance plans help Decatur, GA, homeowners stay on top of heating system care. Your heater gets the tune up it needs, and you get the great performance and savings this essential care delivers. Benefit from additional savings with a 15 percent discount on all heating repairs, plus a one-year repair warranty.
Contact us whenever it's convenient for you to learn more about how you can save on heating and cooling maintenance through our preventive service plans.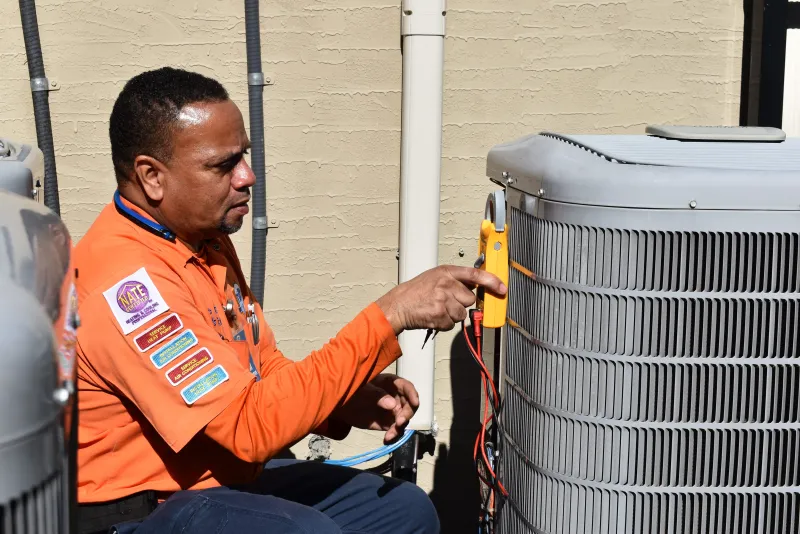 Spent Your Last Dollar on Heating Repairs?
Tired of wasting money patching up that failing heating system year after year. Instead, invest those dollars in a new heating system for your Decatur home. A new heating system provides better energy efficiency and performance for lower energy bills as well as improved indoor comfort and air quality.

When you choose to replace your current heating system with a new one, you'll notice benefits right out of the gate. It'll cost less to operate, save you money on repairs and maintenance, and provide more even heating all across your home. Estes offers free quotes as well as financing options to help you upgrade home comfort and energy efficiency.

Schedule Your Heating Service Today!
When your heating unit needs professional help from a team of heating, air conditioning, and indoor air quality experts, turn to Decatur's trusted and reliable heating repair and service company - Estes Services. Estes has been recognized by the Better Business Bureau with an A+ rating, the highest grade attainable in their rankings. Our team of reliable NATE-certified HVAC system technicians deliver highly skilled solutions to get your heating equipment back up and running right away.

With emergency service offered 24 hours a day, Decatur homeowners are always covered by Estes! Don't hesitate to give us a phone call, or contact us online at any time! Our reliable customer service team is awaiting your call!