Decatur, GA Air Conditioning Repair Service
Emergency Air Conditioning Repair and Service in Decatur, GA
Air conditioning systems deliver comfort and safe respite when the heat arrives in the Decatur, GA, area. If your air conditioner or heat pump isn't able to keep up, trust Estes Services to provide the skills your HVAC system the service it needs to perform at its best and keep your Decatur home cool! Call our NATE-certified technicians to perform service on any brand of heating and air systems. Contact us anytime - we are even available all day, every day of the year if you need emergency ac repair!

How Do You Know If Your Decatur Home Needs Air Conditioning Service?
If you know the symptoms to watch for, you are able to help correct air conditioning issues before they create an entire system breakdown! When you experience these signs, call for ac repair and service right away:

Unexplainable high electric bills
Foul smells coming from your cooling system and/or vents
Odd noises from the AC system
Warm air from vents when the air runs
Excess humidity in the home
Cooling cycles stop before home is properly cooled
Why AC Systems Need Tune Ups
Air conditioners and heat pumps need a tune up each year to allow the system to run at peak performance and efficiency levels. An air conditioner that performs at its best will keep you comfortable in your Decatur home while consuming less electricity, so it's cheaper to cool your house! The inspection and service each component of your cooling system receives reduces the chance of a larger scale problem, like a breakdown that could leave you in the Decatur heat for hours.

Preventive Maintenance Plans Make Air Conditioning Service Simple
Since ACs and heat pumps need regular tune ups, why not save on this service and receive extra benefits! Join an Estes' preventive maintenance plan for the Decatur area to receive discounted tune ups for both heating and cooling systems each year. If your HVAC equipment ever needs a repair, you receive a 15 percent discount for the service, and your repair comes with a bonus one-year warranty for additional protection and savings.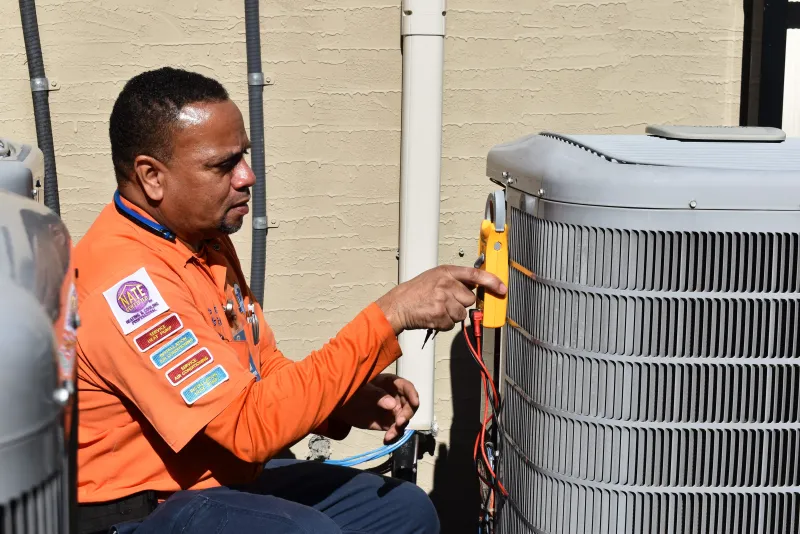 Spending Too Much Money on Cooling Repairs?
Don't waste money on more costly repairs for a dying air conditioner - upgrade to a new cooling system! A new air conditioner or heat pump offers higher energy efficiency and performance, which generates lower utility bills and better humidity management for improved indoor air quality in your Decatur home. New units are protected under a fresh warranty, so if repairs are needed, homeowners aren't stuck footing a major expense. Call us for a free air conditioner installation quote from an industry professional. You can even contact our office to hear about a variety of payment plans to assist with your purchase.

Schedule Decatur AC Service Today!
Time to schedule a HVAC system tune up for your Decatur home? Call Estes Services today! The Estes team possesses the knowledge and skill required to perform precision repair services for any cooling system to keep your Decatur home comfortable. Our company has been recognized by the Better Business Bureau with an A+ rating for providing extra care to everything including reliable customer service to ensuring all of our technicians are equipped with top of the line industry knowledge - just check our reviews! We tend to emergency air conditioner repairs quick to minimize discomfort indoors!