What to Know About the HFC Phasedown
Do you know about the new HFC phasedown in the U.S., and how it could impact commercial building owners and property managers over the next 15 years?
This blog article will cover what you need to know about the new HFC phasedown for commercial HVAC, including what the phasedown schedule looks like and how to prepare.
What is the AIM Act and its HFC Phasedown Schedule?
Enacted in December 2020, the American Innovation and Manufacturing (AIM) Act is a new HFC phasedown law in the U.S. that sets forth a 15-year phasedown of hydrofluorocarbons (HFCs).
HFCs are primarily used as refrigerants in refrigeration and air-conditioning (AC) systems but are also used as other products such as foam-blowing agents, aerosols, and solvents.
HFC refrigerants have been used as a replacement for ozone-depleting refrigerants like R-22. But now HFCs are under a phasedown of their own.
In fact, January 1, 2022, marked the beginning of the HFC phasedown. Per the AIM Act, HFC refrigerants are phased-down in a stepwise manner in accordance with the phasedown schedule in Table 1.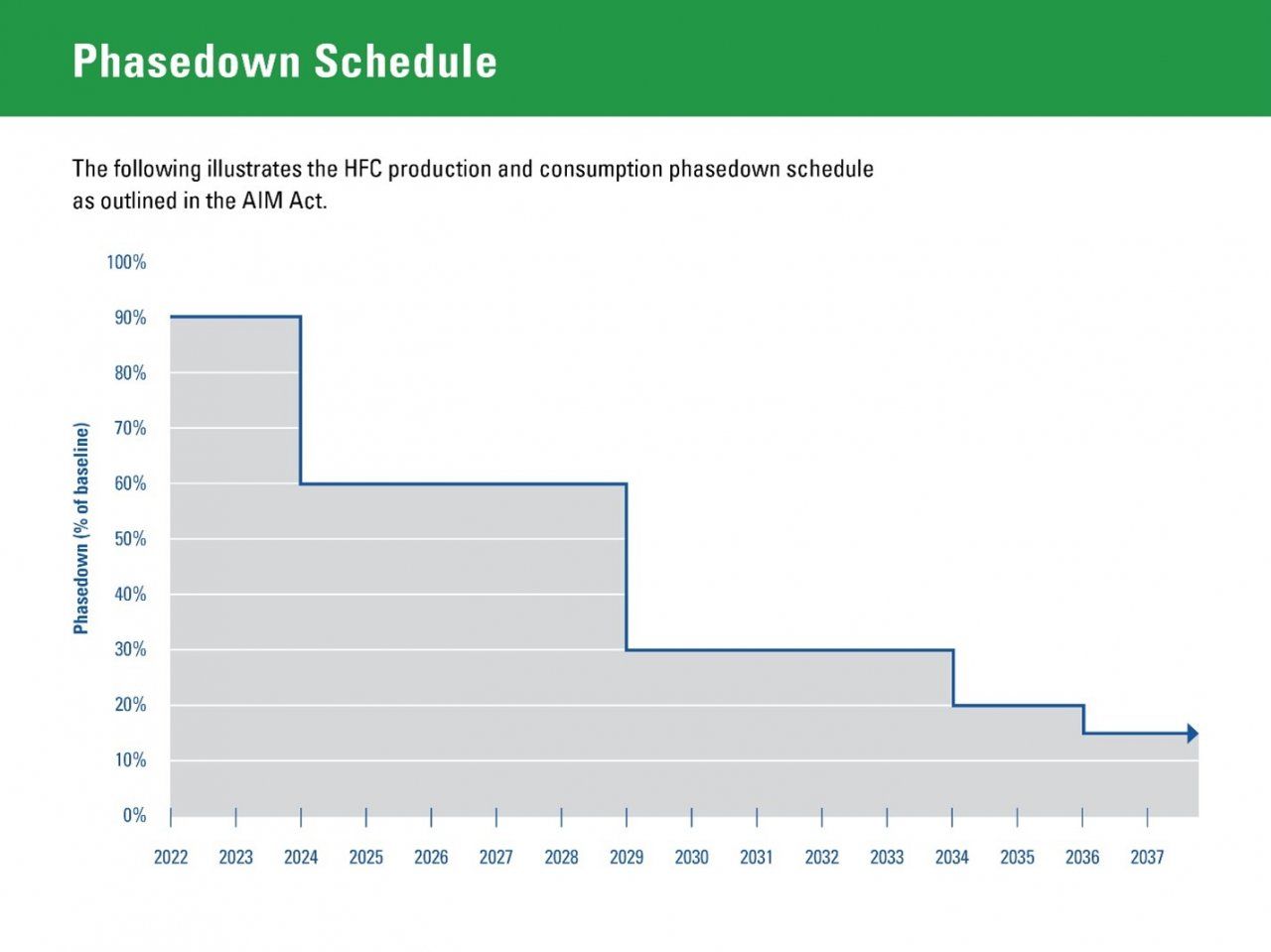 Image Source: https://www.epa.gov/climate-hfcs-reduction/final-rule-phasedown-hydrofluorocarbons-establishing-allowance-allocation
Popular HFC refrigerants, such as R-410A, R-407C, and R-134a, used in various types of commercial HVAC systems will be impacted over time. Building owners and property managers across the greater Atlanta area should take note.
How Could Building Owners and Property Managers Be Impacted?
While there is no requirement to stop using HFC refrigerants, this phasedown makes preventative maintenance for commercial HVAC equipment, such as split systems, packed units, and chillers, even more important.
In fact, as the HFC phasedown schedule matures with steeper reductions from the baseline, servicing and repairing commercial HVAC equipment with HFCs could become more costly.
Thus, regular maintenance and upkeep on commercial HVAC systems with regulated HFCs is crucial. That's where Estes Services comes in. We are here to help you as we enter the third refrigerant transition.
Prepare for the HFC Phasedown with Estes Services
Estes Services offers customized commercial HVAC services to help meet the needs of your business throughout the HFC phasedown.
In fact, we offer commercial HVAC repair services for Atlanta commercial building owners and property managers to help them improve HVAC system efficiency, maintain effective performance, and extend service life.
Our team of trained commercial HVAC technicians is here to ensure that your commercial HVAC equipment is properly maintained. That's why our commercial HVAC installation and repairs are of the highest quality.
Whatever you need throughout the HFC phasedown, Estes Services has you covered. Protect your commercial HVAC investment by scheduling commercial service today.