Buckhead, GA, Air Conditioning Installation
Air Conditioning Installation and Service in Buckhead, GA
With the int brought forth by the Buckhead summers, it's imperative that your home has a reliable air conditioner that you can count on to call your home all season long. If your current air conditioning system needs to be replaced, or if you've recently built a new home that needs an air conditioning system, get in touch with the heating and cooling professionals at Estes Services. We understand how important proper cooling is to your everyday life, so we're completely dedicated to completing your service in a timely and professional manner.

When Do You Need to Replace Your Air Conditioner?
Energy Bills on the Rise

If you've noticed a recent upwards trend in your energy bills, your air conditioner is likely to blame. As the system becomes older and less efficient, it has to stay on for longer periods of time in order to hit the temperature that you've set for the unit. This uses more energy, causing your bills to steadily rise.

Your Unit is Over 10 Year Old

As a general rule of thumb, air conditioners last about 10 to 15 years. If you experience any major issue after your system hits 10 years of age, the best course of action will likely be to completely replace the system. Doing so will not only save you money over time, but will likely increase your home's comfort as well.

Low Indoor Air Quality

Your air conditioner has filters within the system to catch any pollutants that might be in your air supply. If your quality of air has dropped, however, it might not be effectively catching those pollutants anymore. Replacing the system will ensure that your AC unit catches any pollutants before they're able to reach anybody within your home.

Lack of Cool Air Supply

A lack of cool air coming from the air conditioner is one of the most common signs that a replacement is needed. Replacing the unit ensures that only cool air is coming from your air conditioner, rather than warm or even hot air.

You Experience Frequent Breakdowns


Breakdowns are not only annoying, but they can also be expensive and dangerous. If your air conditioner experiences frequent breakdowns, your best bet is to completely replace the system to eliminate the issue.

Benefits of Air Conditioning Installation
Increased Comfort
Your home's new air conditioning system will likely be far more efficient than your previous one. This leads to significantly increased comfort, as you'll reach the thermostat's set temperature far more easily than your old unit was able to.

Increased Energy Efficiency
If your existing air conditioning system is working hard to properly cool your home, replacing the system with a more energy-efficient unit will lead to significant energy savings. Contact Estes today to learn more about our energy-efficient AC units.

More Effective Cooling
Any lingering issues with your existing air conditioning system can lead to less effective cooling. Replacing your old system with a new one, however, can provide far more effective cooling that helps your home hit the set temperature much quicker than before.

Higher Indoor Air Quality
With normal air conditioner wear and tear often comes lower quality of air. To fix this issue and restore your home's air quality, replace the HVAC system with a newer model. Doing so will produce much healthier and safe indoor air for your home to enjoy. For reliable air conditioning service in Buckhead, GA, get in touch with Estes Services.

Air Conditioning Installation from Estes Services
Estes has provided HVAC services to homes and businesses since 1949. With so many years in the industry, we know what it takes to help our customers stay safe and cool during the hot summer months. From repairs and maintenance to complete replacements, we can help create a far more comfortable and safe home.

Our heating and air conditioning technicians are experienced in all things air conditioning and are ready to help you improve the comfort of your Buckhead, GA, home. Get in touch with us today to receive more information on any of our products or services, or to schedule an appointment.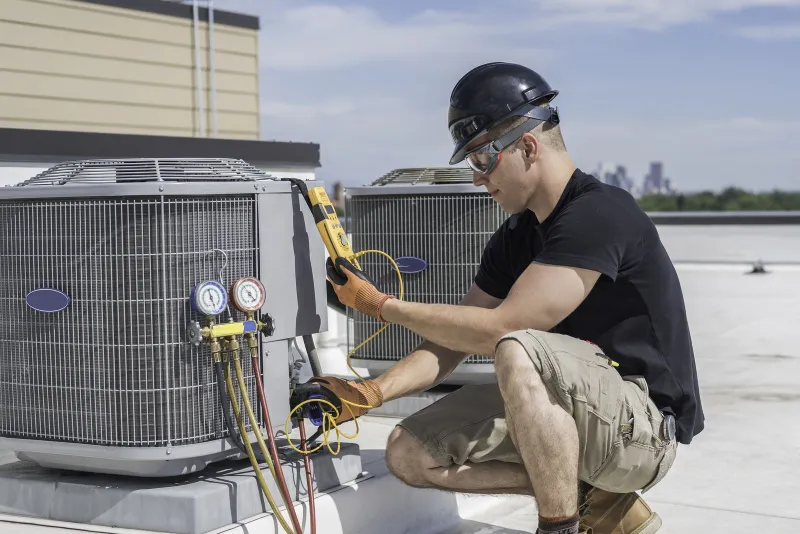 Contact Estes Services for Buckhead AC Installation
Residents in Buckhead, GA, and the surrounding Atlanta, GA, area have been coming to Estes for years for effective AC services. Get in contact with our team of HVAC technicians today to schedule an appointment or to receive more information on any of the exceptional services that we offer.