Buckhead, GA, Heating Repair and Service
Emergency Heating Repair and Service in Buckhead, GA
A heating system provides warmth and comfort to homes in Buckhead and the surrounding areas. Ensure your heating system is up to par when choosing Estes Services as your trusted heating repair and service contractor. Our skilled HVAC technicians repair and service all brands of furnaces, ductless mini-split heating systems, and heat pumps. We have your back anytime you experience issues with your heating systems, and we offer 24/7 emergency service to prevent prolonged discomfort in your Buckhead, GA, home. Whenever heating and air conditioning needs arise at your home or business, trust the experts at Estes to provide you with the necessary repair service.

Signs Your Buckhead, Georgia, Home Needs Heating Repairs
If you experience any of the following symptoms in your Buckhead, GA, home, a heating system issue may be to blame. Call us as soon as possible if you notice:

Vents blowing cold air
Strange noises from heating equipment
Uneven temperatures across your Buckhead home
Odd odors from the heating system or vents
The heating system starts and stops without fully heating your Buckhead home
Unexplained utility bill spikes
When your home's heat pump, furnace, or other heating system begins to exhibit signs that it might soon need repairs, make sure to provide it with the service it needs as soon as possible. You'll end up saving money on future repairs while restoring comfort before it's gone for good.

Why Furnaces and Heat Pumps Need Tune Ups
Over a normal heating season, furnaces and heat pumps experience wear and tear, which prevents the system from performing at its best next year. A tune up is necessary to counter wear and tear, delivering the service your heating components need to function at their best. Better performance equals better efficiency, which saves you money on heating bills. Tune ups also prevent breakdowns over the winter, helping you avoid costly repair service bills.

Make Heating Service Easy with Preventive Maintenance Plans
Make heating system care a breeze when you sign up for a preventive maintenance plan with Estes Services! Your annual heating system tune up is covered - we'll schedule your service in the fall before the arrival of cold weather. With a preventive maintenance plan, you also gain great savings should your heating system require repairs over the winter. Members save 15% on all heating repairs, plus gain a one-year repair warranty!

Whether your home relies on a heat pump, furnace, or another heating system to keep your house warm, make sure to give it the consistent maintenance that it needs. This will save you money on future repairs, as you catch problems before they grow out of control while also lengthening the overall lifespan of the unit.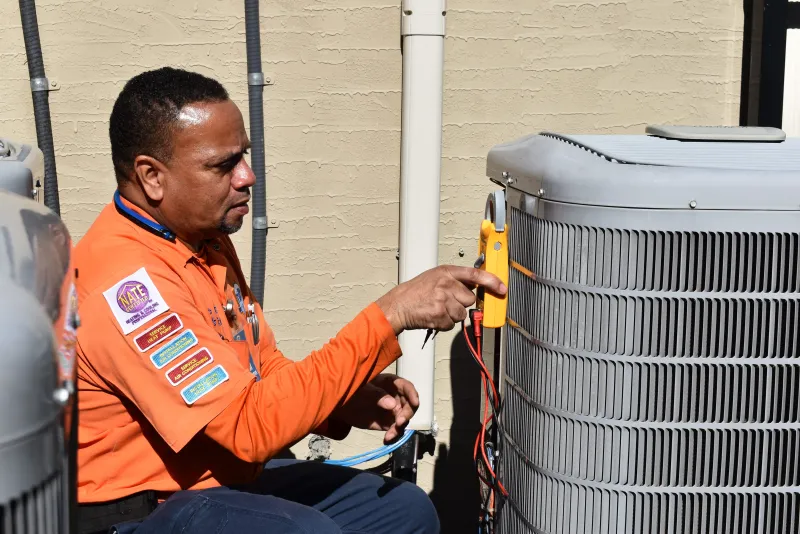 Done Spending Money on Heating Repairs? Get a Free Quote!
Tired of your old heating system frequently breaking down, poor indoor air quality, and high utility bills? Replace it with the installation of a new heating system and gain the advantages of equipment warranty, higher energy efficiency, lower utility bills, and better indoor air quality throughout your Buckhead, Georgia, home. Estes Services offers free estimates for heating system replacement and a number of financing options to help make your purchase more affordable.

Whether your property resides in Buckhead, Atlanta, or any of the surrounding areas, rest assured knowing that the technicians at Estes can provide reliable heating and cooling service on all types of HVAC systems. Give us a phone call today to get started!

Schedule Buckhead Heating Service Today!
For commercial and residential heating and air conditioning repair, maintenance, and replacement services in Buckhead and the surrounding Atlanta, GA, area, turn to Estes Services. We provide quality workmanship that you can rely on all winter long! Is your HVAC system in need of emergency repair services? If so, Estes is here to help. We know that you don't want to wait when it comes to bringing heat back to your home. That's why we make ourselves available 24 hours a day, 7 days a week. Whenever you find yourself needing heating or air conditioning service, Estes is there!