Atlanta, GA, Data Center HVAC Repair & Installation
Quality Heating and Cooling
Estes Service has provided our customers and clients with quality heating and cooling services since 1949. We offer services for all types of businesses, including data centers and companies with a designated data center facility. If your business has a need for data center HVAC system service, contact the trusted pros at Estes Commercial. We can handle all of your company's heating and cooling repair, tune up, and installation needs.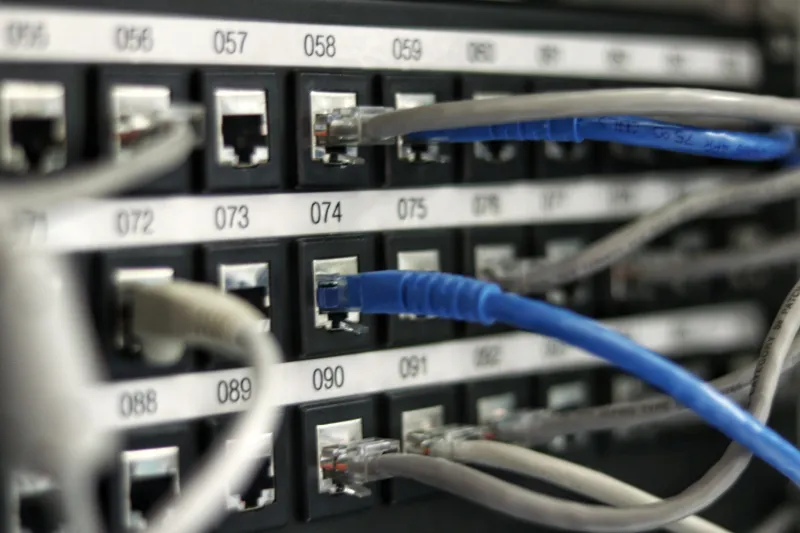 Dependable Heating and Cooling Service for Data Centers and Computer Rooms
Our NATE-certified technicians are trained to perform heating and cooling services for data centers, which are designed to process and store a company's important data and applications. Whether it's controlling the temperature or dew point in your data center facility, we know just how critical quality HVAC service is to these areas. Because server rooms have different HVAC system needs, we work closely with you to develop a heating and cooling plan that is tailored to your business' needs.
When you're in charge of protecting important data, you can't trust your heating and cooling needs to just any business. When you choose Estes for commercial HVAC services in your building, you can feel confident that you're getting the best service in the area.
Estes has more than 70 years of experience servicing companies that have specific needs related to their facility's data centers.
Our commercial HVAC system services include:
AC Repair
AC Tune Up
AC Installation
Heat Pump Repair
Ductless Mini Splits
Furnace Repair
Furnace Installation
Heating Tune Up
Ventilation
It's imperative that you have commercial HVAC maintenance performed in your data center regularly. Our routine maintenance inspects every component of your heating and cooling system to ensure optimal performance and efficiency.
We clean the condensate drain, blower compartment, electrical compartment, compressor compartment, and outdoor coil. We also inspect and clean the air filter, if necessary. Our tune up includes an inspection of all of your system's components, including bearings, the fan blade, and compressor contactor.
We cover all the bases to make sure that your systems are always working as they should. If we discover any problems during the tune up, an Estes technician will perform the necessary repairs as soon as possible.
We also inspect the thermostat, condition of the line set, and proper refrigerant levels. Everything is covered in an Estes tune up!
Required Conditions for Data Center Hardware
Because server stacks generate a lot of heat, you need an HVAC system that can regulate the temperature to the proper level. An HVAC system breakdown can be disastrous for a server room that stores all of your company's or clients' data. Data centers need to be kept at a cooler temperature, and a system malfunction on a hot, summer's day can damage or destroy data. If you don't have the right HVAC system or equipment in a data center, then you're putting your servers and critical information at risk.
Our technicians will ensure your heating and cooling system is programmed to keep your servers at ideal conditions for maximum safety and efficiency. They have the necessary experience to provide solutions to whatever heating and air conditioning issues your building might be dealing with.

Estes Services ensures that your data center is meeting the specific temperatures, humidity, and dew point required. Some of the areas we'll help your facility achieve, include:
Temperature
Maintaining temperatures between 69°F to 81°F. Operating within the right temperature is critical to the overall performance of your servers.

Humidity
Maintaining a maximum relative humidity that should not exceed 60 percent.

Dew Point
Maintaining a maximum dew point that should not exceed 59°F.

Temperature Change
Maintaining a maximum rate of temperature change that should never exceed 9°F per hour.

Benefits of Regular HVAC Maintenance for Data Centers
If a data center is exposed to too much heat, it can malfunction or break down altogether. Removing unnecessary heat from heat sources can help your business conserve energy and reduce energy costs. Hiring an HVAC business to regularly inspect your data center will prevent break downs from occurring.
We work with data centers all across the Atlanta, GA, area. When your systems overheat, disaster can strike. Make sure that you're protected by getting in touch with an HVAC company that has experience in providing solutions to data centers.

Some of the other benefits of regular HVAC maintenance include:
Protecting Sensitive Data
Reducing the Chance of a Break Down
Extending Equipment Lifespan
Improving Energy Savings
Reducing Repairs
Improving Indoor Air Quality
Experienced HVAC Repair and Replacement Services for Data Centers
Don't leave the protection of your company's servers and data to just any HVAC business - count on the trusted technicians at Estes Services to get the job done right. Our company has over 70 years of experience in the area, and we don't plan on stopping any time soon. We're devoted to helping your business protect critical data that is important to your company.
Whether we can provide your company with HVAC system repair, tune up or installation services, we're the leader in heating and air conditioning services in the area. We believe that once you trust us with your heating and air conditioning systems, you'll never go back to the other guys. Contact Estes today, and let's get started!