Kennesaw, GA Heating Repair Service
Emergency Heating Repair and Installation Service in Kennesaw, GA
Although summers in Kennesaw, Georgia, are stifling hot, winters are relatively mild. Average highs during the winter are typically in the mid-50s, meaning a light coat should keep you comfortable during the day. However, don't let these mild temperatures fool you - you'll still need the assistance of a reliable furnace or heating system during the winter months. Temperatures at night can often fall into the mid-30s, making a heating system a must-have for Kennesaw, GA, homeowners. Whether you need HVAC unit installation or repair services in Kennesaw, Georgia, you can count on the NATE-certified heating service technicians at Estes Services to take care of all your HVAC needs. So give us a call today and find out why we're the top-rated heating, air conditioning, and indoor air quality company in the Greater Atlanta area.

Types of Heating Systems Estes Services Repairs in Kennesaw
Our Estes Services team of technicians can assist with the following heating systems and more:

Heat pumps
Heat pumps are growing in popularity in Kennesaw, GA, because they're energy-efficient and provide both heating and cooling. Because these units work year-round, though, they are prone to breaking down over time. Some common heat pump sounds that indicate a repair is needed include loud, unusual noises such as high-pitched squealing or inadequate heating and cooling.

Furnaces
Traditional furnaces are extremely reliable if regular maintenance is performed on it. If your system is aging, though, and hasn't received regular maintenance, you may face the following furnace repair issues: heat exchanger replacement, blower belt replacement, limit switch repair, and blower bearing replacement, just to name a few.

Boilers
Boilers aren't as common as they once were, but they're still reliable units that will keep you home or business warm during the heart of winter. Some common boiler repairs include no heat, pilot light issues, kettling, and leaking.

Signs Your Heating System Needs Repairs
If you notice any of the following signs, pick up the phone and get in contact with the NATE-certified team of heating, air conditioning, and indoor air quality technicians at Estes for HVAC services. If your home undergoes an emergency that requires emergency service, Estes Services is available 24 hours a day to help with all of your HVAC needs.

Strange smells

If you notice the smell of burning dust or dampness when you turn your system on for the first time during the fall or winter, it's likely just the smell of dust, dirt, and other debris that has collected in your system burning off. If you notice a smell of dirty socks, though, it may indicate that mold or other bacteria have built up in the system. This can cause damage to your system and impact the health of your indoor air. If there's a rotten egg or sulfur smell, it may be a sign of a gas leak, and you'll need to call a professional HVAC company immediately.

Odd noises

Aside from the sound of your Kennesaw, GA, furnace starting or stopping a heating cycle, your system should stay relatively quiet. But if you're hearing banging at start-up or rattling, clicking, whistling, or squealing sounds, there's an issue with your heater, and it needs to be inspected.

Short cycling

Short cycling occurs when your heater turns on and off too frequently, not allowing your home to ever warm up to the temperature that you've set. Some common issues that cause this annoying problem include dirty air filters, blocked air supply vents, a dirty flame sensor, or a faulty thermostat.

Poor indoor air quality

If your heater or furnace isn't working properly, it can impact your home's indoor air quality, which can be harmful to those who suffer from allergies, asthma, or other respiratory issues. You can improve your home's IAQ by replacing air filters regularly, fixing any leaks in the ductwork, and installing a whole house air cleaner or air purifier to your HVAC system.

High energy bills

A common reason for higher-than-usual energy bills is a dirty furnace filter. If you don't regularly change your filter, the system is forced to work harder to maintain the temperature in your home. This causes increased strain on the unit and will cause your bills to rise. Older furnaces, meanwhile, don't operate as efficiently as they once did and can also lead to higher energy bills. If this is the case, you may want to consider replacing your heating and air conditioning system with a newer, more energy-efficient model.

Benefits of Enrolling in an Estes Family Care Plan
At Estes Services, we understand that your life is extremely busy, and heating system maintenance isn't always at the top of your to-do list. When you enroll in one of Estes' maintenance plans, though, we'll remind you when it's time for heating and air conditioning maintenance and schedule service with you. We'll provide a comprehensive maintenance check for your cooling system in the spring and for your heating system in the fall. You'll also receive priority service and a 15 percent discount on all repairs. Call us to talk to a representative at Estes Services today and learn more about our maintenance plans.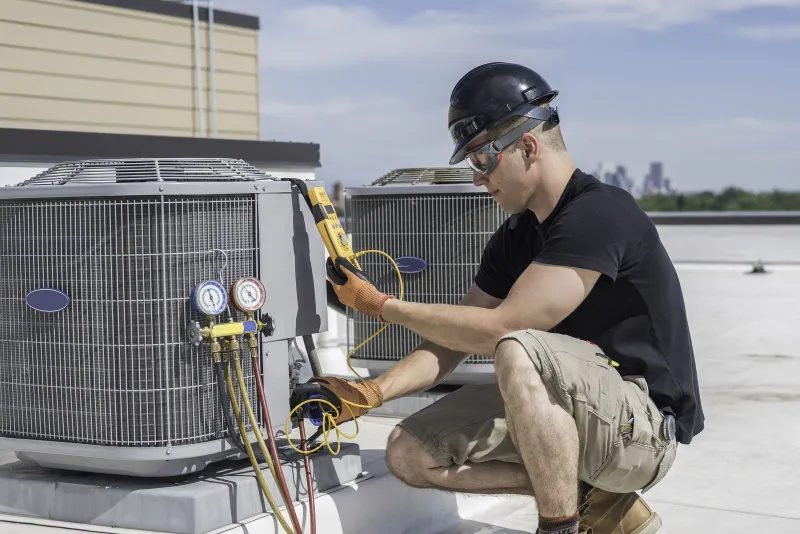 Call Estes Services Today for Dependable Heating Service in Kennesaw
Our locally owned and operated company, Estes Services, is ready to help with any HVAC issue that's been plaguing your home. Our team of heating, air conditioning, and indoor air quality professionals has provided reliable HVAC repair services to the great residents of Atlanta and Kennesaw since 1949 and has earned the trust of thousands of customers. We even offer 24-hour emergency service to ensure you're always covered if any emergency heating issue occurs. If your heating system is experiencing any issues, don't hesitate to contact our customer service team to schedule an appointment. We look forward to hearing from you about how we can help with whatever you need.