Marietta, GA, Heating Repair and Replacement Service
Emergency Heating Repair and Replacement Service in Marietta, GA
Is your Marietta, GA, home's heating equipment able to meet your indoor comfort demands this winter? When you require heating repair and service, trust Estes Services for the reliable, safe service your system needs to keep you warm. A staple in the community since 1949, Estes Service works on all brands and models of furnaces, heat pumps, and ductless mini-split heating equipment. For heating, indoor air quality, and air conditioning service that your home or business can count on, give Estes Services a phone call today!
We don't leave you inside in the cold - we're on the job quickly, even in an emergency! Estes offers emergency service 24 hours a day to repair your heating equipment. Call us at any time, day or night, to see how we can provide your Marietta or surrounding Atlanta area home with emergency service for all of your heating needs. We're ready to answer your call whenever it comes!

Do I Need Marietta Heating Repair?
If your heating equipment doesn't turn on, you know you need repair - but did you know heating repairs may be needed even if your current system still runs? Avoid more extensive breakdowns when you know the signs that point to the need for heating repair:

Weird sounds while your heating system operates
Funky odors emanating from your equipment or vents
Chilly air coming from interior vents
Temperatures are inconsistent from one room to the next
Not enough heat even though the system frequently runs
Utility bill spikes that have no obvious explanation
Don't Forget Furnaces and Heat Pump Tune Ups
Furnaces and heat pumps in Marietta, GA, and the surrounding Atlanta, GA, area need annual heating tune ups. Heat pumps require a second tune up for air conditioning since the system functions as a way to cool your home as well. A professional tune up delivers the TLC furnaces and heat pumps need to provide better energy efficiency, performance, and comfort. They reduce the amount of energy needed to heat your Marietta, GA, home or business, which lowers utility costs. During a heat pump or furnace repair and tune up, a technician's trained eye spots any problems and will correct them, which lowers the risk you'll need heating repairs over the coming winter - a major money saver!

Join the Estes Service Plan
Never accidentally skip HVAC system maintenance when you join Estes Services' preventive maintenance agreement! Tune-ups for your heating system in the fall and your air conditioning equipment in the spring are included, completed by our NATE-certified technicians. If savings on tune ups isn't enough, you also benefit from savings should the need for repairs arise! Heating and air conditioning repairs for members are 15 percent off and backed by a one-year warranty.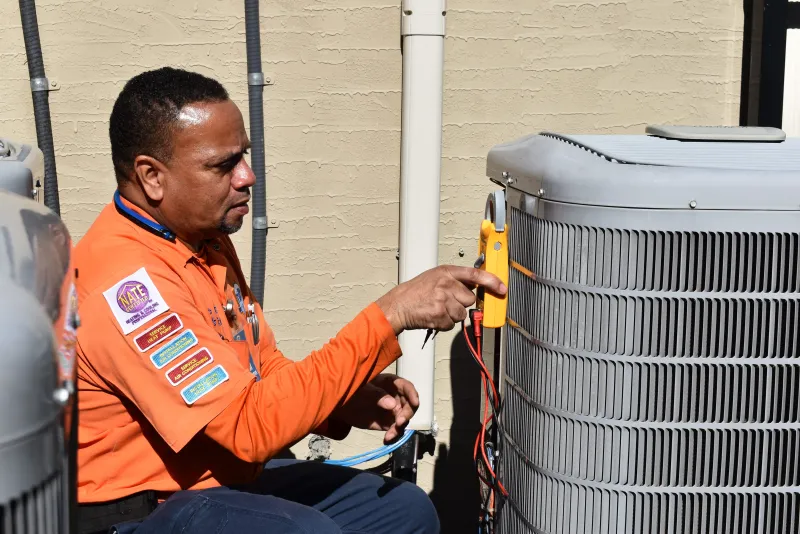 Get a Free Estimate for Heater Replacement
Don't waste another dollar on furnace repairs for your old unit! A new heating unit helps you save in many ways. You'll benefit from better temperature control and air quality and will save energy with higher-efficiency performance. That means you'll also save money with lower utility bills and fresh equipment warranty protection if your new system needs repairs. Estes Services in Marietta, Georgia, and the surrounding Atlanta areas offers free quotes for new heating unit installation. Take a look at our financing options for financial help with your heating system purchase.

Schedule Your Marietta Heating Repair Today!
When you require Marietta, GA, heating, and cooling repair service, rely on Estes Services. We have an A+ rating from the Better Business Bureau. With highly skilled HVAC technicians available around the clock, we get to work immediately to perform repairs that last the test of time. Whether you require emergency service or just a simple furnace or heat pump repair, your local Estes heating, cooling, and indoor air quality experts will be there to provide a solution.
Estes Services is committed to creating better indoor comfort for our Marietta, GA, neighbors through heating, air conditioning, and indoor air quality service. We want to make sure that you're completely comfortable with the service that we've performed. That's why our customer service team is always available to answer any questions that you might have about your new system or the repairs that we've performed on your current unit.
Give us a call, or get in contact with us online today to see how we can help your home or company with all of your heating, air conditioning, and indoor air quality needs!