Atlanta, GA Property Management HVAC Repair & Installation

Quality Heating and Cooling
Estes Services has been Atlanta, Georgia's, number-one trusted commercial HVAC company for decades. We take pride in being the people's choice for property management heating, cooling, and plumbing services throughout the Atlanta metropolitan area. We've set ourselves apart from the competition through hard work, dedication and superior customer service. Call or contact us today for professional commercial HVAC service in Atlanta, GA.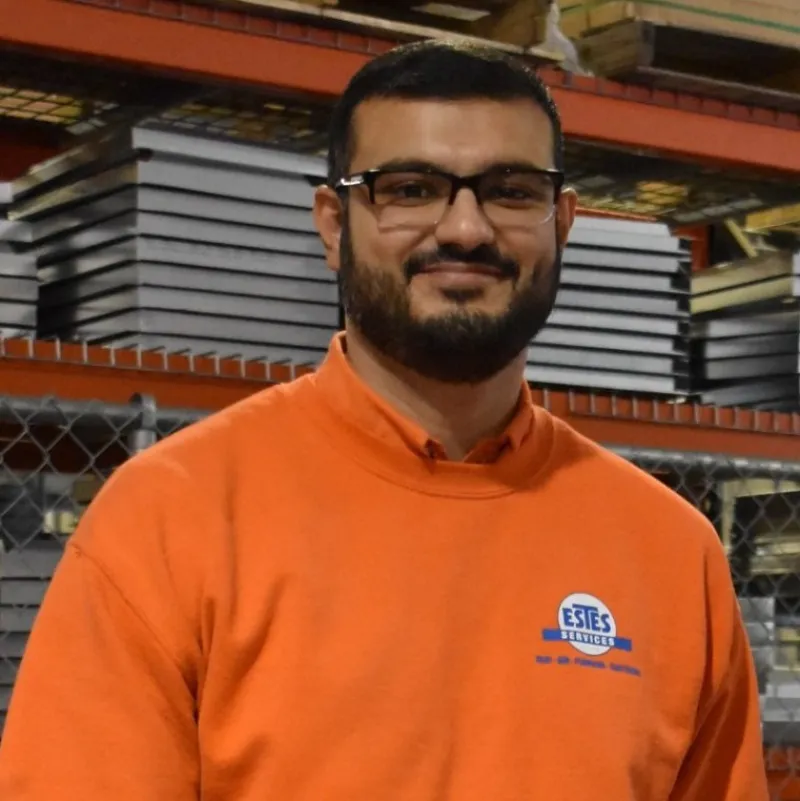 Dependable Property Management Heating and Cooling Service in Atlanta

Our NATE-certified commercial HVAC technicians perform services for large residential property management companies across the greater Atlanta area, including repairs, installation and tune ups. Managing an entire property - whether it be an apartment complex or condominium community - is hard work, as there are sometimes hundreds of units or homes that need heating, cooling, and plumbing services. Quality HVAC services are essential to the day-to-day operation of your community, as they keep your residents safe and comfortable during the hot Atlanta summers.
Estes has more than 70 years of experience servicing large commercial residential properties. You can trust that our technicians will get the job done right the first time.
Estes offers commercial heating and air conditioning service for apartments, condos, high-rise apartments, townhomes and single-family homes.
Our commercial heating and cooling services include:
AC repair
AC tune up
AC installation
Heat pump repair
Ductless mini splits
Furnace repair
Furnace installation
Heating tune up
Ventilation
Building automation
Controls and upgrades
HVAC Maintenance Tune Ups
Having maintenance performed on your Atlanta commercial HVAC system twice per year is the best way to keep it running efficiently during the hottest months of the year. Estes Services inspects every component of your community's HVAC system to ensure it's operating at full efficiency. Our tune up services include:

Cleaning
Outdoor coil
Compressor compartment
Electrical compartment
Blower compartment
Condensate drain
Inspect and clean air filter (if necessary)
Motor/Electrical
Inspect service disconnect
Tighten all electrical connections (when necessary)
Inspect compressor contactor
Tighten all low-voltage connections
Test capacitors
Oil motors (if applicable)
Inspect bearings
Inspect fan blade
Miscellaneous
Inspect thermostat
Inspect condition of line set
Inspect for proper refrigerant charge
Benefits of System Replacement
If your commercial system is more than 15 years old or needs to be repaired frequently, it may be time to consider system replacement. Some of the benefits of new HVAC installation include:
Better equipment performance
Greater comfort
Enhanced safety
Fewer repairs
Warranty coverage
Benefits of Regular HVAC Maintenance for Commercial Properties
Your property's heating and cooling usage consumes the bulk of the operating budget. However, with smart equipment choices, dedicated and customized service and building automation, property management companies are able to minimize energy consumption while maximizing savings. Estes Services recognizes the unique heating and cooling demands of commercial residential properties, and we are here to provide you with tailored solutions and services to meet your unique needs.
Some of the benefits of regularly maintaining your commercial HVAC system, include:
Extended Equipment Lifespan
Even if you regularly maintain your property's HVAC equipment, it will eventually wear out over time and need to be replaced. However, regular maintenance will prolong the life of equipment for several more years, reducing the costs of replacing equipment before its extended life is over.
Energy Savings
Who doesn't want to save money? When heating and cooling equipment is properly maintained, it runs more efficiently. Because the system is working less hard and running more efficiently, you'll save hundreds of dollars a year or more on energy bills.

Reduction in Repairs
Commercial HVAC systems that are properly cared for run more efficiently, leading to fewer break downs and repairs. Regular system maintenance can also spot small issues before they become larger, more expensive repairs or even replacement.

Improved Air Quality
If your blower components or coils are dirty, this can adversely affect the indoor air quality at your property. A build-up of bacteria and other pollutants can cause health concerns for your residents, especially those that suffer from asthma, allergies and other respiratory illnesses.

Experienced HVAC Repair and Replacement Services for Data Centers
We know you have a choice when choosing a company for your property's heating and air conditioning needs. But don't leave something as important as your HVAC system to just anyone - give the heating and cooling experts at Estes Commercial a call for all of your commercial residential property's heating and cooling needs. It's not a coincidence that we've been in business since 1949.
Whether your commercial property management company is in need of HVAC repair, replacement or a tune up, Estes Commercial is the name you can trust in greater Atlanta to provide quality HVAC service to your residential property. Call or contact us online today to get started!