Roswell, GA Plumbing Repair
Licensed Roswell, GA, Plumbers Providing 24-hour Plumbing Services
When there's an issue with your Roswell home's plumbing, it's easy to fear the worst initially. We want to help put that worry aside! Call the certified team of Roswell plumbers at Estes Services! Our plumbers are available for 24-hour emergency service around the Roswell, GA, area. We will come to your house to find out what's wrong and suggest the most cost-effective, efficient course of action to take care of it. We understand that trusting someone to come inside your Roswell home and service your valuable plumbing equipment is a big deal. However, our team members are highly skilled, friendly, and knowledgeable. Trust Estes Services for your plumbing repair needs in Roswell!

Drain Cleaning Service in Roswell, GA
No blockage is too tough for the licensed Roswell, GA, plumbers of Estes Services! We will tackle any clogged pipes or drains in your home, ensuring buildup of all kinds are removed and water is once again flowing freely. Slow-draining sinks are not only irritating, but they can indicate a larger plumbing problem, so don't let that water sit - seek plumbing help right away!

Signs You're in Need of Drain Cleaning Service
Don't wait until your plumbing system is completely clogged before making an appointment for repair service. Even if your drain is still able to somewhat function, drain cleaning probably needs to be at the top of the to-do list for your home. Here are some ways to determine if it's time to have your drains cleaned.

Slow Draining

Have you noticed that the water doesn't drain as well as it used to? Monitor your washing machine, kitchen drain and shower to see if the drainage seems to be slowing down. If so, you likely have a buildup in the pipe. Luckily, our company has a team of professional plumbers that can perform a drain cleaning service to get your drains back to working like new!

Standing Water Accumulation

While a slow drain can indicate a potential issue, standing water in your shower, washing machine or sink demonstrates that your drainage problem requires a more serious plumbing repair. If you notice that any of these places are regularly filled with water that never drains, it's time to contact your plumbing company immediately.

Unusual Noises

Gurgling or bubbling sounds when you flush the toilet or turn on the sink is usually a symptom of a clogged drain. This is because when a drain is clogged, the water running through the surrounding pipes will not behave as it should. Instead, the water will have to change course or push itself through a small space. If you find yourself experiencing these signs, call us for a plumbing service repair!

Fruit Flies

Fruit flies seem like they multiply in your home in just hours and can be a real nuisance when they get into everything. If you see a sudden increase in the number of fruit flies in your home, they could be attracted to the food waste building up in your drain. A drain cleaning service will do a great job of taking care of the problem!

An Unpleasant Smell

If your drains aren't functioning properly, the sewage and waste can build up in the pipes, especially when the weather is heating up during summer months in Roswell, GA. This waste can fester in the pipes, sending a strong odor to an adjacent room. If you smell gas coming from your drains, you should call us for emergency plumbing service immediately. Luckily, our plumbing company is available for 24-hour emergency plumbing service to repair the problem right away and keep your family safe!

Sewer Repair and Replacement in Roswell, GA
Sewer lines on your property are your responsibility to manage, and problems lurking below are not always visible to the naked eye. Call Estes for Roswell plumbing services to check out your sewer line, make line repair or install a replacement sewer line. Do you have a foul odor in your yard or unexplained flooding? These are common symptoms of sewer line repair issues. Give us a call today for professional plumbing services!

Water Heater Repair and Installation in Roswell, GA
Cold showers may be refreshing during the hot Georgia summer, but they certainly aren't very relaxing. Call Estes Services if you have water that is slow to heat up or a shortage of hot water. Our certified plumbers will provide updates and repairs to get the most life out of your water heater. When it's time to install a new unit, we cut through the clutter to suggest only the water heaters that would make the most sense for your home.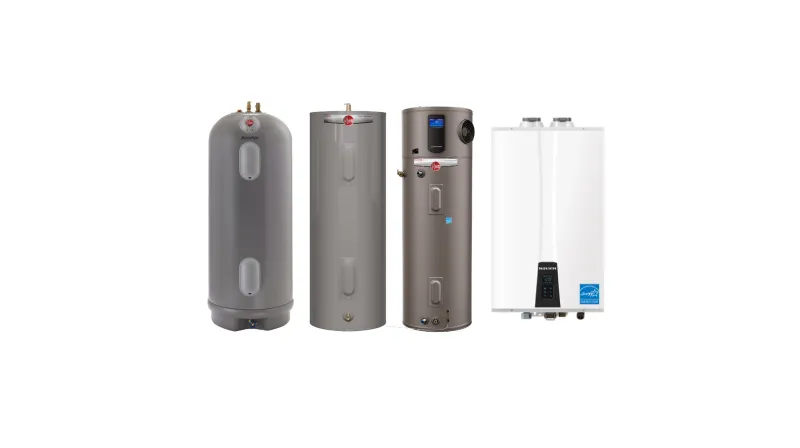 When Should I Replace My Water Heater?
Deciding to replace your water heater is a major decision. While some issues can be resolved with plumbing repairs, other problems indicate that you are better off replacing your system. Here are a few things to help you assess whether a repair or replacement is right for you:

Water Heater Lifespan
With proper maintenance, water heaters should last between 8 to 12 years. However, if your water tank is more than 10 years old, it may be time to consider a replacement as the price of constant repair will begin to add up. One of our professional plumbers would be happy to offer you a quote of a new system that will suit your needs and budget.

Care and Maintenance History
All plumbers would agree that regular maintenance service is crucial to preserving the life and getting the best performance of any traditional or tankless water heater. Without it, you may have to repair or replace your unit sooner. To make sure you get optimal efficiency out of your tank, you should call for professional plumbing service at least once a year to prevent repairs or a breakdown.

Signs of Wear
A common sign of trouble with any water heater is a higher utility bill. If your unit is using extra energy to provide the same amount of how water, you should examine your system to see if there is anything out of the ordinary. For example, a leak would indicate that your water heater should be replaced immediately. Loud noises could be an indication of sediment buildup in which case you will need to call for professional plumbing repair. Also, water discoloration is a clear sign that your plumbing needs could require a major repair or even a replacement.

Sump Pump Broken, Running Toilets and Leaking Faucets
If you're experiencing plumbing issues with your sump pump, running toilets or constantly leaking faucets, give us a call right away. Some plumbing issues that seem minor can be symptoms of larger problems, and even if they're not, we know that any plumbing problem can cause a decline in your quality of life and comfort in your Roswell home. From faucets to toilets to sump pumps, we've seen every plumbing problem in the book. Give our team of plumbers in Roswell a call to figure out what's causing your plumbing issue today!

The Choice for Professional Plumbers in Roswell is Easy
Our focus on top-rate customer service has helped us earn an A+ rating from the Better Business Bureau. We know Roswell homeowners want someone they can trust to bring knowledge and know-how to their plumbing project. We promise to work quickly and be forthcoming about the plumbing problems, what caused them and solution options. Is budget a concern? We have financing options on any major plumbing installation service. Call us to work with our team of expert plumbers in Roswell today!