Sandy Springs, GA, Electrician
Electrical Repair and Installation by Licensed Sandy Springs Electricians
Electrical problems not only keep you in the dark, but they can also put your family in danger. Even electrical issues that seem small may be a symptom of a major problem lurking inside the walls of your home. When it comes to a Sandy Springs electrician you can trust, look no further than Estes Services!

Our certified Sandy Springs, GA, electricians have served your community for years. And trust us, we've seen it all! We've accumulated the knowledge and know-how to fix any electrical issue you may be experiencing. If you're looking for an experienced, professional electrician who will be on time and helpful throughout the entire process, trust your local electricians at Estes Services!

Sandy Springs, GA Emergency Electrical Repair Service
Sparking plugs and smoking fuses are two obvious examples of an electrical emergency, but there are many other indicators, too. Put your family and your home first by calling Estes Services right away if you think you may be experiencing an electrical emergency! Our team of licensed electricians offers 24/7 emergency electrical services in Sandy Springs, GA. You are just a phone call away from receiving the expert input and peace of mind you need. Keep your family and your home safe. Give Estes Services a call for all of your emergency electrical needs.

Electrical Services We Perform
The certified electricians in Sandy Springs, GA, perform a full range of electrical repair, maintenance, and installation services for your home.

Breaker Panel Installation and Repair

When you have electrical issues, it usually makes sense to check out the heart of your home's electrical work: your breaker panel. These panels house all the wiring that connects your home's electricity. The team of licensed Sandy Springs, GA electricians at Estes Services will provide a thorough inspection of these super important electrical hubs and find out what the problem is. Trust Estes Services for any electrical panel repair or new installation!

Outlet Installation

Are outlets in your Sandy Springs, GA, home up to code? At Estes Services, we only install outlets that keep your home and its occupants safe. That means GFCI outlets in areas that may come in contact with water, including kitchens, bathrooms, laundry rooms, and pool areas. Let the team of licensed Sandy Springs electricians install new outlets in your home today, bringing increased convenience and safety to your everyday life!

Ceiling Fan Installation and Repair

Are you thinking of adding a ceiling fan or two in your Sandy Springs, GA, or Atlanta home? Estes Services' certified Sandy Springs, GA electricians can answer all your questions, like, "can I add a light to my ceiling fan?" "What ceiling fan size is right for my room?" "Can a ceiling fan be added where there is no fixture?" Our experienced team can take on any ceiling fan replacement, repair, or new installation! Let us help you add comfort to your Sandy Springs home while offsetting those expensive AC costs! Call today!

Other Electrical Services Estes Performs

Electrical Repair
Surge Protection
Interior & Exterior Lighting Installation
Wiring Installation & Upgrades
Smoke Detectors & Carbon Monoxide Detectors
Exhaust Fan Installation
Smart Home Device Installation & Home Automation Setup
Light fixtures/dimmers
Outdoor lighting
GFCIs/AFCIs
Home Rewire/Home Re-device
Smoke/CO detectors
Preventive Maintenance for Electrical Systems
To offer homeowners in Sandy Springs, Georgia, peace of mind, we offer an electrical service preventive maintenance agreement which includes:

Replace broken or missing switch/receptacle cover plates
Priority service scheduling
Annual electrical system maintenance check
Replace any light bulbs (customer supplied - handy service if you have two-story light fixtures!)
15% discount on all repairs
One year warranty on all repairs.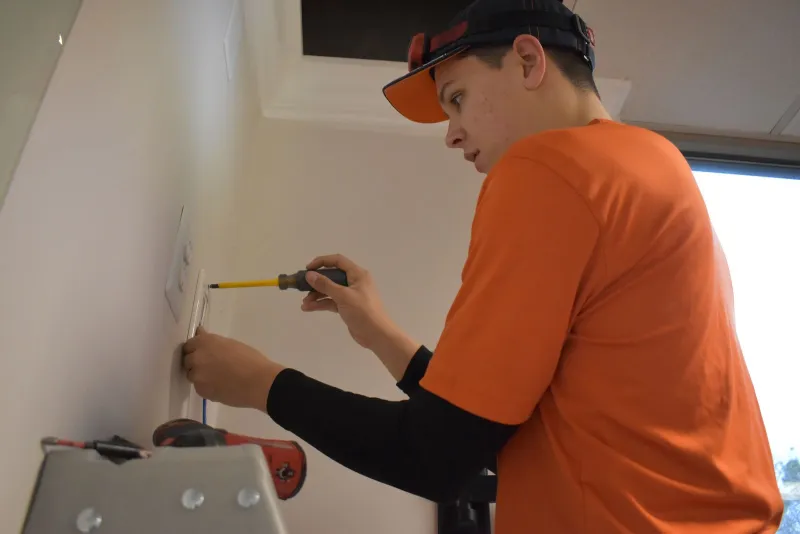 Why Choose Estes Services as Your Sandy Springs Electrical Contractor?
Estes Services has been offering Sandy Springs electrical services for years. We are confident we have both the experience and professionalism to exceed your expectations! Our A+ rating from the Better Business Bureau is an achievement we earned by providing thorough work with a focus on customer service. We can't wait to become your trusted electrical company in the Atlanta area! Call us today for services you can trust. Whether you're a longtime customer or a first-time caller, we provide both residential and commercial properties with quality and reliable service and get the job done right and do your satisfaction - that's our promise to you!