Sandy Springs Heating Repair and Service
Emergency Heating Repair and Service in Sandy Springs, GA
A reliable heating system preserves not only comfort for your home but also safety when the weather becomes chilly. Homeowners need a trusted HVAC contractor in case Sandy Springs heating repair and service are required. Estes Services is that contractor and has been for 70 years! Our NATE-certified HVAC contractors repair and service all brands of heat pumps, furnaces, and ductless mini-split heaters. For heating emergencies, we have your back. You'll receive quick and reliable heating service after hours, on weekends, and during holidays.

Seasonal Tune Ups for Your Furnaces and Heat Pumps
Ensure year-round indoor comfort and HVAC system performance with seasonal tune ups! Furnaces and heat pumps require maintenance to protect components from wear and tear damage, preserve optimal performance, and boost efficiency levels. Seasonal tune ups help catch and correct system problems before they do more damage, which saves you from expensive heating repair bills and uncomfortable outages. An investment in maintenance generates savings over the season through reduced energy bills as a result of improved efficiency.

How to Know Your Sandy Springs Home Needs a Heating Repair
Many Sandy Springs, GA, homeowners don't know they need heating repairs until they experience a heating system that doesn't work at all. Many repairs present earlier symptoms before a breakdown. When you know what to look for, you can often prevent major damage and frustrating heating outages. Call for heating repair if you experience:

Foul odors from equipment and/or vents.

If there's a nasty smell coming from your Sandy Springs, GA, furnace, contact a heating and air conditioning company right away. A burning or metallic smell can be caused by a fan motor that's burning out or wiring that's too hot. Another common smell is that of dust burning inside your HVAC system. Dust builds up in your furnace during the summer months and can burn off when you turn the HVAC system on for the first time. This smell should go away after a few hours.

Odd noises from equipment.

A furnace that's making loud and unusual noises is a sign that something is awry, and you need a heating, air conditioning, and indoor air quality technician to inspect it. Ignoring banging, ratting, or metal on metal sounds will only get worse and can lead to expensive repairs.

Inconsistent temperatures.

Your Sandy Springs, GA, or Atlanta furnace can struggle to maintain a consistent temperature for several reasons, including issues with your thermostat, a wrong sized heater, or a faulty fan.

No warm air from vents.

Low airflow or no airflow at all can be extremely frustrating for Sandy Springs homeowners on a cold winter's day. One of the most common reasons for this issue is a leak in your ductwork. If you can't find the leak yourself, contact a furnace repair company to take a look.

System starting and stopping without producing enough heat.

A furnace that's turning on and off too quickly before adequately heating your Sandy Springs home could be caused by a number of issues. Some of them include a clogged or dirty air filter, an improperly sized furnace, a blower that isn't working, or an issue with your thermostat.

Unexplainable utility bill spikes.

If you noticed a significant spike in your monthly utility bill, this is a tell-tale sign that your Sandy Springs, GA, furnace isn't running properly and is in need of heating repair services.

Join the Estes Service Plan
Invest in protection for your heating system and benefit from great savings when you join Estes' preventive maintenance plan. Save on your seasonal tune ups for HVAC systems, and never forget this critical service again. For HVAC system malfunctions and breakdowns, service plan members receive a 15 percent repair discount to lower repair costs, and a one-year repair warranty saves you money if the issue occurs again.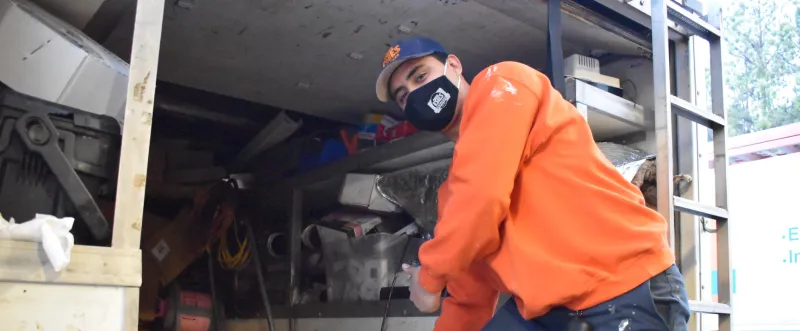 Get a Free Quote for a New Heating System
Make a better investment in home comfort - instead of paying for repeat repairs, choose hew heating system installation instead! A new furnace, heat pump, or ductless mini split offers higher energy efficiency compared to aged equipment for an instant reduction on your utility bills. They're also protected by a new warranty term for savings in the event of a malfunction or breakdown. In addition to increased savings, you experience increased comfort and indoor air quality for your Sandy Springs home. Contact Estes for a free quote on a new heating system and explore the available financing options.

Schedule Your Sandy Springs Heating Repair Today!
Restore the performance of your heating system now - schedule Sandy Springs or Atlanta, Georgia, heating repair and service with Estes Services. With our A+ Better Business Bureau rated NATE-certified technicians, your heating system and indoor comfort are in capable hands. No matter when your heating emergency occurs, count on our professional technicians to arrive quickly and perform skilled repairs to correct the issues at hand.

Give us a call or contact us online for furnace repair, maintenance, or installation services from an HVAC contractor you can trust to make sure your Sandy Springs, Atlanta, or Roswell, GA, heating system is running properly. We offer the best customer service in the Atlanta area, so call us for all of your heating-related needs!