Cost of Tankless Water Heater in 2023
Are you considering a tankless system for your home in Atlanta, GA? Tankless water heaters are increasingly popular for homeowners in 2023 because they increase your home's comfort, convenience, and energy efficiency. If you're close to replacing your current system, you may wonder about the cost of a tankless water heater.
That's why, in this article, we will break down the costs associated with installing a new tankless water heater system so that you can make the best choice for your home. It's that Easy; It's Estes!
Benefits of Tankless Water Heaters
While there can be a higher upfront cost with a tankless system, there are many long-term benefits with this selection, including premium comfort, increased energy efficiency, and a longer lifespan. In addition, you can have on-demand hot water, and there are no safety concerns related to pressure buildups as with tank systems.
According to the Department of Energy, tankless water heaters have a lifespan of more than 20 years, while tank water heaters only last 10-15 years. In addition, tankless systems have replaceable parts that can extend the system life even more years. Still, you may want to know more about what a tankless water heater costs, which leads us to our next section:
How much does a tankless water heater cost?
The total installed cost of tankless water depends on a variety of factors, including the type of unit; labor; installation complexity; and rebates and special offers.
Type of Unit
The first thing you will want to consider is the type of unit, including the brand, fuel source, flow rate, and layout. At Estes Services, we install tankless water heaters from Rheem, including their gas, electric, heat pump, and Marathon water heater models.
Brand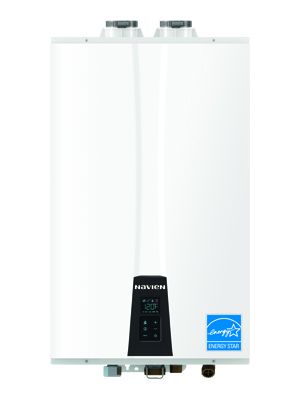 Rheem and Navien is a trusted manufacturer of water heaters. Their popular brand is known for premier quality, customer satisfaction, and reliability. Our Rheem and Navien tankless water heaters can be either gas or electric, and you will have to decide which is your preference in coordination with a licensed and trained Atlanta plumber.
Fuel Source
If you're wondering, electric or gas? Electric tankless water heaters are typically less expensive than gas tankless water heater systems. You can discuss these options with one of our Atlanta plumbers and what makes the most sense for your needs.
Flow Rate and Temperature Rise
In addition to the brand and fuel source, you will want also to consider the tankless system's flow rate, which is the gallons per minute (GPM) of hot water it can provide. Taking into account your appliances and fixtures, there is a minimum GPM required for your hot water demands at pak usage.
Layout
There is also the layout of a tankless system. More specifically, you have to consider a point-of-use tankless system vs a whole-house system.
A point-of-use (POU) tankless system is where you place a tankless system near the point of use, such as a shower or sink. A whole-house tankless system is a centralized system for your entire home, and it is typically located in your garage. Installing a centralized tankless system can be cheaper than installing multiple point-of-use tankless systems.
Labor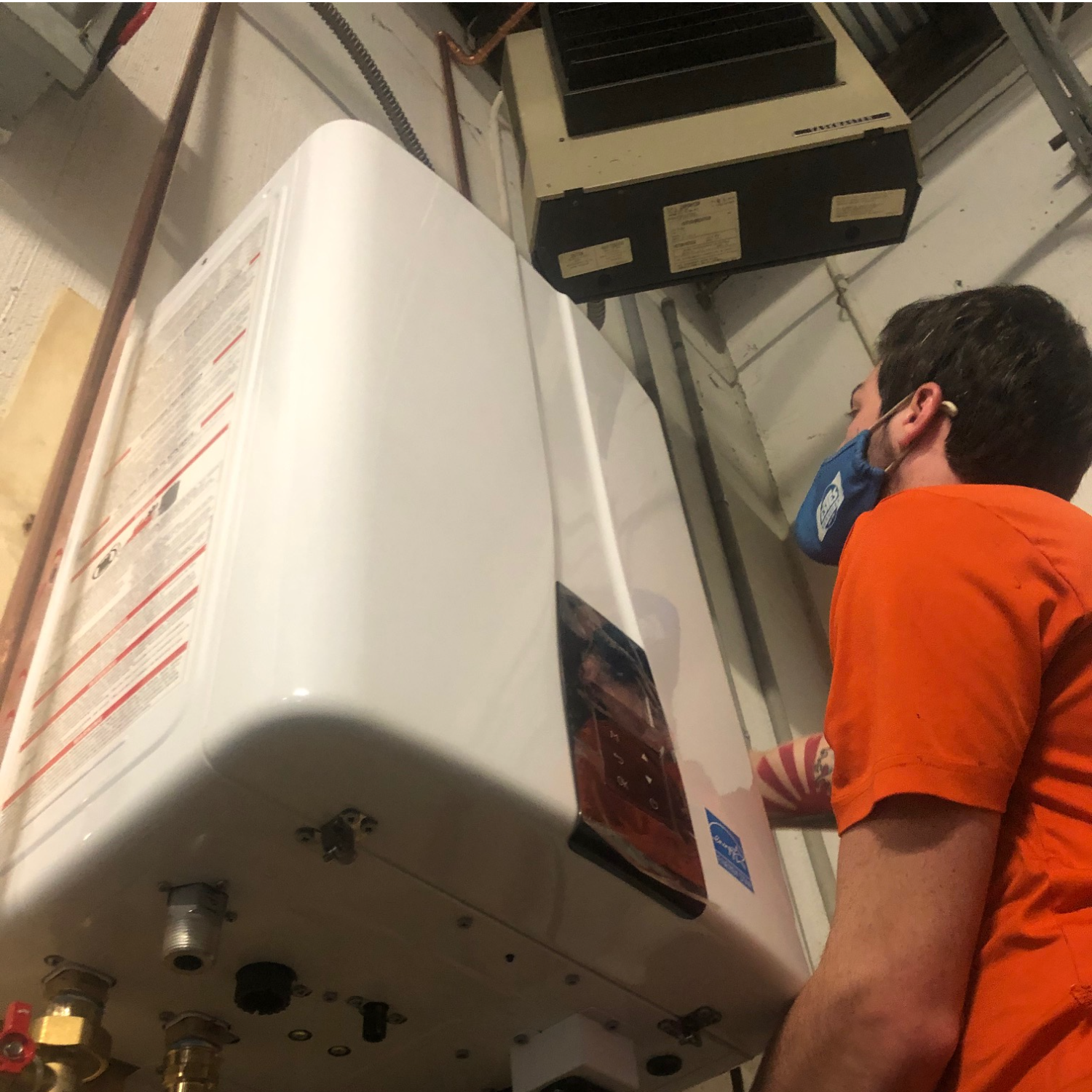 Now that we have discussed the various factors in regard to the type of unit, there are also labor installation costs to consider.
You will want to have your tankless water system professionally installed by a licensed Atlanta plumber who meets code requirements and follows plumbing best practices. This ensures your comfort and safety. It also ensures that you uphold the manufacturer's warranty agreement.
Do not risk a DIY approach or an unlicensed contractor. While there are additional costs associated with professional labor, it's worth the peace of mind in the long run. If something were to go wrong with your new unit, you are in good hands with a licensed plumbing professional.
Installation Complexity
The last consideration that can impact the cost of a tankless water heater is the installation complexity. If it's a new installation, there will be higher costs, and it will take longer to complete. If it's replacing an existing tankless system, it can be cheaper, and it will be quicker to complete.
Rebates and Special Offers
Last but not least, certain tankless systems may be eligible for rebates and special offers. There are federal tax credits and rebates that you can explore on the ENERGY STAR Rebate Finder. In addition, Georgia Power can have rebates and discounts.
Furthermore, at Estes Services, we have special offers and coupons as well as financing, which can help reduce the cost of your new system.
Schedule Tankless Water Heater Consultation Today
Well, there you have it. We explained and broke down the cost of a tankless water heater in 2023. As you can see, a new tankless water heater has many advantages. Are you considering a tankless water heater for your home? We can walk you through all the important factors to consider and help you select the best tankless water heater system for your home.
Whatever your water heater needs are, leave it to our Atlanta plumbing experts to help you. Since 1949, we have been proudly serving the greater Atlanta area.