Are you considering making improvements to your home this season? Installing new lighting fixtures is a simple and effective way to upgrade the look and feel of your home. Proper and updated lighting that is stylish can greatly improve your visibility and overall satisfaction with your home.
That's why, in this article, we will address the most frequently asked questions about lighting fixture installation to help inspire you and better illuminate your beautiful home. As Atlanta's go-to for home improvement ideas, Estes Services is here to help you make the best lighting design decisions this season and all-year long for the interior and exterior of your home.
How often should you update light fixtures?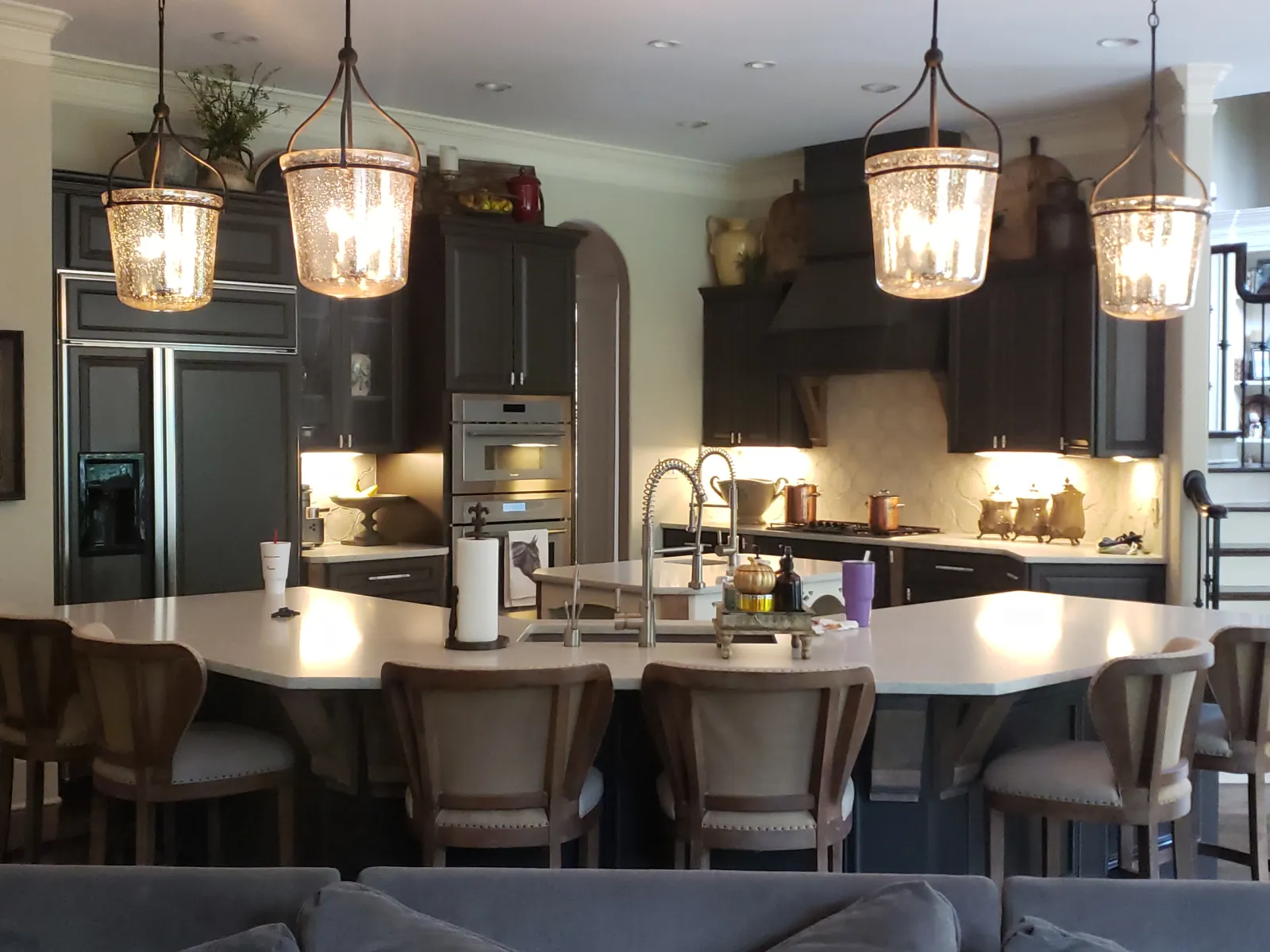 A good rule of thumb for how often you should update your light fixtures is about every 10 years. So, if it's been over a decade since a fixture has been replaced, you may want to consider an update to make your home more modern and inviting to family, friends, and guests.

Of course, besides how old a fixture is, there are other common signs that could indicate you are in need of an update, such as the fixture looking dated and out of style; providing inadequate or inefficient lighting; experiencing system issues; and/or causing personal dissatisfaction.
Moreover, keep in mind that, when it comes to light fixtures in key rooms throughout your home, such as a foyer, living room, dining room, parlor room, bathroom, or master bedroom, updated lighting designs can make a significant positive impact.
In fact, lighting fixtures are one of the first elements that your friends and family notice about a room. With this in mind, you may want to consider making a quick fixture makeover checklist and identifying which light fixtures may need to be updated, especially before an upcoming party, holiday, or another event where you plan to celebrate and have a group of people over.
What lighting fixture finish is in style?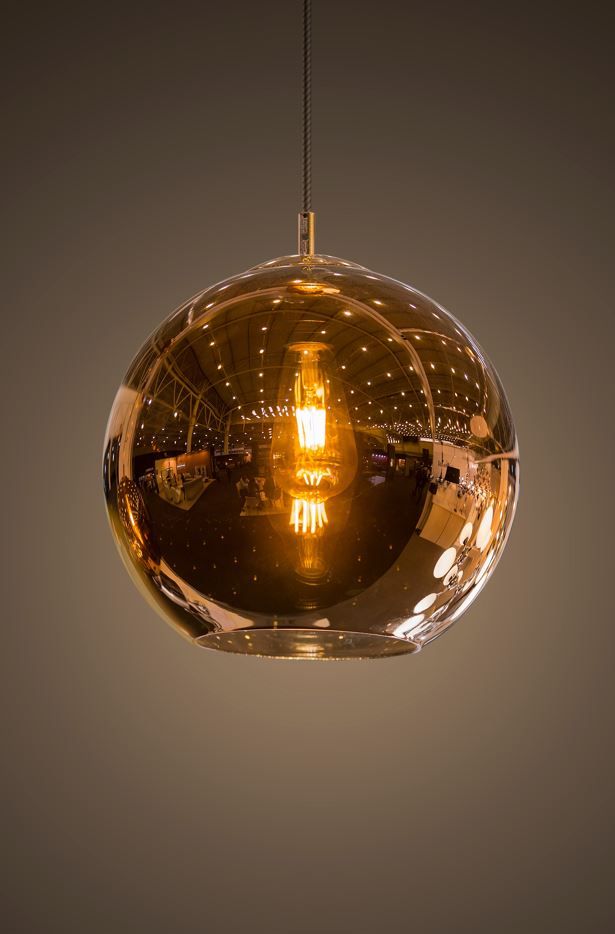 According to numerous home design reports, mirrored brass is considered a top lighting fixture finish in 2023. This finish offers a truly glamorous look that marvelously reflects natural light. In fact, when assessing the lighting trends of 2023, Homes & Gardens describes the mirrored brass finish trend as a throwback to the Art Deco era, providing "a classic yet contemporary look."

With this in mind, there are several other popular finishes in the interior design world, including antique brass, matte black, polished nickel, and bronze. Even more, there's a wilder trend that includes plaster chandeliers and lamps, according to HGTV.
Ultimately, the lighting fixture finish that is most in style for your home is dependent upon your personal preference and unique characteristics of your home. One of our lighting installation experts will be happy to help you select the perfect lighting fixture finish that is in style or a classic for your unique home.
Our licensed Atlanta electricians have decades of experiencing performing lighting installations throughout the greater Atlanta area, so they can make great recommendations for you about the latest design trends—whether you ultimately choose antique brass, matte black, plaster, or something completely different and creative. You can embrace the uniqueness of your home with the right fixture finishes.

Should all fixtures in a house match?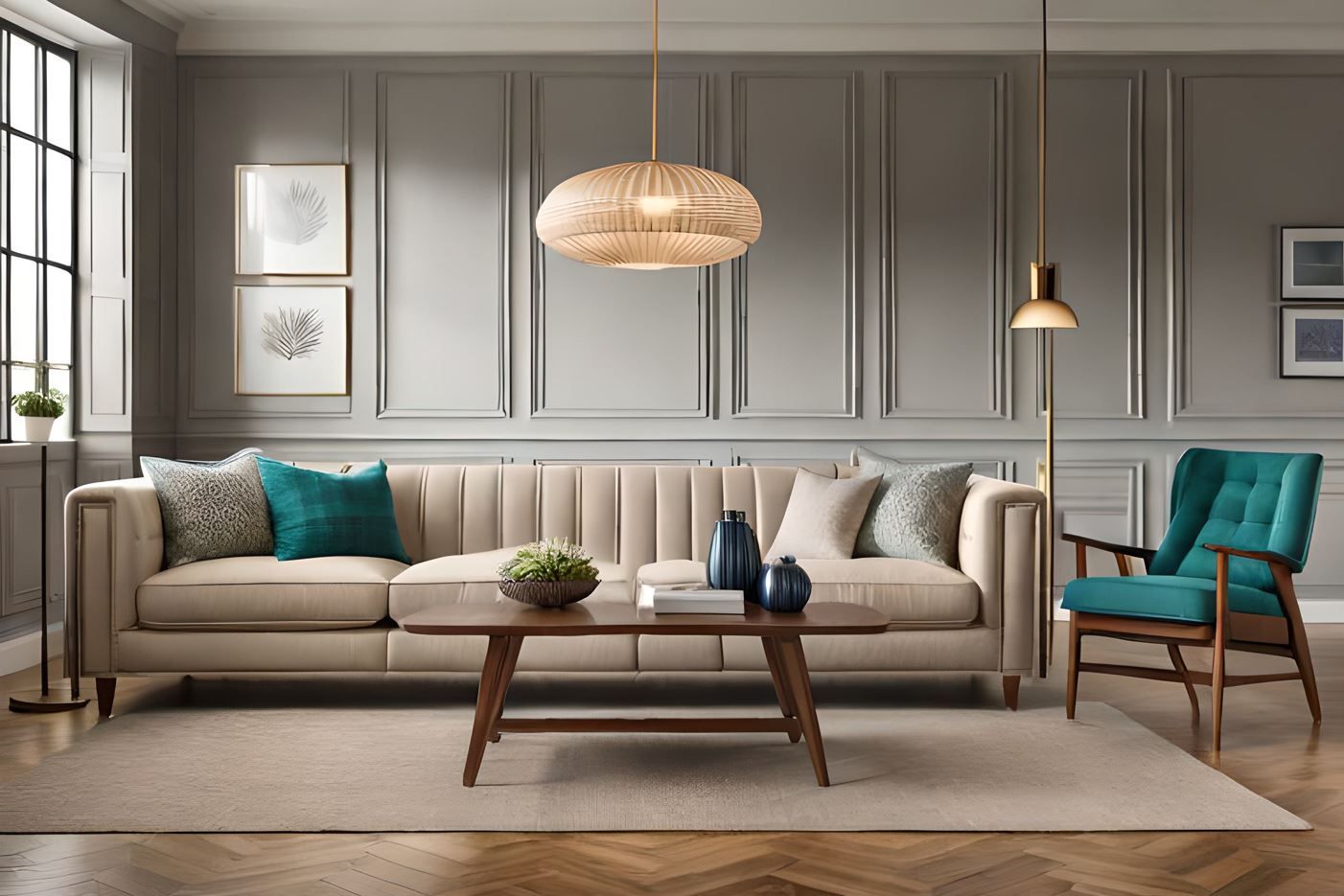 All the fixtures in your home do not have to match. After all, the design of your home is ultimately left up to your personal preference.

However, it can be beneficial to have shared features or coordination throughout your home. An Estes Services lighting expert can help you find the right balance of similarities and differences in your rooms.
But, generally speaking, your lighting, hardware, and plumbing fixtures do not all have to match.
Do I need an electrician to change a light fixture?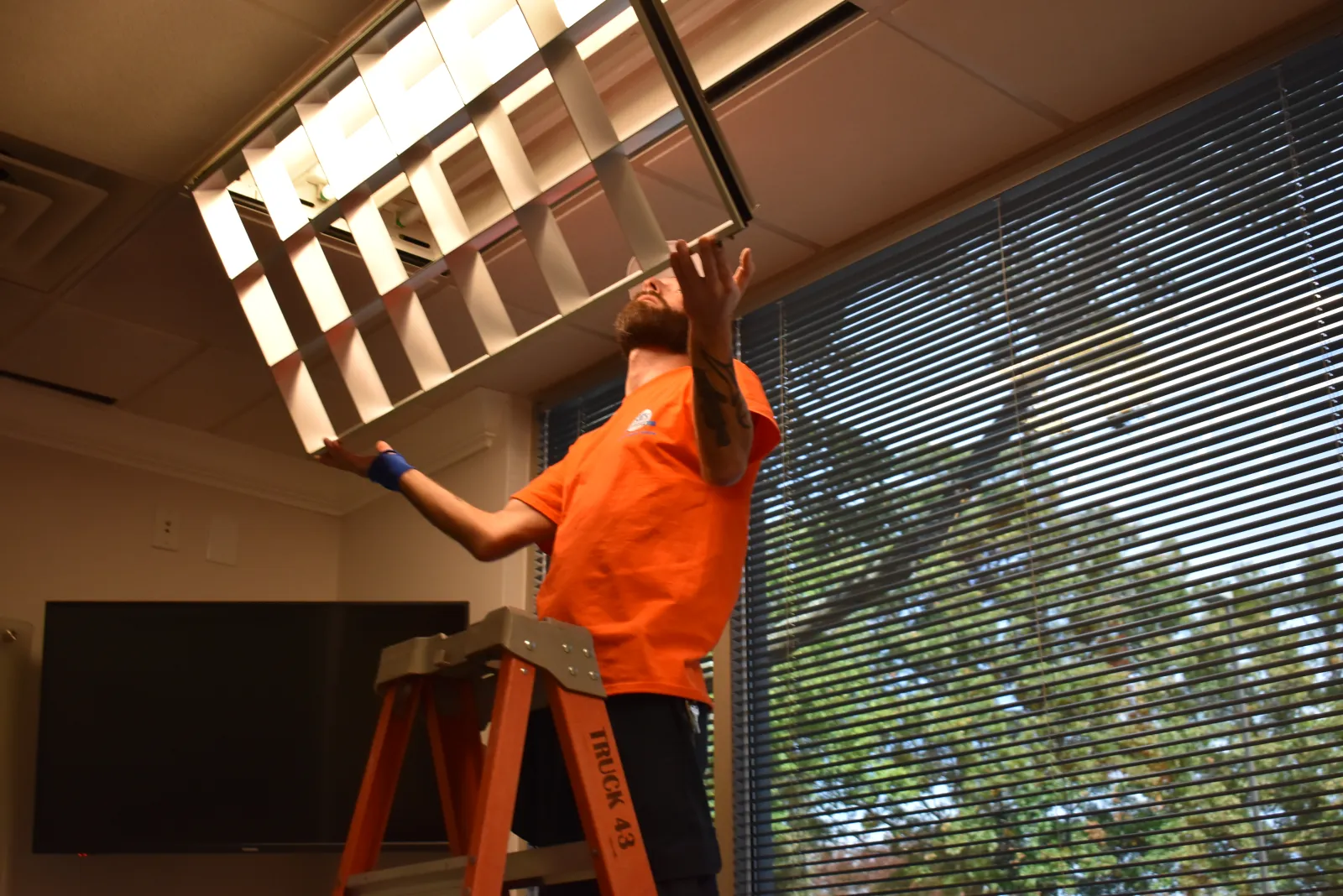 If you're installing a new lighting fixture, you definitely need a licensed and trained electrician. Some people may think that changing a lighting fixture is an easy do-it-yourself project; however, this is not the case.

When you're changing fixtures, there are many steps that can be easily botched, which can lead to improper installation and thereby long-term lighting system issues.
Additionally, electrical shock is a risk when it comes to lighting fixture installation. For instance, that's why the breaker needs to be turned off before any work. However, simply turning off the breaker does not completely eliminate the risk of shock. In fact, live wires could remain in a lighting junction box. That's why all wires should be checked with a non-contact voltage detector before disconnection.
Furthermore, electrical hazards can cause injury and death. There are more than 400 electrocutions and over 4,000 non-fatal injuries each year in the U.S. due to electricity. With this in mind, it's best to hire a licensed and trained electrician for your lighting fixture updates and changes. At Estes Services, no project is too big or too small.
So, when you think of the question, "Do I need an electrician to change a light fixture?," we hope you know the answer is yes. It's better to be safe than sorry. You save time, keep yourself and your family safe, and enjoy more comfort in the long run with the work of a licensed and trained professional electrician.
How long does it take an electrician to replace a light fixture?
On average, it can take an electrician 1-3 hours to replace a light fixture, and it's dependent upon the fixture type and whether wire replacement is involved.
Depending on what you ultimately decide, it can take an electrician as little as 30 minutes to replace a light fixture and up to a full day, depending on the size of your project. In terms of budgeting, you will need to consider the cost of the lighting and labor.

At Estes Services, we ensure proper lighting fixture replacement and offer excellent special offers and coupons for our electrical services. If applicable and desired, we also offer special financing for certain projects to have affordable monthly payments over time.
Do changing light fixtures increase home value?
Updating and changing light fixtures is one of the easiest ways to increase home value. In fact, according to the What Home Buyers Really Want 2021 study conducted by the National Association of Home Builders, exterior lighting, ceiling fans, and energy-efficient lighting are some of the most wanted features by home buyers.
Estes Services can help you add these features to your home and increase its value.
Schedule Lighting Fixture Consultation with Estes Services Today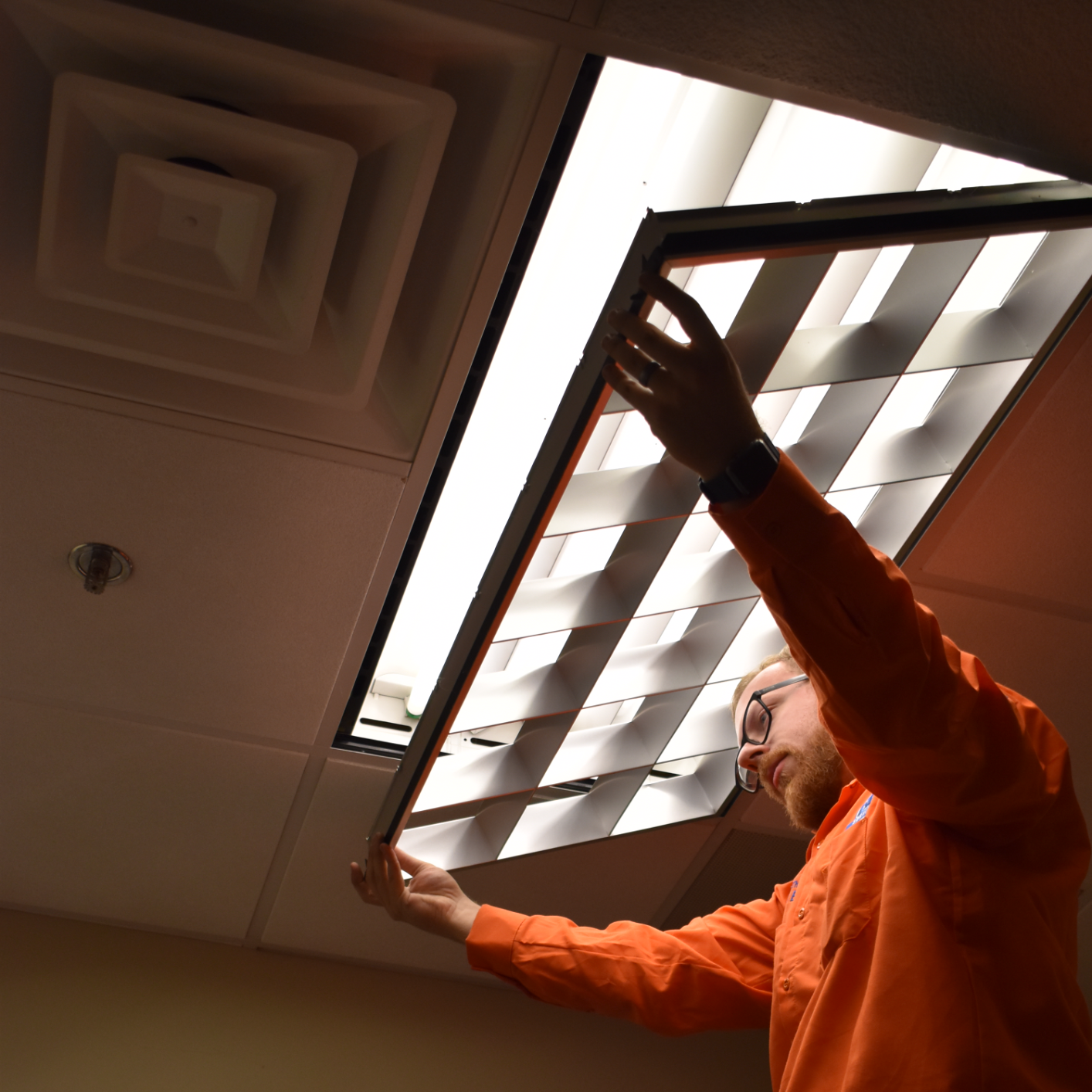 Well, there you have it. We have answered some of the most frequently asked questions about lighting fixture installation, and we hope that you found it helpful.

Lighting fixture upgrades are a simple and effective way to make home improvements. At Estes Services, our licensed electricians provide top-quality lighting fixture design consultation and installation services to homes throughout the greater Atlanta area.
If you are thinking of making upgrades to your home lighting system, our experienced team can help, whether it's the interior or exterior. It's that Easy; It's Estes!