The warm summer nights are upon us. The fun and good times in your backyard don't have to stop when the sun goes down. With proper outdoor lighting, you can illuminate your space for maximum beauty, safety, and security after dark.
That's why, in this blog article, our Atlanta electricians share with you ten ways you can illuminate your outdoor space at your home. With over 70+ years of experience as a third-generation, family-owned local company, Estes Services makes it easy for all your home lighting needs.
Deck Lighting Ideas


1) Railing Lighting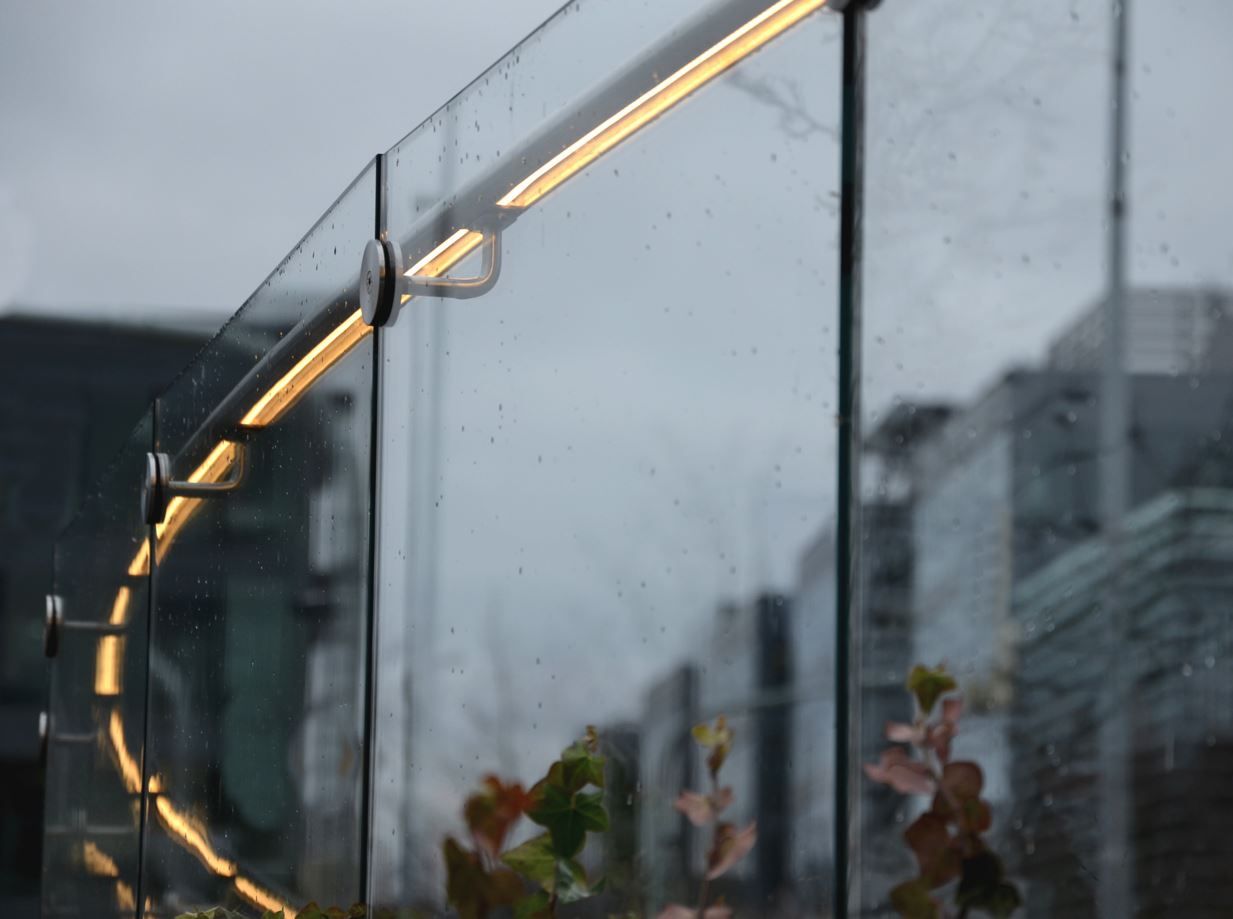 Just as railings improve the safety of your deck, railing lighting does so too. In fact, by having lights professionally installed on your deck's railings, you reduce hazards, such as the risk of people not seeing your railings or, worse, even running into them.

Also, if you have stairways that connect to your railings, they will illuminate your steps. In addition, railing lighting is a great way to bring out the aesthetic appeal of your deck.
2) Stair Lighting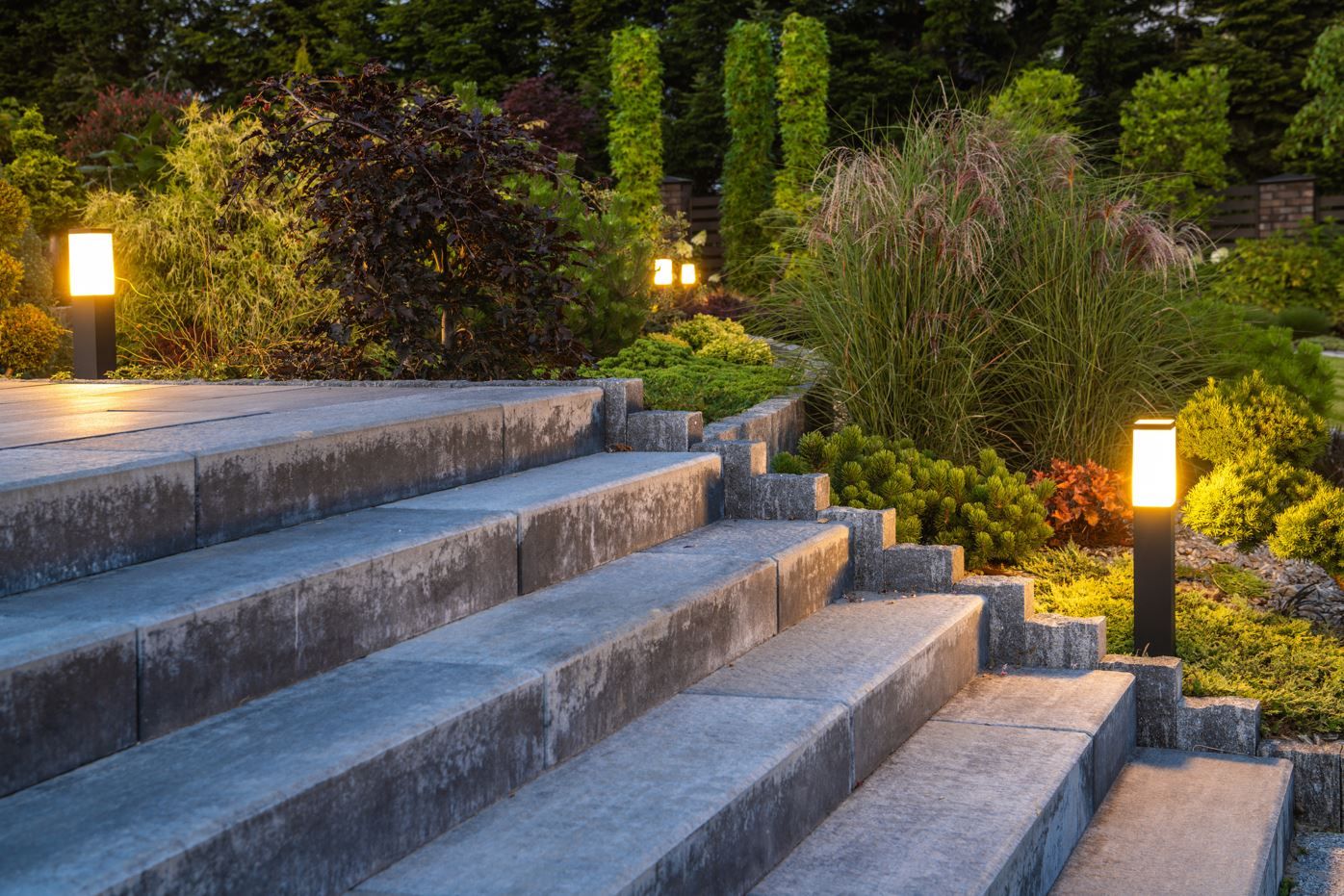 Stair lighting is a great way to light up the area in front of your steps and ensure the safety of you, your family, and your friends.

When your stairs are illuminated, people can be more aware of what is in front of them and avoid tripping or falling. Not to mention, stair lighting enhances the design of your outdoor space, adding an elegant touch.
3) In-Floor Lighting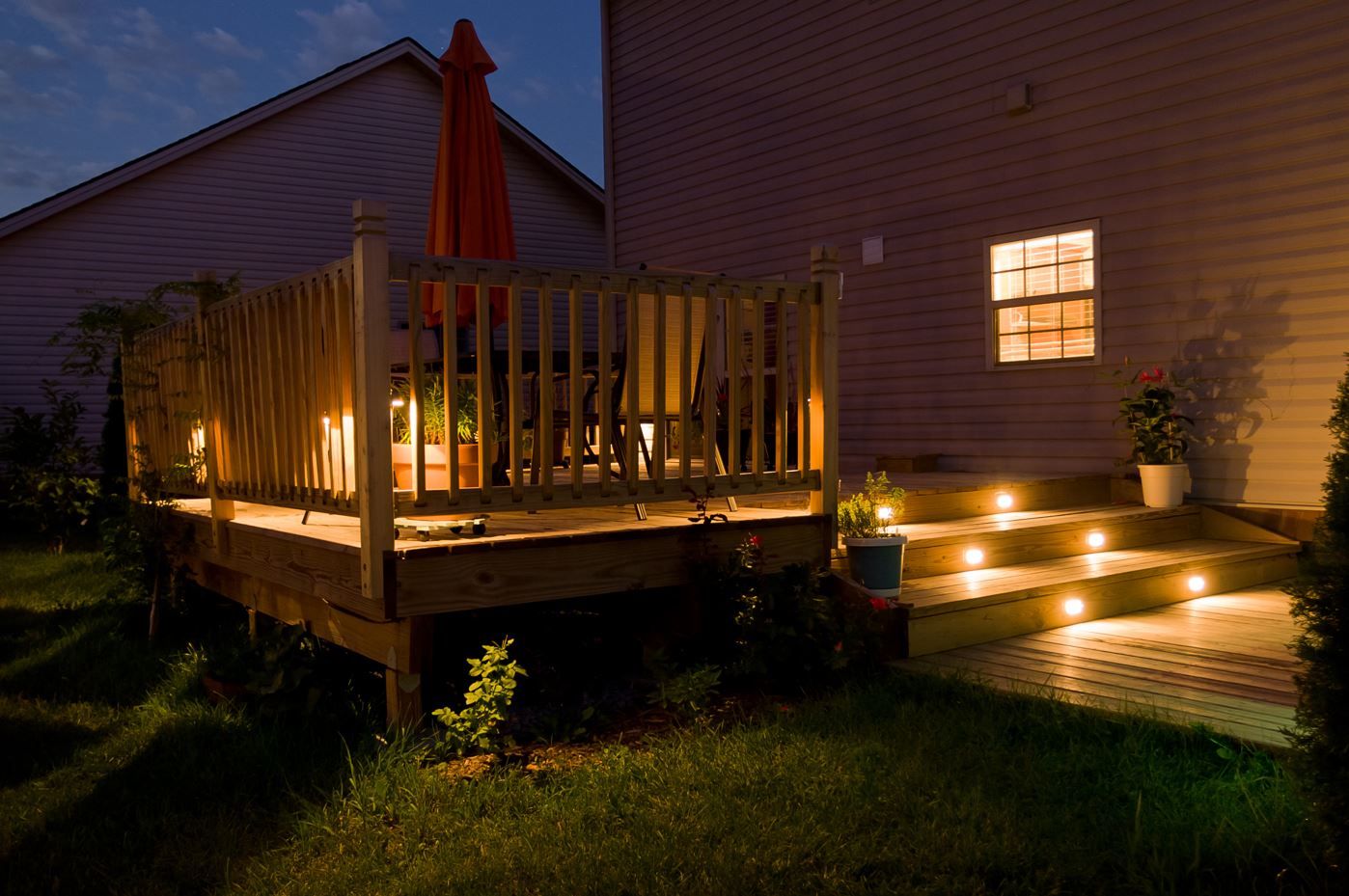 As the name implies, in-floor lighting is mounted into the deck's surface and is a great way to provide additional lighting for your outdoor space.

It's especially useful if your deck lacks the necessary overhead spots to hang lighting from. Plus, in-floor lights are perfect for enhancing the overall aesthetics of your deck.
When night falls, these lights create a soothing ambiance for you to sit back, relax, and enjoy time with your loved ones.
4) Recessed Lighting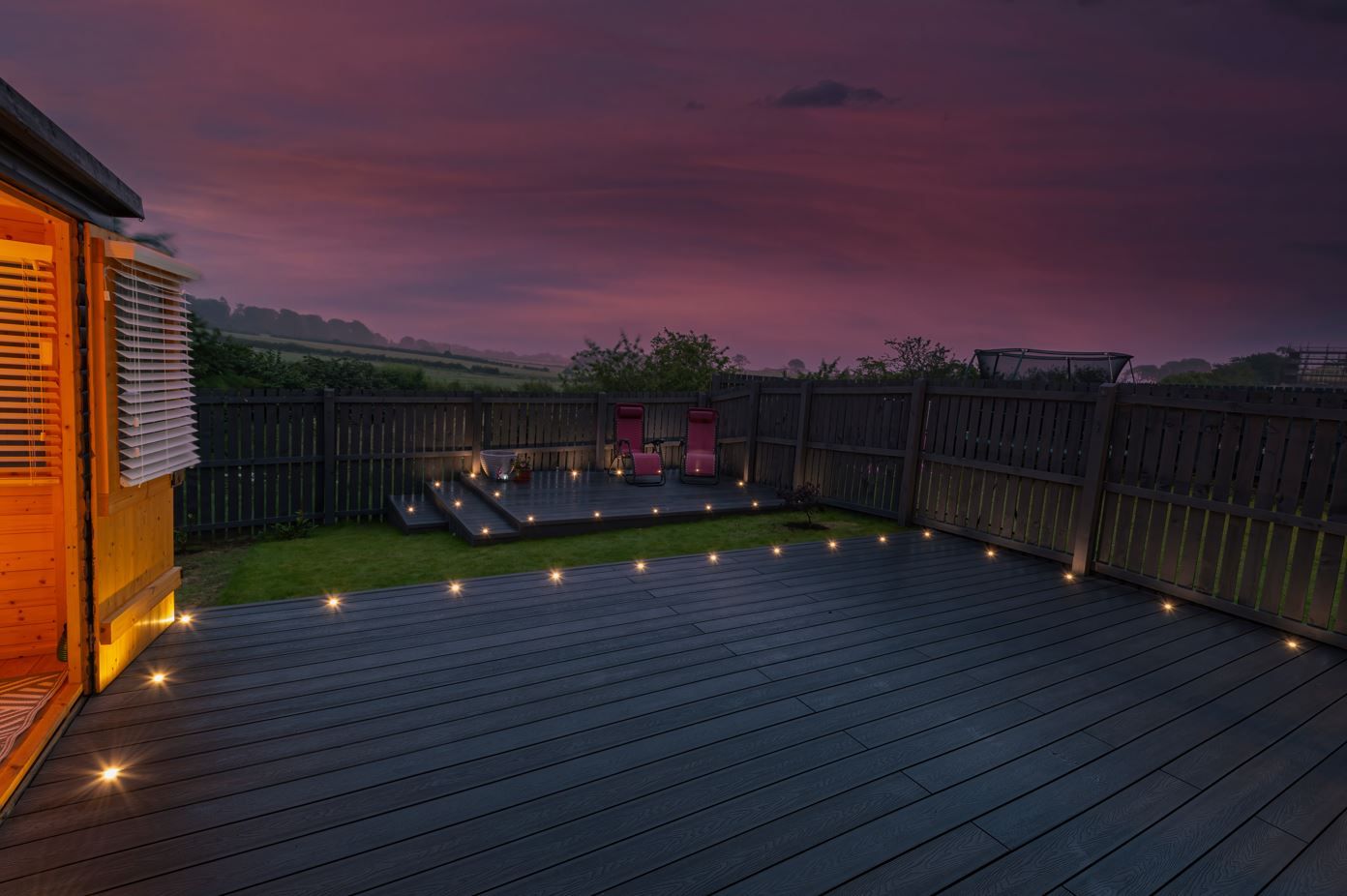 Unlike in-floor lighting, recessed lighting is a type of overhead lighting that is installed directly into ceilings. These lights are perfect for brightening up your deck area and making it more inviting for you and your guests. Recessed lighting typically emits soft, gentle lighting and can even come with dimmer switches that allow you to adjust the light setting for more control over your deck's ambiance. With its sleek, modern design, recessed lights are a great way to make your space feel more up-to-date.

5) Deck Post Cap Lighting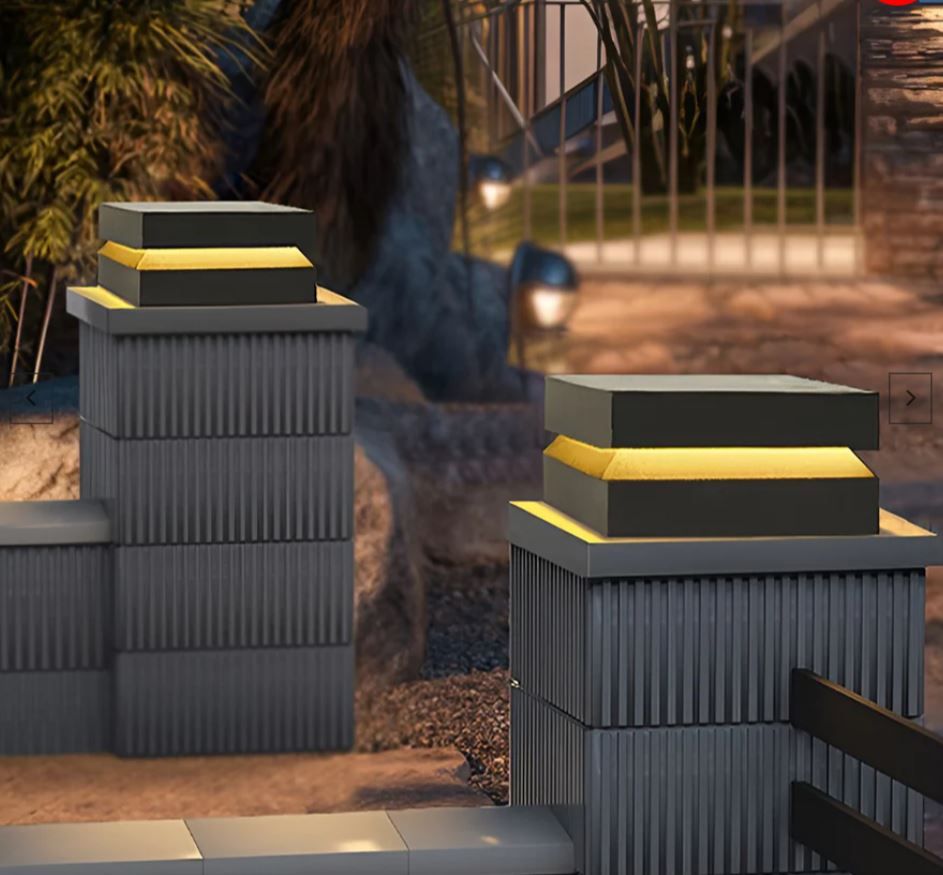 Deck post cap lighting is installed on the top of your deck posts and provides lighting that shines down or outwards. These lights can further illuminate your space and railings of your deck. They make a great addition to the design appeal of your deck as they create an inviting and friendly ambiance.

Pool Lighting Ideas

1) Perimeter or Path Lights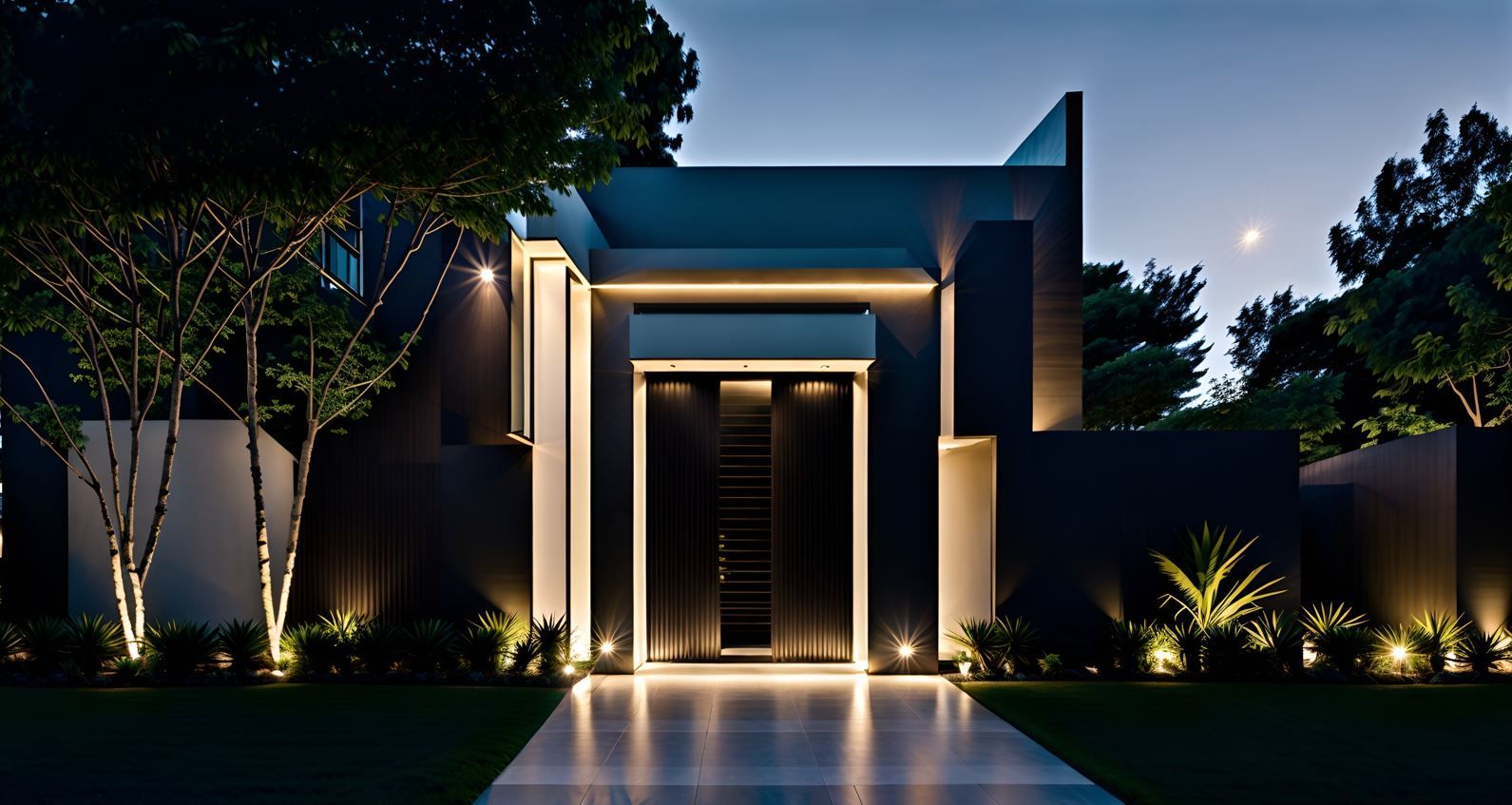 Accentuate the beauty of your pool with perimeter or path lighting that provides a simple yet classy design. These lights provide enough illumination without being too over the top. They are a great way to bring attention to the perimeter surrounding your pool, making it the focal point of your outdoor space.

2) Underwater Lights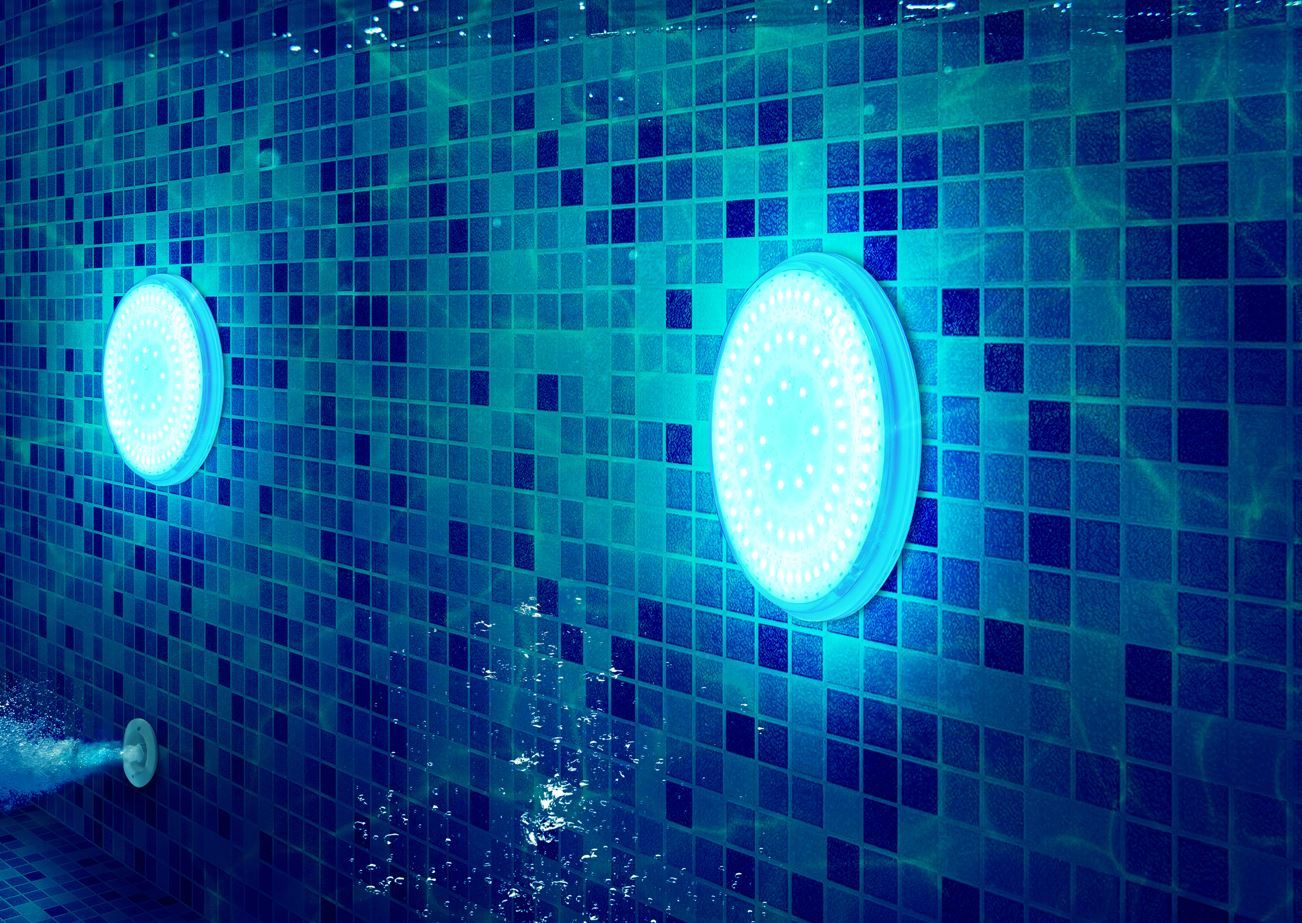 With the addition of underwater lights, you can extend your summer fun well into the night. These lights are great for lighting up your pool and making it feel more comfortable for nighttime swimming. They also make the surface of the pool have a nice blue glow, which makes it relaxing and aesthetically appealing to look at.
3) Highlight Features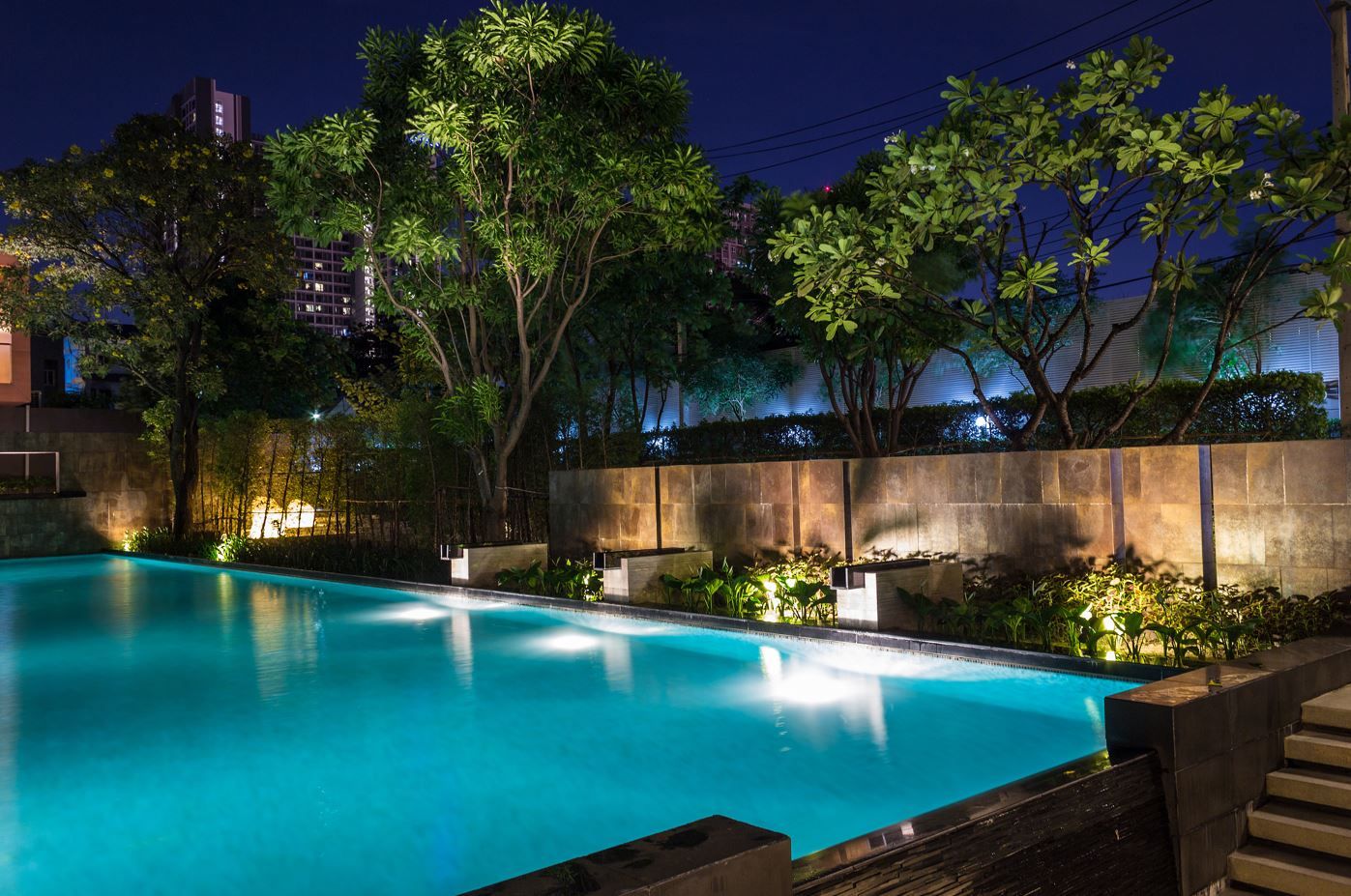 Illuminating features around your pool is a great way to bring attention to these objects and further enhance the design appeal of your outdoor space. Features such as a tree or rocks with a waterfall display can be lightened up to bring out their three-dimensional effect. This can further bring out the landscape surrounding your pool and make it feel more pleasant.
4) Above Ground Lights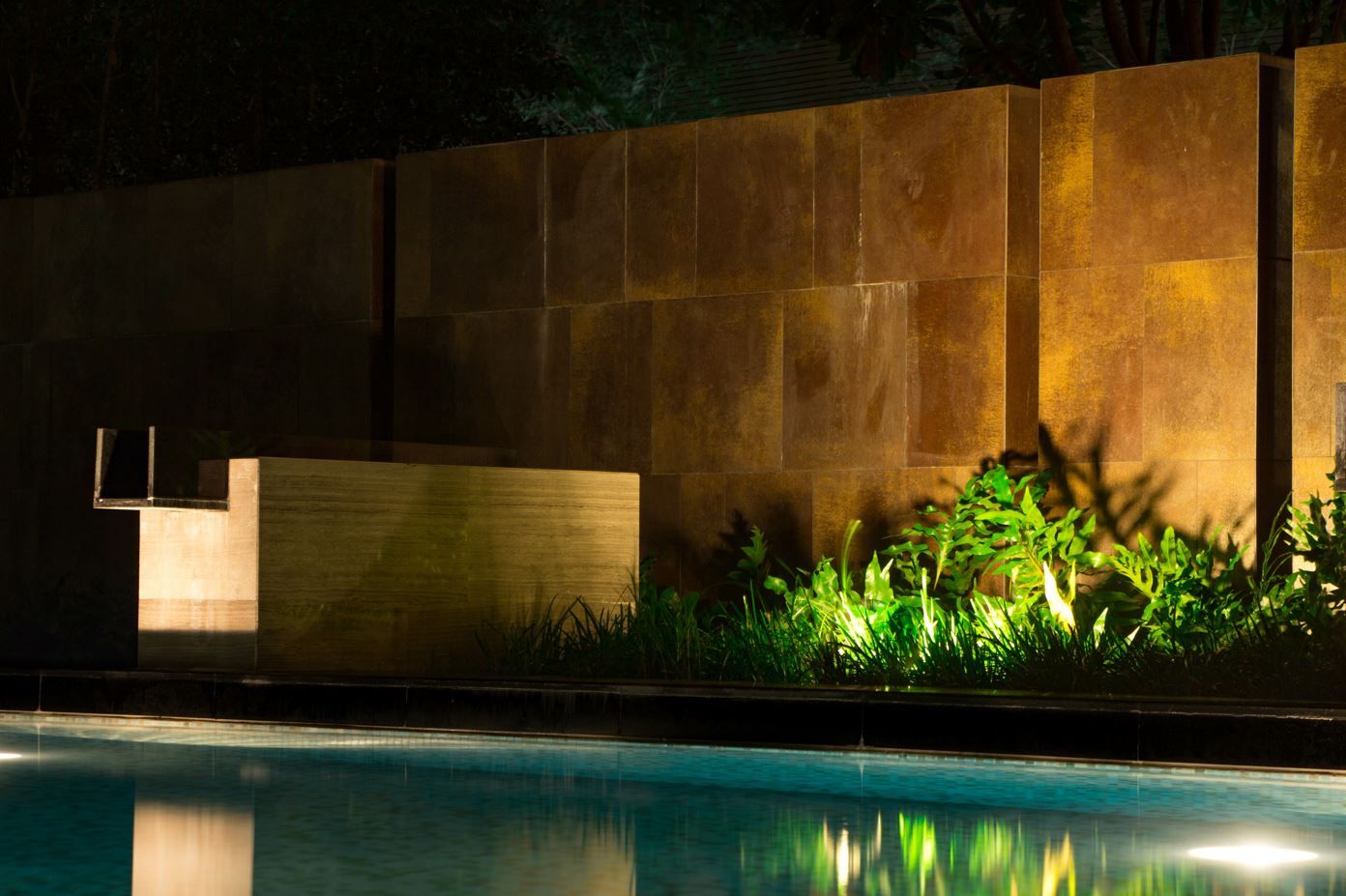 If you have an above-ground pool, you can still brighten up your pool with above-ground lights. These lights can be easily mounted to the side of your pool without any drilling or draining needed. Above-ground lights are a great way to illuminate the inside of your pool and to make it a more relaxing and comfortable experience.

5) In-Ground Lights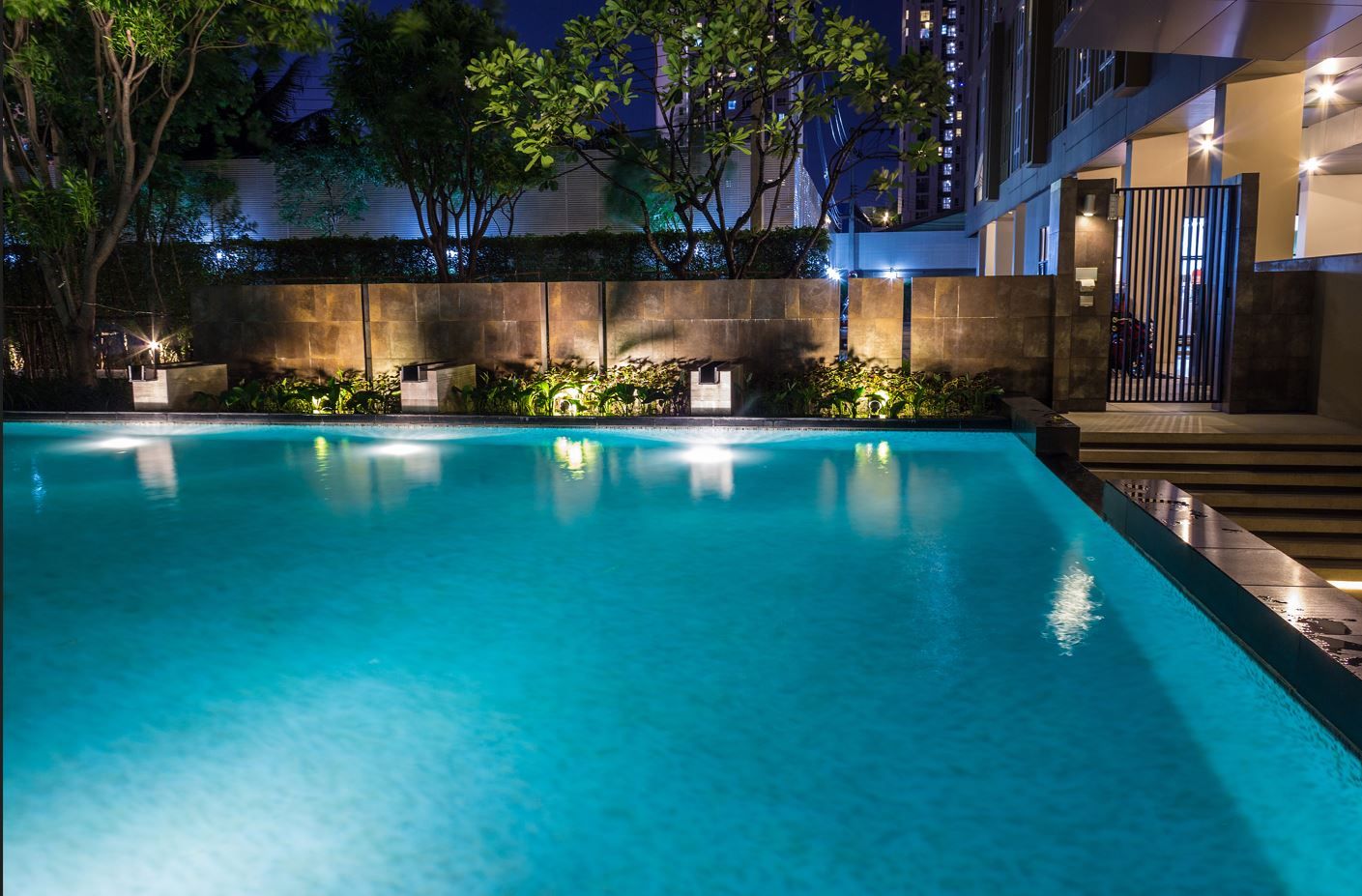 Installing in-ground lights is great for illuminating the area around your pool. In-ground lights are mounted into the deck or ground and can be used to cast long shadows on a wall that borders your pool. By doing so, you can create a relaxing ambiance and make it an enjoyable experience for you and your guests.
Schedule Lighting Consultation with Estes Services Today
Well, that concludes ten ways you can illuminate your outdoor space with pool and deck lighting installation services.
Pool and deck lighting can enhance your outdoor space by providing additional comfort, safety, and convenience. If you are thinking of making upgrades to your home's pool and/or deck lighting, our experienced electrical contractors can help.
In fact, since 1949, we have been proudly serving the greater Atlanta community. For all your lighting needs, contact Estes Services today. It's that Easy; It's Estes!