Is it time to replace your water heater? In this article, we will guide you through the factors to consider and the options you have for a water heater replacement. You will learn how to select the best water heater replacement for your home.
Typically, most water heaters have a lifespan of 10-15 years. It may be time for a replacement if the unit is on the older end of this range and displays signs such as the following:
● Odd odor or color of the water from the faucet.
● Slow heating or no heating of water.
● Major increase in electrical bill.
● Leaking on or around the tank.
You don't want to abruptly be without hot water, which is why it's important to conduct your research in advance to find what best suits your needs. After all, you deserve to be worry-free about your water heater, and this guide will help make your water heater replacement a breeze.
Factors to Consider
There are several factors to consider when you're selecting the best water heater for your home, including the capacity, recovery rate, dimensions, and efficiency. With these factors in mind, you can determine what's most important to you in a new water heater.
Capacity
To ensure an adequate supply of hot water in your home, you should consider the capacity of your water heater. Look at the frequency and extent of your hot water usage.
Consider questions like: How much hot water do you need to use and when? How much do you need to use all at once? For example, if you have a larger family and 2-3 people need to take showers at the same time each morning, then you may need a higher capacity tank or multiple tankless water heaters.
Recovery Rate
The recovery rate refers to how quickly the hot water supply in your tank is replenished or how much hot water the heater can produce in a given amount of time.
How important this is will really depend on how often you need hot water.
If you are using a lot of hot water for different applications throughout the day, then a faster recovery rate will be important for you.
Dimensions

This may sound obvious, but the tank needs to fit into your garage or utility room. A licensed plumber can help you take measurements to determine the proper dimensions.
Energy Efficiency
According to the Department of Energy, water heating is considered one of the largest expenditures in your home. As such, you should take a water heater's efficiency into consideration. A high-efficiency water heater can reduce your utility bills.
Types of Water Heaters
There are several types of water heaters that you can choose from including traditional and tankless units. Which type makes the most sense for your home depends on your budget and your efficiency needs.
Traditional Water Heater
A standard water heater stores heated water in its tank, offering a ready supply of 20-80 gallons of hot water. Typically, these can cost less than other types of water heaters, though larger capacity tanks can cost more.
The tank that the water is stored in can incur standby heat losses, resulting in higher operation and energy costs. This can be mitigated by selecting a variety with tank insulation.
If your main priorities are capacity and being inexpensive to install, then a traditional water heater may be a good way to go. However, if higher energy efficiency and lower annual operating costs are important, then this may not be the best option for you.


Tankless Water Heater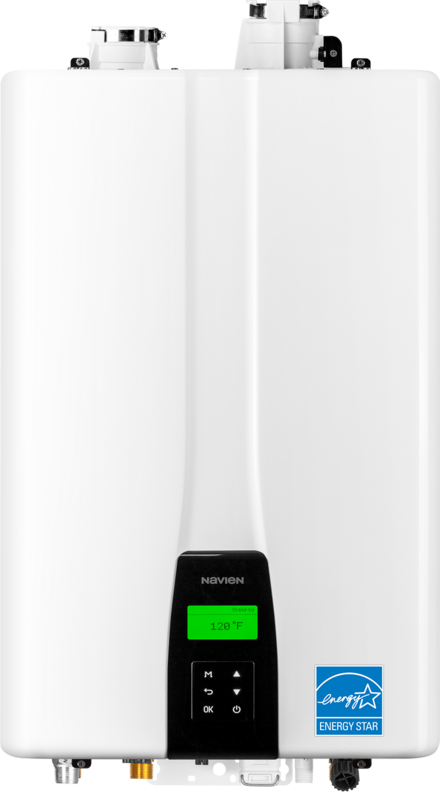 A newer option is a tankless water heater that heats water up quickly. We consider this to be an on-demand solution, as water is heated when a hot water tap calls for it. Both gas and electric tankless water heater models are available.
While a tankless water heater can cost more upfront, its convenience, energy savings, and longer life span make it a worthy investment. In fact, a tankless water heater can be up to 35% more efficient than a traditional water heater, depending on usage.
A tankless water heater can have additional situational uses like boosting another appliance like a dishwasher or installing a remote location like a hot tub.
A licensed plumber can walk you through the pros and cons of each both a traditional and tankless water heater, which leads us to our next point:
Work with a Certified Plumber
There are several different factors to consider and types of water heaters to choose from. That's why it's important to consult with a licensed Atlanta plumber for your water heater replacement to determine the proper solution for your unique needs.
At the end of the day, a water heater replacement is an investment for your home. Step-by-step, from conducting the proper measurements to selecting a water heater to properly installing it, a licensed and experienced plumber can ensure proper water heater replacement.
Choose Estes Services for Your Water Heater Replacement
You deserve to be worry-free about your water heater replacement, and that's where Estes Service comes in. We offer both traditional and tankless water heater replacement services.
Our certified Atlanta plumbers can help you determine the type and size of water heater you need to meet your daily water needs. From there, we will professionally install your new high-efficiency water heater.
At Estes Services, we want to make your water heater replacement a breeze. That's why we've introduced our Estes Easy Order Packages. With our Water Heater package, you can get a new water heater and its installation, along with a 6-year warranty and 2 years of maintenance, for just $40/month.
We have the water heater replacement solutions for you.
So, if you're considering replacing a water heater in the greater Atlanta area, don't hesitate to call the expert plumbers at Estes Services. It's that easy, it's Estes!
Schedule Your Water Heater Installation