Buckhead Air Conditioning Repair and Service
Emergency Air Conditioning Repair and Service in Buckhead, GA
A cooling system is necessary to provide indoor comfort and a safe oasis away from the outdoor heat in Buckhead, Georgia. Can you count on your air conditioner to perform optimally throughout the summer months? For trusted Buckhead air conditioning repair and service, call Estes Services. We have served Buckhead and all of Atlanta since 1949, providing skilled air conditioning repair and service for all models of air conditioners, heat pumps, and ductless mini-splits. If you're without working AC on an extremely hot Georgia day, Estes Services is available 24/7 to resolve cooling system emergencies.

Signs Your Buckhead Home Needs Air Conditioner Repair
Don't be stuck without cooling with a long wait for repair - have air conditioning repairs made before breakdowns occur! Watch for these signs that indicate your air conditioner is on the fritz:

Warm air blowing out of vents
Too humid indoors
Frequent cooling cycles, yet home is too warm
Weird smells when the air conditioner runs
Strange odors from the cooling equipment and/or vents
Electricity bill spikes without a clear cause
Why Air Conditioners and Heat Pumps Need Tune Ups
Buckhead, GA, residents, along with all of Atlanta, put a great deal of faith in their cooling equipment to get households through the hot summer. Ensure your air conditioning unit receives the care it needs to get the job done with yearly tune ups. Air conditioner and heat pump maintenance protects the HVAC system's components from wear and tear damage, which increases AC unit performance and energy efficiency while reducing the likelihood of breakdowns. Save money on cooling costs and repairs, and limit the risk of being stuck in the heat as you wait for air conditioning repair.

Make Air Conditioning Service Easy with Preventive Maintenance Plans
With an Estes preventive maintenance plan, rest assured your air conditioner or heat pump receives the tune up it needs for optimal performance and energy efficiency, year after year. With a maintenance plan, your tune ups are discounted, which saves you money on essential AC service. Cooling system repairs are discounted 15 percent, providing relief when surprise malfunctions pop up. Your repair is warrantied for one year, so you don't have to worry about paying twice if the issue happens again.

Tired of Spending Money on AC Repairs? Get a Quote
Pumping money into an older AC isn't the best investment. Installation of a new air conditioner or heat pump is the solution you need to stop those recurring AC repair expenses! New HVAC cooling systems are more efficient and do a better job of managing indoor air quality. You also gain the benefits of lower costs and superior comfort. New warranty protection provides peace of mind against repair costs. Estes is happy to provide you with a free quote for air conditioning installation. Check out our financing options to assist with your investment.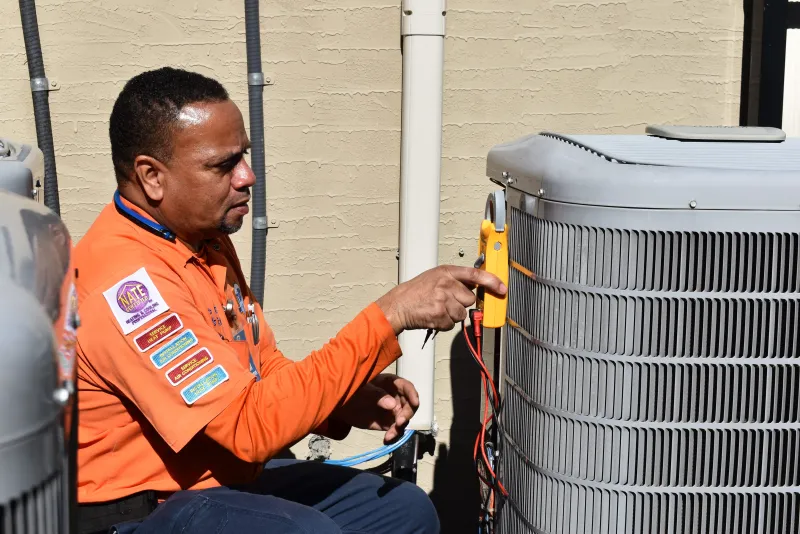 Schedule Buckhead AC Service Today!
Is it time for service? Schedule your air conditioning repair and maintenance service with Estes Services today. Estes Services has been recognized by the Better Business Bureau with an A+ rating. Our NATE-certified HVAC technicians inspect and diagnose your HVAC system before performing skilled repairs to boost AC performance. Estes Services provides both cooling and heating repair services and has been the trusted HVAC contractor for Buckhead and all of Atlanta, GA, since 1949! Call Estes Services today.