Druid Hills, GA, Electrician
Electrical Repair and Installation by Licensed Druid Hills Electricians
When you turn on a light switch or use a plug in your phone, you want it to work. Unfortunately, even minor electrical failures can be annoying for homeowners. After all, you pay a lot of money for your home - you want everything in it to work well! At Estes Services, we understand your frustrations and want to help.

Our certified Druid Hills electricians have incredible experience tackling electrical issues, both big and small. We are available 24/7 and are ready to offer knowledgeable, fast, and friendly service. To get the most comfort out of your home, you need your electricity on and devices ready to go. So give us a call today!

Emergency Electrical Repair Service in Druid Hills
There's no time to waste in the case of an electrical emergency. If your service panel feels hot, smells smoke, or sees charring or sparks, call Estes Services right away! You likely have electrical trouble! You need immediate service from an electrician who knows what they're doing in these instances. The team at Estes has been serving Druid Hills for decades, and we have seen it all. We'll provide immediate service to ensure your family and home are safe. When it matters most, trust Estes for 24-hour emergency services!

Surge Protector Installation

Think of all the valuable assets in your home that rely on power: phones, tablets, washer and dryer, oven, and refrigerator, to name a few. All of these can be damaged or ruined if you experience a power surge in your home. A whole house surge protection system can protect your home and everything in it. Let Estes Services' licensed Druid Hills electricians install a system, and the peace of mind that comes with it, into your home today!

Outdoor Lighting

Having the electrical contractors at Estes Services install outdoor lighting is a great way to improve safety and security around your home. Our electricians can install landscape lighting, motion-activated spotlights, and even holiday light displays.

Ceiling Fan Installation and Repair

Druid Hills can get hot during all seasons of the year! Homeowners can enjoy the comfort of cooler temperatures year-round with ceiling fans. Estes Services can install a new ceiling fan in nearly any room in your home quickly and affordably! Enjoy the nice breeze and reduced electrical bill from running your AC less. Already have a ceiling fan? We can work to reduce rattling or tighten mounts that have become loose over time.

Breaker Panel Installation and Repair

Breaker panels are the heart of a home's electrical wiring. While most common in older homes, breaker panel issues can happen at any time. Estes Services' certified Druid Hills electricians can fix a faulty breaker panel or provide an electrical panel upgrade for homeowners with older or unsafe models. Trust the team at Estes to take care of your electrical needs!

Electrical Services in Druid Hill, GA
Estes Services offers a full range of electrical services for your Druid Hills home. Just some of our services include.

Electrical Repair
Outlet Installation
Wiring Installation & Upgrades
Exhaust Fan Installation
Smoke Detectors & Carbon Monoxide Detectors
Interior & Exterior Lighting Installation
Smart Home Device Installation & Home Automation Setup
Home Electrical Inspections
Our certified Atlanta electricians have extensive training on all types of electrical systems and will get the job done right the first time.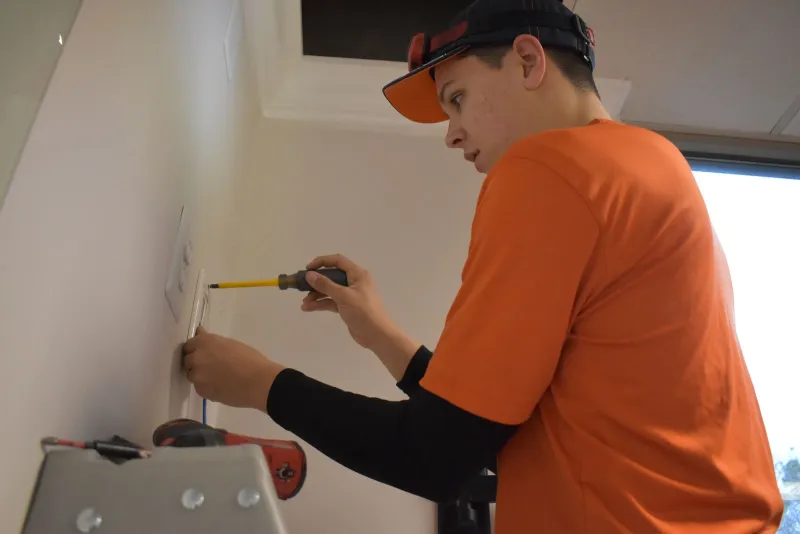 Preventive Maintenance for Electrical Systems
One of the best ways to keep your North Druid Hills, GA, or Druid Hills, Georgia, electrical system in tip-top shape is by signing up for an electrical service preventive maintenance agreement from Estes Services. Our maintenance agreement gives your peace of mind knowing that your electrical system is in good working order. The contractors at Estes Services can also find small issues and recommend repairs or installations before they become more serious issues. An electrical service preventive maintenance agreement includes:

Replace broken or missing switch/receptacle cover plates
One-year warranty on all repairs.
Priority service scheduling
Annual electric system maintenance check
Replace any light bulbs (customer supplied - handy service if you have two-story light fixtures!)
15% discount on all repairs
Why Choose Estes Services as Your Druid Hills Electrical Contractor?
When it comes to electrical issues, you need a certified contractor you can trust! Call Estes Services today to receive assistance from an experienced electrician who is focused on quality work and exemplary customer service! We have an A+ rating from the Better Business Bureau and are proud to have earned several industry awards. Contact us today for professional residential and commercial Druid Hills electrical repair and installation services!