Dunwoody Electrical Repair Services
Electrical Repair and Installation by Licensed Dunwoody Electricians
Estes Services has provided dependable, high-quality, fast, and friendly electrical services to Dunwoody for years. We know that it's a big deal to invite someone into your personal space to service your Dunwoody home. That's why our licensed Dunwoody, GA, electricians work tirelessly to provide electrical service that is as prompt and valuable as it is friendly. Schedule high-quality electrical services with Estes to ensure that the job is done right the first time.

Electrical issues can cause quite a headache for homeowners. Don't spend another minute in the dark or another minute wondering if your electrical equipment will work! Whether you need electrical repair, installation, or maintenance services, we can help with it all. Give the trained team at Estes Services a phone call today! Our 24/7 availability means we'll be there for you day or night!

Emergency Electrical Repair Service in Dunwoody, GA
An electrical emergency can cause an inconvenience at best and a real danger at worst. Any electrical system inconsistency can indicate a safety issue. At any hour of the day or night, it's important to take fast action at the first indicator of an issue. The certified and local electricians at Estes Services are ready to accommodate your needs and schedule to restore safety and comfort to your Dunwoody home. We will work quickly to pinpoint the problem and offer a great solution that meets your expectations. Trust Estes to solve your emergency electrical problems at any hour of the day, and give us a call right away!

Breaker Panel Installation and Repair
A home's breaker panel is the control center for all electric circuits in a home. Its upkeep is incredibly important, so we highly recommend that only trained, licensed electricians work on it. At Estes Services, our skilled Dunwoody, GA, electrical contractors are ready to serve the many components of the breaker panel: the circuit breakers, hot bus bars, ground wires, housing unit, and more. For something this important, your Dunwoody, Georgia, home has to go with an electrical company that you can trust! Give us a phone call today!

Outlet Installation
The modern homeowner has plenty of gadgets and devices that need to be plugged in! Having access to many outlets is a must for homeowners! The licensed professional electricians of Estes Services can install new outlets in your Dunwoody, GA, home or replace old outlets that are inefficient. We recommend GFCI outlets for any area where there is or could be water - bathrooms, kitchens, pool areas and more. We'll make sure the outlets in your home are both conveniently placed and safe! When new outlet installation services are needed, there's only one company that you need to know: Estes Services.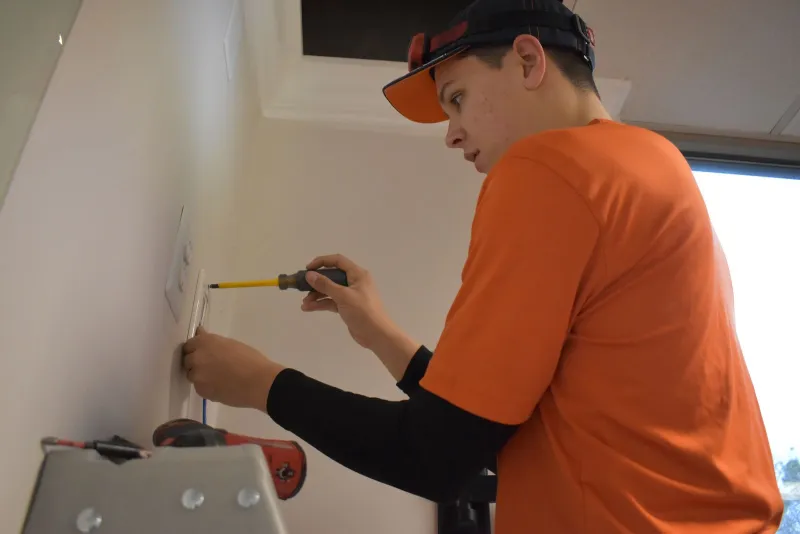 Ceiling Fan Installation and Repair
A ceiling fan can add beauty and comfort to a room while reducing climate control costs! Estes Services' local Dunwoody, GA, electricians can install a fan quickly and affordably. While it may seem like a project you can take on yourself, it takes a trained technician to safely put together the sometimes complex wiring that fans require. If you have an existing fan that rattles or has become loose, we can offer quick service to bring back the breeze! For electrical wiring and ceiling fan installation and repair service in Dunwoody and the surrounding Atlanta, GA, area, get in contact with Estes Services today!

Why Choose Estes Services as Your Dunwoody Electrical Contractor?
Electrical work is too important to trust to just any technician. Not only is electricity incredibly important to our everyday lives, but it can also become very dangerous if installed poorly. For the electrical service that your Dunwoody and Atlanta area home or business deserves, get in touch with us. We can assist with any residential or commercial electrical issue that you encounter. We'll arrive on time and provide the high-quality services that you expect and deserve.