Midtown Heating Repair and Service
Emergency Heating Repair and Service in Midtown Atlanta, GA
When colder temperatures put a chill in the air throughout Midtown Atlanta, is your heating system ready to keep you comfortable? Estes Services has served the community since 1949, providing reliable Midtown heating repair and service. Our NATE-certified HVAC technicians have the knowledge and skill needed to work on all brands and models of heat pumps, furnaces, and ductless mini-split heaters. We know heating emergencies don't happen when it's convenient - we are available 24/7 to help you out when your heating system malfunctions after hours, over the weekend, and on holidays.

Don't Know if Your Midtown Home Needs a Heating Repair?
Resolve heating system errors before you are left in the cold - know the signs that indicate your heating system is not able to perform as it should. These symptoms tell Midtown homeowners that it is time to call Estes Services for heating repair:

No clear cause for your high energy bills
Temperatures aren't even throughout the home
Heating cycles end before the home is fully heated
Cold or lukewarm air from room vents
Funky smells when your system runs
Unexpected noises from your heating equipment
Midtown Atlanta Heater Tune Ups

Maintenance is required for all heating equipment once per year - your heat pump needs it twice a year because it's also your cooling system. Preventive maintenance performed by a qualified HVAC technician protects your equipment from breakdown, limiting the risk that you'll be waiting for repairs later on, as well as the cost of those repairs. A tune-up helps your system operate at its best, with better efficiency. You stay more comfortable inside, and your system uses less energy, so you pay less for utilities.

Join the Estes Service Plan
Ensure your heating system is well protected this winter - as well as your wallet! Join Estes' preventive maintenance plan for one low price and receive annual tune ups for both your heating and cooling systems. You save on the service itself as well as the lower utility bills and reduced repair costs it generates. If your HVAC system does experience a malfunction, all repairs are discounted 15 percent for members. Plus, your repairs are covered by an additional one-year warranty for increased protection and savings.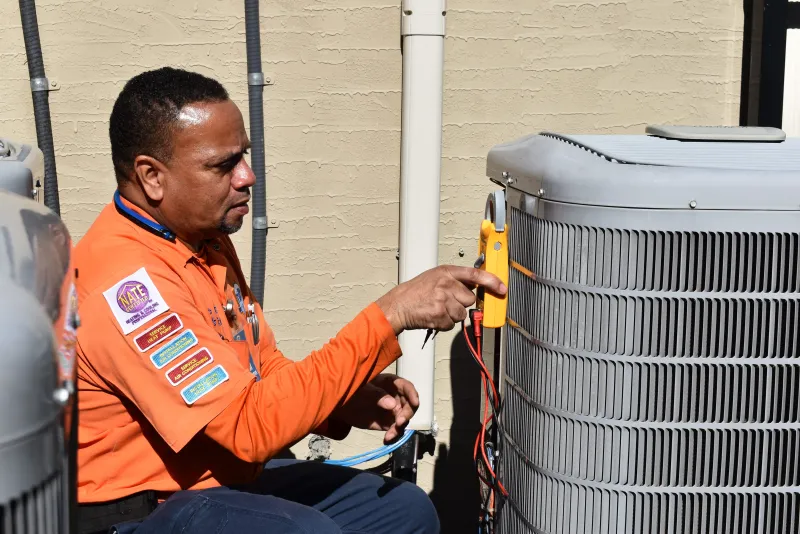 Get a Free Quote for a New Heating System
Tired of living in fear that your heating system will break down yet again? Trade in the hassle and surprise expenses for a new heating system installation. Gain more energy efficient HVAC equipment for your home and reap the benefits of better comfort and indoor air quality, along with lower operating costs and repair fees. Your new heating system's warranty covers you years down the road should a malfunction occur. Estes provides you with a free estimate for heating system installation, and financing options are available.

Schedule Your Midtown Heating Repair Today

Have heating repairs made at the first sign of trouble to prevent heating outages and expensive fixes. Estes Services is the A+ Better Business Bureau rated HVAC contractor to call for Midtown heating repair and service - our team's vast knowledge and broad skillsets help us make fast and accurate diagnoses so heating system repairs are made right the first time!